Brexiteers furious over thousands of EU flags handed out at Last Night of the Proms
Volunteers for campaign group EU Flags Proms are giving out 10,000 of the banners to audience members as they turn up the Royal Albert Hall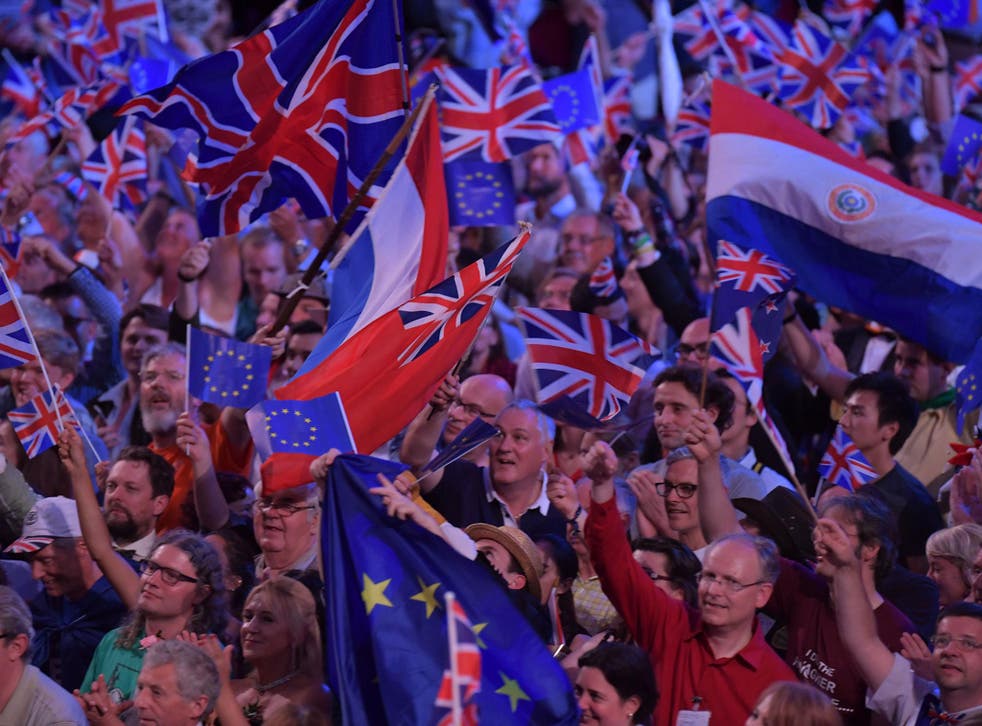 Brexiteers have hit out at a campaign group handing out 10,000 pro-EU flags to audience members at the BBC's Last Night of the Proms show.
Activists were due to give out the banners outside the Royal Albert Hall, in west London, on Saturday night while wearing T-shirts emblazoned with the slogan "thank EU for the music EU".
The BBC symphony orchestra performance will include works of music from across the continent by late composers including Finland's Jean Sibelius and Richard Wagner from Germany.
Volunteers for EU Flags Proms Team will stage their publicity stunt outside the concert venue to highlight how "music is a universal language" that transcends borders.
But pro-Brexit figures – including former Ukip leader Nigel Farage – criticised the move, and pointed out that music was "an important part of national symbolism" in Britain and elsewhere.
Audiences typically wave Union Jack flags during UK national anthems played including Rule Britannia – in the show watched on television by more than 15 million viewers, figures showed.
A spokesman for EU Flags Proms Team told The Telegraph: "During the Age of Enlightenment Mozart, Handel and Bach all lived and worked for part of their lives in London.
"Presumably under the Brexit dark ages, they would not be welcome. What an appalling backward step for our country.
"We hope that the EU flags will remind the audience, the musicians and those watching from all over the world that music is a universal language that unites people, breaking down barriers and promoting communication, understanding, and peace."
Former Ukip leader Nigel Farage criticised the group and said he hoped a counter-campaign could be mounted outside the Royal Albert Hall to give out Union Jack flags.
UK news in pictures

Show all 50
He said: "As for this airy fairy 'music crosses all borders' nonsense, music is also an important part of national symbolism in every part of the world."
Mr Farage said he would contact former Ukip donor Arron Banks to fund a similar number of union jacks for audience members at the performance.
He was unavailable when contacted by The Independent - but an insider "doubted" any Brexit counter-protest would be staged. He said: "Aaron is out of the country so it is unlikely anything is going to happen."
EU Flags Proms Team last year staged a similar Brexit protest outside the Royal Albert Hall, and handed out 2,500 EU flag to members of the public who turned up for Last Night of the Proms.
Mr Banks, a Leave.EU co-founder, paid £5,000 for 10,000 union flags to be given out to concertgoers in a backlash at the move which campaigners say is a celebration of Europe.
Register for free to continue reading
Registration is a free and easy way to support our truly independent journalism
By registering, you will also enjoy limited access to Premium articles, exclusive newsletters, commenting, and virtual events with our leading journalists
Already have an account? sign in
Register for free to continue reading
Registration is a free and easy way to support our truly independent journalism
By registering, you will also enjoy limited access to Premium articles, exclusive newsletters, commenting, and virtual events with our leading journalists
Already have an account? sign in
Join our new commenting forum
Join thought-provoking conversations, follow other Independent readers and see their replies