'I'm on the verge of losing everything': EU nationals respond to leaked Home Office plans for migration crackdown
'It makes you dry in the mouth and gives you trembling hands. I feel sick every time I read about it'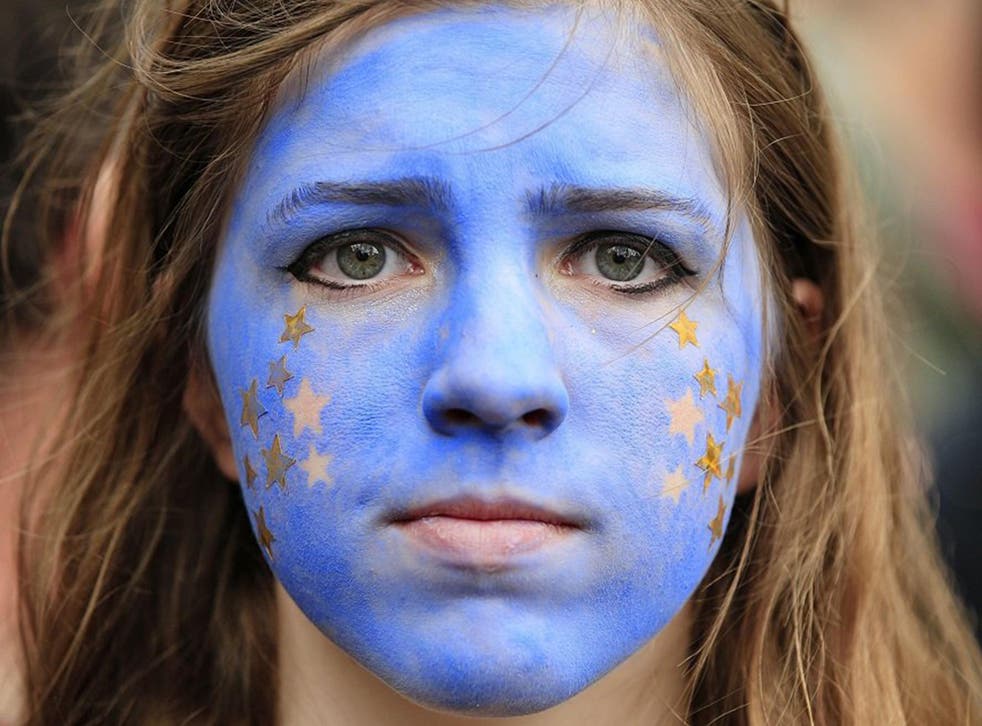 European Union nationals have told The Independent they are angry and fearful after leaked Home Office documents indicated that Britain's post-Brexit immigration system would crack down on their right to reside in the UK.
Some have already decided to leave the country, while others claim it has left them on the verge of "losing everything".
This is despite the fact that many of them have studied, lived and worked in the UK for years.
Home Office documents leaked to The Guardian earlier this week set out a new system that would give the Government powers to refuse EU citizens entry to the UK and their right to work.
It could also demand a minimum income level for anyone wishing to stay.
The paper makes it clear that the guiding "ambition" will be to lower net migration, which Theresa May has pledged to reduce to below 100,000.
It also suggests there should be tough new restrictions on the rights of EU migrants to bring families to the UK, ditching existing rules that give European citizens rights to bring relatives in without Home Office permission.
Sixty-year-old Italian Elisa Roselli, who came to the UK nearly 20 years ago to study at the Cambridge University, said the news made her "tremble".
Having bought a house in Cambridge five years ago and with no close family members anywhere, she said the changes would leave her at risk of losing everything she has.
"It's the sort of thing dry in the mouth and gives you trembling hands," she said. "I feel sick every time I see an article about it."
She added the it was "the same mentality" as US President Donald Trump's decision to rescind the Deferred Action for Childhood Arrivals (Daca) programme, which protects young undocumented migrants from deportation.
"I try not to think about it. I try to calm down and be positive," Ms Roselli said. "I cheer myself up by saying that Trump is going to create a nuclear war anyway. I have now what I've always wanted, but I'm not on the verge of losing everything."
Ms Roselli, who has no settled status because she was able to live in the UK with her Italian passport, said she feels as though the Home Office are trying to push people to leave by "destabilising" them, but that in her case she has nowhere else to go.
She added: "It's an attitude of 'let's find every possible pretext to destabilise them and make them feel like they have to leave'. Get as many people as possible to leave off their own accord and lose any hope of staying here.
"Those who are mobile are able to just leave, but I can't really go anywhere. I have my house and I couldn't now sell it for anything like I bought it for. I have no family members anywhere. Yet they're going after people like me who are settled here and for whom it is difficult to move.
"I feel welcome in Cambridge, but institutionally this is hell. The Home Office is hell. And what has been particularly appalling to me is the fact that there is no real opposition. This is the heart of the Brexit sentiment and it is cross-party. Instead of galvanising opposition, it is galvanising support."
Alex Cadier, a 25-year-old French journalist living in London, said if implemented, the Government plans will mean that if he wants to marry an EU citizen without a British passport, he will be unable to settle with a family in Britain, even though he works here.
"The way I see it, this is the Government moving the goal posts for rights that EU nationals like me have held," he said. "I've been here for eight years, worked here, paid plenty of tax here, have never broken any laws, have basically never used any public services."
He added that he had never claimed benefits and only seen a GP once.
"I feel British for all intents and purposes," he said. "Yet, the Government is going to go back out of my ability to have family members move here with me. Were I to marry an EU national, I would see my family split up. This is a total breach of the understood agreement when I moved here."
Laura Stahnke, 29, who moved to the UK in 2012 to complete a Masters degree in Migration and Development, described the plans as "scary", and said she feared that a "hostile environment" currently targeting non-EU migrants would soon apply to Europeans.
"We still don't know much about what's going to happen to us EU nationals who are already in the UK," she said. "The present and past governments have established a hostile environment for non-EU migrants and, from the new plans leak, it seems like EU citizens will now fall into that category, so the hostile environment will be applied to us as well.
"At present, the earning cap is £35,000 a year for non-EU people, which is much more than most of us earn, so it's hard to know if we'll be able to access the labour marker. It's a very high bar- and all part of Theresa May's plan to reduce net migration."
UK news in pictures

Show all 50
Belgian national Thomas De Moor, 26, has been in the UK for three-and-a-half years and is currently working for a tech company in London.
He said the news of the leak and other reports of proposed stricter rights for EU nationals made him decide to leave.
"I'm leaving the UK next year because of news like this," he said. "I'm likely not going to be affected that much by these immigration proposals, but it goes against my belief in an inclusive society. It's a strong and stable path downwards."
The3Million, a grassroots organisation lobbying for the rights of EU citizens, called the Home Office proposals "terrifying".
"The British Government is extending its hostile environment policy to 3 million EU citizens by subjecting them to the unfit-for-purpose UK immigration law, with the ability to further change the rules after Brexit."
They added that the proposals were "neither fair nor serious".
Register for free to continue reading
Registration is a free and easy way to support our truly independent journalism
By registering, you will also enjoy limited access to Premium articles, exclusive newsletters, commenting, and virtual events with our leading journalists
Already have an account? sign in
Register for free to continue reading
Registration is a free and easy way to support our truly independent journalism
By registering, you will also enjoy limited access to Premium articles, exclusive newsletters, commenting, and virtual events with our leading journalists
Already have an account? sign in
Join our new commenting forum
Join thought-provoking conversations, follow other Independent readers and see their replies