EU referendum: David Cameron points out the 'three lies' made in Leave campaign leaflets
Prime Minister says casting vote on basis of these arguments would be 'crazy'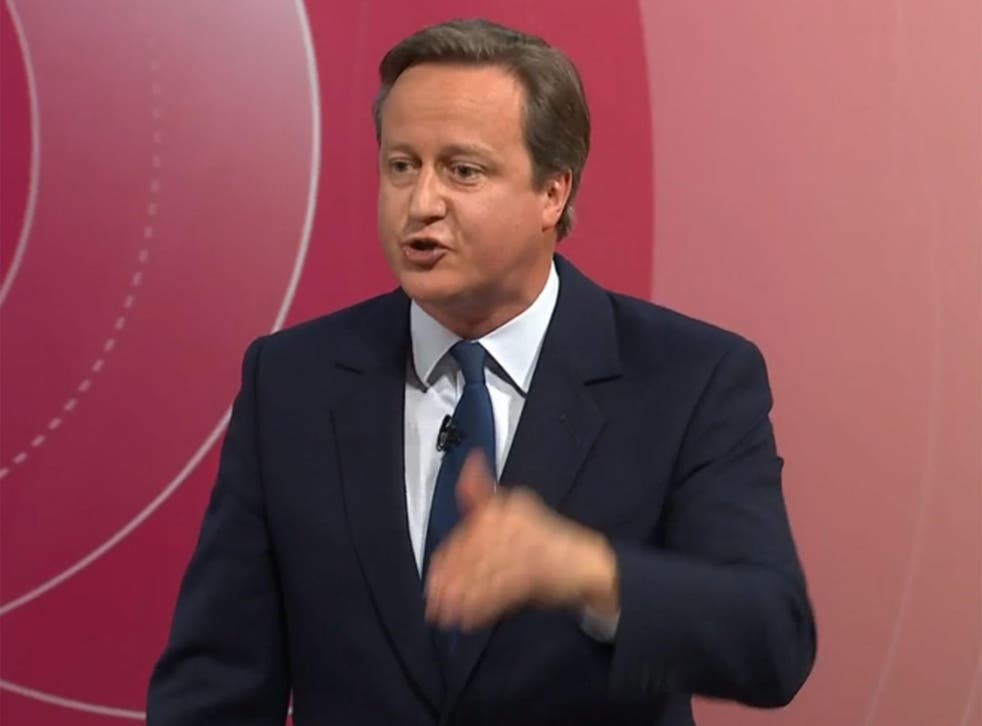 David Cameron used his last major TV appearance before the EU referendum to dismiss three arguments made by the Leave campaign as "completely untrue".
He said arguments made by Leave about Turkey soon joining the bloc, a future European army and that the UK sends £350 million a week to the EU were "simply not true" and voters would be "crazy" to heed them.
Asked by an audience member if the UK would veto any attempt by Turkey to join the EU, the Prime Minister said it was the "biggest red herring in the whole of the referendum debate" and that "it's not going to happen".
He continued: "I really feel strongly about this, as people are getting through their letterboxes leaflets from Leave saying 'Turkey's going to join the EU' – not true, 'there's going to be a European army with Britain in it' – not true, 'we give 350 million pounds per week to Brussels' – not true."
The Prime Minister then offered a passionate plea to voters: "If we are going to vote to leave this organisation, then let's do it, but let's not do it on the basis of three things which are completely untrue." He added that voting on these grounds would be a "crazy thing to do".
Mr Cameron refused to say if he would veto any Turkish attempt to join and maintained it would not be an issue which came up in the next several decades.
What has the EU ever done for us?

Show all 7
However, he defended the UK's friendly relations with the country. "Let me explain why Britain has always been very favourable to Turkey," Mr Cameron said.
"We want Turkey to be a Western leaning country; we want it to be a democracy. We want it to have a rule of law, we don't want it to imprison journalists – frankly this is not going very well at the moment. That's why we've been positive to Turkey.
"Let me just say again, for people sitting at home: I don't want anyone to vote in this referendum on the basis of Turkey joining [the EU] because its not going to happen.
"Just like the European army is not going to happen and just like the £350 million isn't true."
While he admitted there were arguments to be made against Europe, Mr Cameron maintained the three main points made by the Leave campaign should not be trusted.
He said: "I'm sure there are arguments for leaving the EU, but those three, which are the three leading things on their leaflets, are simply not true.
"And it would be a tragedy if we damaged our economy, wrecked job prospects in our country on the basis of three things that are completely untrue."
Register for free to continue reading
Registration is a free and easy way to support our truly independent journalism
By registering, you will also enjoy limited access to Premium articles, exclusive newsletters, commenting, and virtual events with our leading journalists
Already have an account? sign in
Register for free to continue reading
Registration is a free and easy way to support our truly independent journalism
By registering, you will also enjoy limited access to Premium articles, exclusive newsletters, commenting, and virtual events with our leading journalists
Already have an account? sign in
Join our new commenting forum
Join thought-provoking conversations, follow other Independent readers and see their replies