EU referendum result: Is this the vote that will lead to a Scottish independence referendum – and break up the UK?
Britain voting to leave the EU presents a 'significant and material' change in circumstances, says former SNP leader Alex Salmond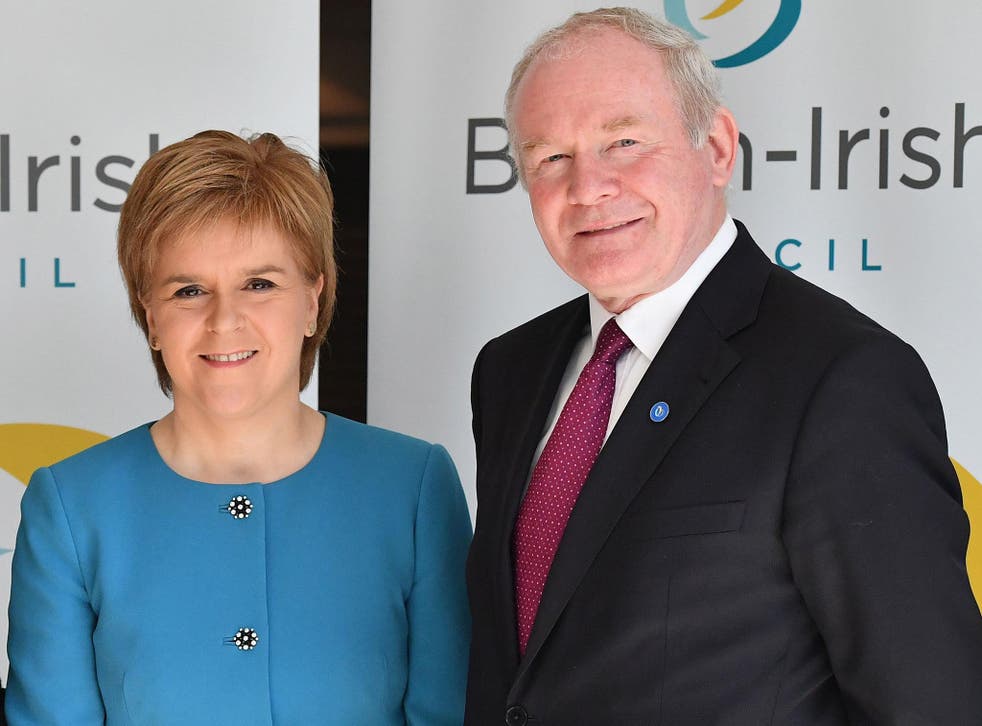 Britain's vote to leave the European Union has appeared to have cast the United Kingdom's future into doubt, as Nicola Sturgeon said the people of Scotland clearly wanted to stay in the EU, and Sinn Fein raised the prospect of a referendum on Irish reunification.
On a remarkable day that saw the UK vte to leave the EU by 52 per cent to 48 per cent and David Cameron announced his resignation, Scotland backed the UK's EU membership by almost two thirds, with all 32 local authorities seeing a victory for Remain.
First Minister and SNP leader Ms Sturgeon said that the "unequivocal" result "makes clear that the people of Scotland see their future as part of the European Union."
6 ways Britain leaving the EU will affect you
Her predecessor, Alex Salmond, said he was "quite certain" that Ms Sturgeon would now implement the SNP's manifesto pledge to call for a new independence referendum in the event of a "significant and material" change in circumstances.
Scotland rejected independence in a 2014 referendum.
Meanwhile, Martin McGuinness, the Sinn Fein leader and deputy first minister of Northern Ireland said that a vote to leave "would run counter to the democratic wishes of the Irish people", adding that the electorate should be given the opportunity to vote to "retain a role in the EU".
A border poll is unlikely to be granted by the Westminster government. Opinion polls in Northern Ireland have, in the past, shown substantial support for remaining in the UK.
Almost two thirds (62 per cent) of Scots who voted backed staying part of the EU, with 38 per cent opting for Brexit.
What has the EU ever done for us?

Show all 7
Holyrood External Affairs Secretary Fiona Hylsop said that the Brexit vote would have "consequences".
She told the BBC: "Scotland clearly and decisively voted to remain part of the European Union, 62 to 38 with an increased turn out form the Scottish Parliament elections barely six weeks ago.
"That sends a strong message, it's quite clear we see a different type of politics in Scotland, a different approach to constitutional affairs."
"I think people will be looking very closely at this result and looking at the prospects for Scotland and what is in the best interests of Scotland going forward.
"We're quite clear, the Scottish Government will protect Scotland's interests whatever the circumstances and we intend to do that."
"We're very clear, the Scottish people have spoken. Their interests are about maintaining that membership, they are interested in maintaining our relations with Europe. We have to find the means with which we can do that."
Register for free to continue reading
Registration is a free and easy way to support our truly independent journalism
By registering, you will also enjoy limited access to Premium articles, exclusive newsletters, commenting, and virtual events with our leading journalists
Already have an account? sign in
Register for free to continue reading
Registration is a free and easy way to support our truly independent journalism
By registering, you will also enjoy limited access to Premium articles, exclusive newsletters, commenting, and virtual events with our leading journalists
Already have an account? sign in
Join our new commenting forum
Join thought-provoking conversations, follow other Independent readers and see their replies