Euromillions £61m jackpot winners only bought ticket after 'lucky' phone call from mother in Florida
Stephanie Davis bought six Lucky Dip tickets after her mother told her she was feeling lucky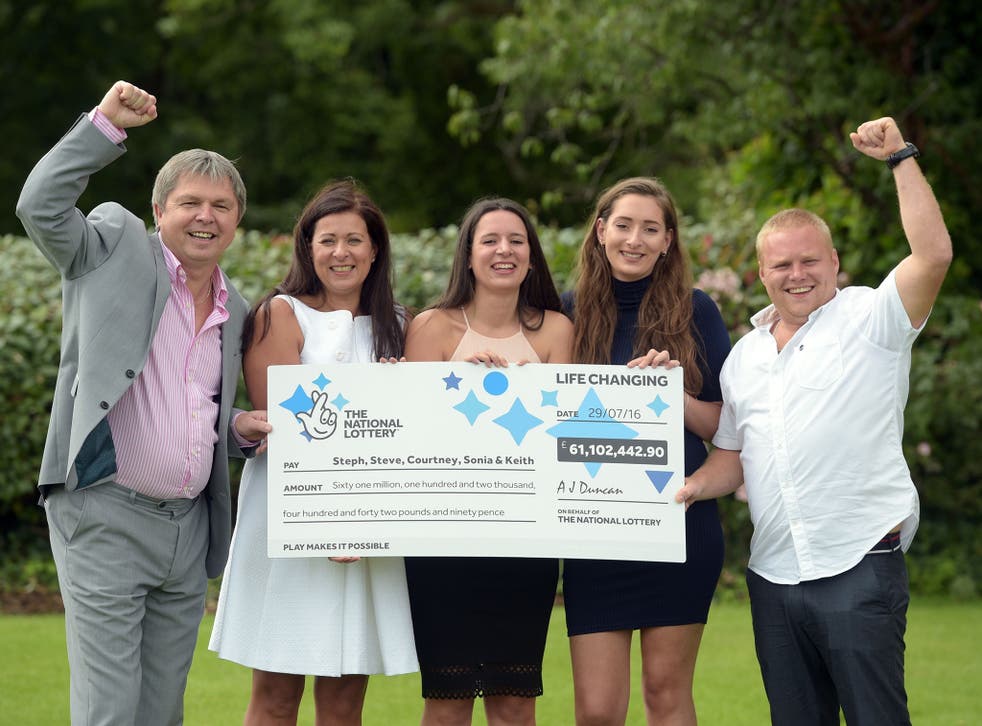 A family who scooped a £61.1 million EuroMillions jackpot only bought the ticket after their mother rang from her holiday in Florida to say she was feeling lucky.
The five-strong syndicate made up of Stephanie Davies, 23, her boyfriend Steve Powell, 30, her sister Courtney, 19, their mum Sonia, 53, and Sonia's partner Keith Reynolds, 55, from Monmouth, hit the jackpot on Friday, July 29.
And Stephanie only purchased the six Lucky Dip tickets after receiving a call from her mother late on Friday evening.
Mrs Davies pleaded with her daughter to buy the tickets as she was feeling lucky.
"I thought mum was mad calling me from holiday but they were so insistent I knew we had to do it," she said today as they celebrated their £61,102,442.90 win.
Mrs Davies was celebrating after successful keyhole surgery in the US to remove a tumour on her parathyroid gland.
Miss Davies bought the tickets from the Overmonow Garage in Monmouth and was stunned when she checked the numbers in the early hours of Sunday morning.
Describing her dash to get the tickets, Miss Davies said: "My car was blocked in the drive by my boyfriend Steve's, so to save time I made him drive me to buy a ticket instead of moving mine."
Her mother, an admin assistant, and Mr Reynolds, a regional director, were in Florida to see his daughter graduate and for the surgery.
Earlier this year Ms Davies was diagnosed with the tumour and found a world-leading treatment centre near where they were on holiday so she could have keyhole surgery there.
"I had my operation on Wednesday and until then, we didn't know how serious it was," she said.
"They told me that if it hadn't been removed it would have been fatal - at the very least I would have lost my voice within a year.
"They managed to give me the all-clear straight after the operation, so as you would imagine, we were on cloud nine."
Ms Davies said: "I had my surgery on the Wednesday and I suppose the Friday was the first day I felt 'I am cured', I felt good, it didn't hurt any more.
"Keith was scanning his emails and read about the EuroMillions rollover.
"He was convinced that we were the luckiest people on the planet and definitely on a winning streak after the success of my op so we called up my daughter, Courtney, to ask her to go and buy a ticket.
"She was travelling and wasn't about to change her plans so we called Stephanie instead as something told us we needed to get a ticket."
UK news in pictures

Show all 50
Miss Davies and Mr Powell did not check the tickets until the early hours of Sunday morning, after spending the evening with friends.
Mr Powell said: "We were laughing and joking about the lottery.
"Steph remembered she had bought a ticket. She said 'if I shout down it means we've won the lottery and if not, I've gone to bed'.
"She came down crying."
Miss Davies had checked the numbers on her iPad and realised they had all of them - with one UK ticket holder scooping the £61 million prize.
She said: "As soon as I saw that ticket I had my hands over my eyes, I was shaking, I was crying.
"I said to Steve 'for once in my life I am not even joking'.
"We checked the ticket about ten times over."
Robin Mansell, 51, the manager of Budgens, the shop at the garage where the ticket was bought, said: "All the staff cannot believe that someone local has won it and that we have sold the ticket.
"You see it on the news but you do not think that we would sell the ticket."
Mr Mansell said he did not think they had ever had a big winning ticket bought before, adding: "We can not believe it, we just want to know which staff member sold it."
Describing their reaction after they realised they had scooped the jackpot, Miss Davies said: "We locked all our windows and doors and spoke in hushed voices just in case someone could hear that we had won."
She phoned her mother, who was waiting to board her delayed flight home.
"I was worried there was a problem," Ms Davies said.
"All I could hear was Steph sobbing down the phone and the odd muffled word. I thought she'd told me she'd lost her dog.
"Then I heard Steve shouting 'we've won £61 million'.
"We put them on speaker phone so Keith and I could both listen, but realised everyone in the airport could hear so we huddled round a bin while we checked the numbers and realised we really had won.
"I can remember saying 'if we don't make it home just make sure you spend it all'. It was the longest flight of our life."
Miss Davies called her sister Courtney, who was in Reading with her boyfriend Kieran, 20, at 1.45am and shared the news.
"We kept repeating 'oh my God' to each other, over and over," Courtney Davies, a student, said.
"In the end we had to say bye and hang up as we were so in shock we weren't actually talking to each other."
Miss Davies and Mr Powell decided to take selfies with the winning ticket in case anything happened to it.
At 5.20am they shared the news with other family members before calling Camelot to claim their prize.
The winners are still considering what to do with their £12,220,488.58 shares of the jackpot.
Miss Davies and Mr Powell purchased their first home together at Christmas so will decorate, finishing their bathroom there and potentially take a trip to the Caribbean.
Courtney Davies has just finished the first year of a psychology degree at the University of Southampton.
She plans to complete her degree before deciding what to do next but is already planning on buying an electric toothbrush and a new car to replace her VW Fox, which has no air con and wind up windows.
Her boyfriend Kieran, a student at Reading University, is hoping she will get the leak in his car fixed.
Ms Davies and Mr Reynolds, who live near Ross-on-Wye, will share their win with family and friends - though she would like a new oak carport for her property.
"Winning is just like living the dream," she added.
The winning numbers from the EuroMillions draw on Friday were 1, 21, 26, 40, 50 and Lucky Stars 2 and 4.
Press Association
Join our new commenting forum
Join thought-provoking conversations, follow other Independent readers and see their replies