The man who declared himself king
Steve Ogier could face two years behind bars after trying to get around planning rules by declaring his land a sovereign state and making himself king. He tells Wil Crisp about his journey so far, and why he won't give up without a fight
Sunday 14 March 2021 14:05 Comments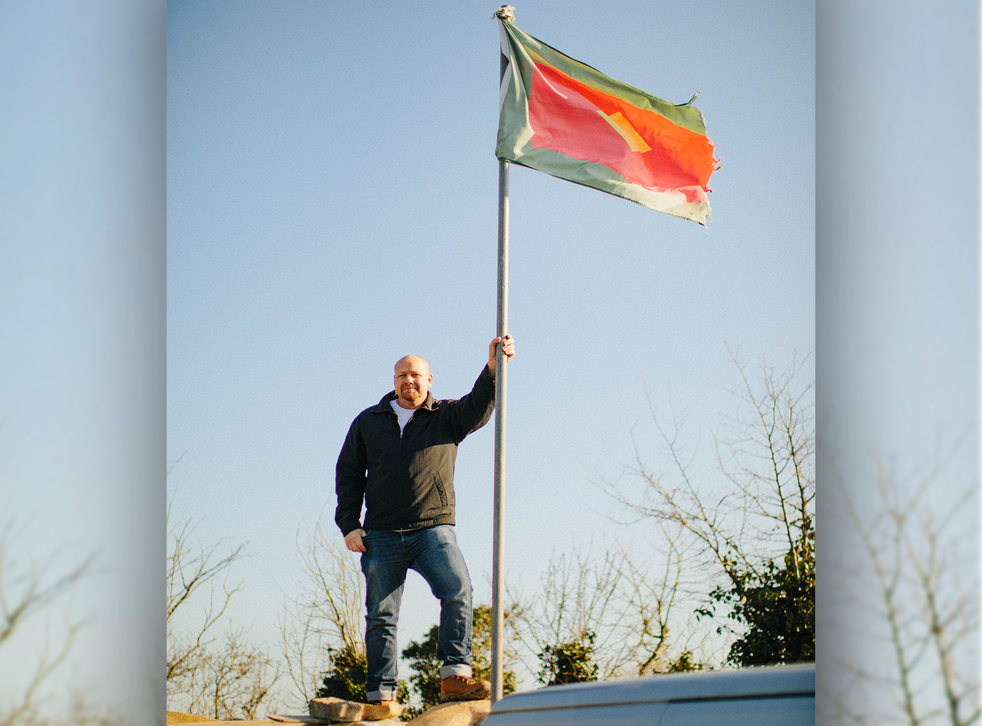 Down a long dirt track, in a rural part of the island of Guernsey, a red, yellow and green flag is fluttering above the arched roof of a grey concrete bomb shelter in the afternoon sun, while pheasants rustle in nearby hedgerows.
Standing atop the bunker, surveying the scene, is Steve Ogier, who has declared the plot of land beneath him a sovereign state and vowed that he will never give up campaigning for the country's independence, even as he faces a possible two-year prison sentence.
He declared himself king of the land, which he named Everland, in May 2019 as a way of trying to sidestep planning rules that were stopping him from building a small house for himself and his daughter on the property.
Since then, he has been evicted, arrested, billed £20,400 in costs, and appeared in court more than 20 times as a result of his efforts to establish an independent country.
"This is about much more than just one man and his property," Mr Ogier tells The Independent.
"In Guernsey, and in Britain generally, there is a system where the wealthy and the well-connected are given free rein to do whatever they want.
"Big corporations and wealthy individuals regularly do deals behind closed doors to develop huge glass and steel tower blocks generating billions in profits.
"At the same time, millions of normal people are struggling to make ends meet and provide proper homes for their families – even if they want to do it in a sustainable and environmentally friendly way."
After being found guilty of five planning offences in January this year, Mr Ogier could be given a maximum of two years in prison and an unlimited fine when he is sentenced on Monday.
"I will fight to defend Everland until my last breath," says Mr Ogier. "I'm not afraid of prison and I will consider any attempt to take this land from me as an act of war."
The territory spans an area just 150 feet long and 50 feet wide, and includes two concrete bunkers that were constructed during the Second World War while the island was occupied by Nazi forces.
Mr Ogier bought the land in 2011 and used it for storage before lodging a pre-application enquiry in 2017 about building a house on the site.
"I wanted to make a low-impact ecohome with grass growing on the roof," he says. "A hobbit-hole type structure that would hardly be noticeable to passers-by."
He was told permission would be refused because the site is located in an area where new housing development is not allowed.
After his efforts to gain approval to convert the Second World War bunkers into housing failed to gain traction, the 48-year-old decided to proceed with his construction plans and turn the property into his own personal kingdom.
He declared independence from Guernsey, named the country after his daughter Evelyn, designed a flag, and appointed himself as king.
He excavated the bunkers and constructed a dry-stone wall, claiming that Guernsey's planning and development law did not apply to his property because it was an independent country.
Mr Ogier ignored subsequent compliance notices he was issued with ordering him to return the site to its original state.
This led to him to being indicted to appear in Guernsey's Royal Court, where he cited the 1933 Montevideo Convention that sets out the four criteria of statehood: a permanent population; a defined territory; government; and the capacity to enter into relations with other nations.
Guernsey's Royal Court ultimately ruled that Everland could not be a sovereign country as it did not have a stable population – rejecting Mr Ogier's argument that Everland had five citizens who resided elsewhere as well as a population of wildlife including insects and worms.
Since his initial appearance in the Royal Court, Mr Ogier says that he has been bombarded by requests for Everland citizenship from people all over the world.
"A lot of people have reached out to me online, and Everland now has more than 300 registered citizens," he says.
"Though Guernsey's courts still haven't recognised Everland as an independent country, its population is growing all the time.
"All of the citizens so far have dual nationality and it is currently impossible for them to live in Everland due to the constant threat of eviction."
While Mr Ogier says support for Everland is growing, it still remains unrecognised by other nation states and supranational organisations, despite his best efforts.
He has emailed the UN, as well as writing to Boris Johnson and other British officials, seeking assistance and recognition.
All have either ignored his correspondence or replied to say that they will not help him.
Western post-industrial history is dotted with scores of independent micronations: self-proclaimed states that are not recognised by world governments.
These include Frestonia, a micronation that was a formed in 1977 when squatters living on Freston Road in west London staged a "secession" from the United Kingdom, and North Dumpling, an island in New York that its owner Dean Kamen declared independent in 1986 after he was denied permission to build a wind turbine.
According to Mr Ogier, Everland itself is partly inspired by the Principality of Sealand, a micronation that declared independence from the UK in September 1967.
Sealand was founded on a decommissioned Second World War fort on an offshore platform in the North Sea by the pirate radio broadcaster and former army major Patrick "Paddy" Roy Bates.
Bates and his family possessed firearms and were engaged in violent clashes with other pirate radio broadcasters who competed to control Britain's offshore structures at the time.
At one point, Bates and his son were arrested and charged with weapons offences, but the court threw out the case, claiming that it did not have jurisdiction over international affairs as Sealand lay beyond the territorial waters of Britain.
Mr Ogier says that, like the Bates family, he plans to do everything within his power to maintain control of his territory.
"The Bates family defended their sovereign state with firearms that they weren't afraid to use," he says.
"I'm not going to use guns or knives because my weapons are my ideas.
"I'm promoting the concept of fairness and fighting against corruption.
"Even if they put me in prison, when I come out I'm always going to come back and claim my land."
Mr Ogier claims that the guilty ruling delivered against him by a Guernsey court in January is illegitimate as the institution is inherently biased towards ruling in favour of the island's planning department.
He has vowed to take his case to the European Court of Human Rights in Strasbourg.
The States of Guernsey is also refusing to back down, despite costs that are thought to have run into hundreds of thousands of pounds.
The island's government has repeatedly maintained that Mr Ogier's land falls within the Bailiwick of Guernsey and stated that this cannot be changed through a simple declaration of independence.
It has also rejected Mr Ogier's claims that Guernsey's courts are biased and unfit to hear the case.
While publicly the island's government has made it clear that it has no qualms about a prison sentence being handed to Mr Ogier, some local officials believe that the case has got out of hand and that the self-proclaimed King of Everland should not be facing prison time.
"It seems like it started off as a sort of joke or publicity stunt, but now the consequences have become quite serious," says one local official, who requests anonymity.
"If proper guidance was given to Mr Ogier, at the right time and in the right way, then it is possible that it wouldn't have had to go through the courts like this and he wouldn't be facing a potential prison sentence."
With both sides repeatedly doubling down on their positions over the course of more than 20 court sessions, there is now little opportunity for compromise.
Just how severely Mr Ogier will be punished remains to be seen.
Register for free to continue reading
Registration is a free and easy way to support our truly independent journalism
By registering, you will also enjoy limited access to Premium articles, exclusive newsletters, commenting, and virtual events with our leading journalists
Already have an account? sign in
Join our new commenting forum
Join thought-provoking conversations, follow other Independent readers and see their replies