Evicted during the pandemic: How one council made 13 people homeless within an hour
Jessica Brown speaks to tenants in Glasgow who were given just a few minutes to collect their belongings before being turfed out onto the streets in the middle of a second lockdown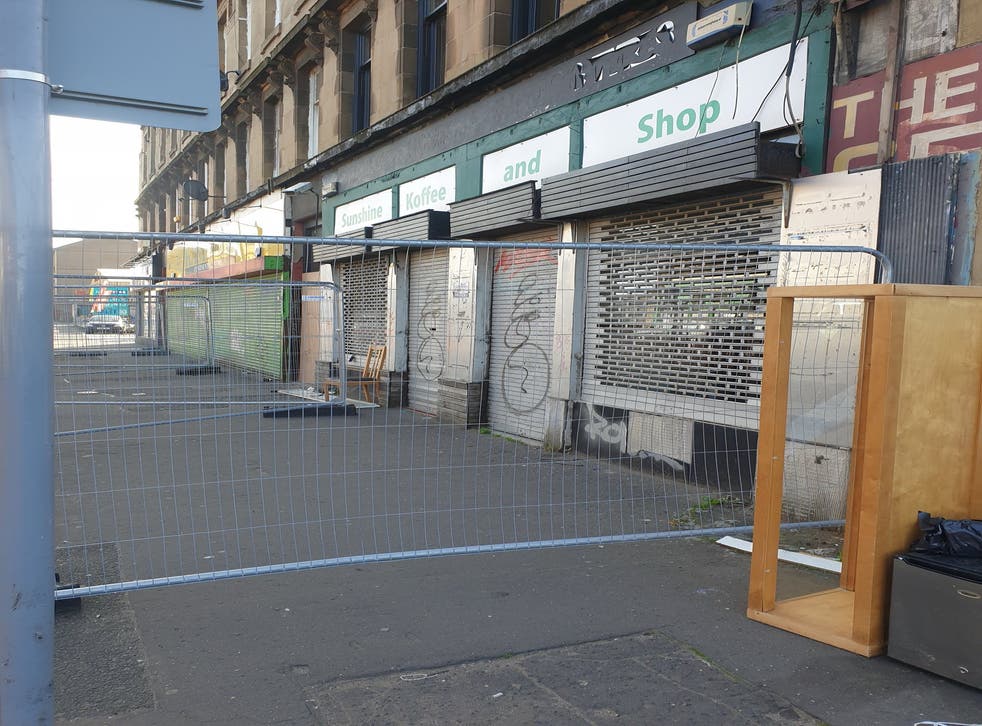 Callum Couston was working for his friend's takeaway business when he received the call.
The police were surrounding their flat. The council had deemed the building they lived in unsafe. It was about to be was evacuated and sealed shut – he had 45 minutes to go back and grab his belongings before he was herded out.
Couston, his flatmate, David Stewart, and their neighbours suddenly found themselves in Glasgow on a Friday evening, during a second lockdown in the city, with only a few of their possessions and nowhere to go.  
When Stewart moved into the flat in Govanhill, just south of Glasgow city centre, eight years ago, he wanted to be extra vigilant. His last flat had been condemned, and he hadn't been insured. This time around, he'd do everything by the book, in case something happened again.
It soon became clear his new home, which housed 13 people in six flats, as well as three businesses on the ground floor, was also in bad shape. In 2016, parts of the stairwell floor at the back of the building collapsed.
Stewart formed a co-owners association with the building's six owners, acting on behalf of his landlord, who lives in England. In March, the group appointed structural engineer Zia Huq to assess the building, but lockdown restrictions came in just before the repairs were set to start.
Work paused until August, when Huq found two severely rotten timber beams above the common passageway into the building, which residents had to walk under to go in and out, and various other problems that Huq attributed to lack of ongoing maintenance.
The council was informed on the afternoon of Friday 11 September, when Huq advised that the building wasn't safe for the residents to be living in. That evening, Glasgow city council's building standards team turned up and ordered Stewart and his neighbours to evacuate within the hour.
Paul Kane, public relations officer at Glasgow City Council, says Huq told the council the property should be evacuated, and that it was normal practice in such an emergency situation to ask residents to leave.
"I've never seen the council mobilise so fast in my life," Stewart tells The Independent. "Usually, you ring up about a pothole in the road and it takes them six weeks. Within two hours, they were outside my house with three police vans."
This is when Stewart rang Couston and knocked on all his neighbours' doors to deliver the bad news. The residents rang around friends and family, and begged officials to give them enough time to let them collect their belongings. Some were immigrants and needed their paperwork; Stewart needed to collect his cat, his medication.
"It was like a bomb site," Stewart says. "There was meat everywhere from the shop downstairs, which had to get rid of its stock. There was no social distancing, which made it more dangerous."
"I was standing outside the building trying to hold off eight police officers, who were trying to chuck people out."
Council officials told residents, Stewart says, that they would request a sheriff's order to evacuate them, if needed, and they began sealing up the building with residents still inside.
Dayle Kennedy, who lives nearby in a two-bedroom flat, received a call from her friend Stewart that evening, too, asking if she could come over to help. Kennedy says the scene was 'chaos' when she arrived, and no one stopped the residents to explain what was going on.
"Everyone had pulled out as much as they could, the street was covered in their belongings," she says. "Police officers were standing there, not offering to help, as people were running about."
Kennedy stored some of the residents' belongings at her flat, and three of them stayed with her while they looked for a new home and tried to get hold of the council's planning department for advice and information on if, and when, they could return to retrieve their belongings. Kennedy, who works night shifts, wasn't able to get much sleep during these days, and her mental health suffered to the extent she had to take time off work.
"Even though I didn't live there, there was such a knock-on effect from the council's lack of doing anything," she says.
The residents didn't hear back from the council's building control for five-and-a-half weeks, when they confirmed that residents wouldn't be allowed back in the building, Stewart says.
Stewart and Coulston found a new flat after two weeks of staying with friends, and in Airbnbs and hotels, which has set them back financially.
"We've got a new flat now, but that was down to my flatmate not sleeping for two weeks. When we signed the lease on the new place, he just broke down. It was the first point in 10 days he could rest and think, 'I'm ok, I'm not homeless'," Couston says.
Stewart was then hospitalised and prescribed anti-depressants because of the stress the situation has caused him.
"When it happened, I went into adrenaline mode. After two weeks, once I was settled into the new place it all hit me that this has happened."
Responsibility for the residents when they were suddenly facing homelessness has been passed between their landlords and the council. Kane says that, as they were private flats, the responsibility lay with the tenants and their landlords.  
Couston and Stewart's landlord, Iram Sethi, who lives in England, was also shocked by the evacuation. Being far away, she says it's hard for her to keep up with everything, which is why Stewart became involved with the co-owner's association.
She says it was 'disgusting' how the residents were treated during the evacuation, and that, although Stewart and Couston was her responsibility, she wasn't in a position to help them that evening.
"I couldn't get hold of family members, I felt useless, I couldn't support them."
Where landlords weren't able to help, the council has a legal duty to provide advice and offer emergency accommodation under Scotland's Housing Act to anyone facing homelessness.
A Glasgow City Council spokeswoman said: "In this type of emergency, where the council has to evacuate people quickly from an unsafe property, residents are made aware that they can contact homeless services for temporary accommodation if necessary."
Stewart says, and Kane confirms, that only one resident was offered advice by the council about temporary accommodation.
"They just left us to find somewhere to live," Stewart says. "I knew we had to leave, but they gave us no support."
The engineer, Huq, who was present that evening, says council officers "carried out a very stressful task in a professional and considered manner".
The only person who seems to be taking blame for what happened to the residents, despite doing the right thing, is Stewart.
"I was so paranoid with what happened before, when my previous building was condemned. We proactively tried to fix it, informing the council with what we were doing. I got insurance for everyone, I did everything I could to prevent this situation happening again and it's ended up making it happen," he says.
Couston is proud of how well Stewart has handled the situation, especially given his underlying mental health issues.
"He felt personally responsible, because he was trying so hard to get the building fixed this is exactly what he didn't want to happen. He thought he'd failed," he says.
Couston hasn't had an easy time, either.
"There have been points where I was like, 'I'm 33, I'm homeless, and everything I own fits in the boot of a Toyota Yaris'. It has you questioning every decision you've ever made, everything that led you to living in that flat."
Stewart and Couston have tried to avoid going past their old home, but recently, Couston was asked to pick something up for work nearby.
"My boss asked me to go to cash and carry before starting work and the one he uses is directly behind the old flat. I was able to go into car park and take pictures of my old room. I knew it was mine because I had a Scottish flag hanging in the window. It was quite sad to see it, in this cold, dark, empty building."
Register for free to continue reading
Registration is a free and easy way to support our truly independent journalism
By registering, you will also enjoy limited access to Premium articles, exclusive newsletters, commenting, and virtual events with our leading journalists
Already have an account? sign in
Register for free to continue reading
Registration is a free and easy way to support our truly independent journalism
By registering, you will also enjoy limited access to Premium articles, exclusive newsletters, commenting, and virtual events with our leading journalists
Already have an account? sign in
Join our new commenting forum
Join thought-provoking conversations, follow other Independent readers and see their replies