Exclusive: Briton who took on Sergei Magnitsky network faces libel case in UK
Moscow investigator takes on hedge fund magnate who says he was involved in $230m tax fraud and lawyer's death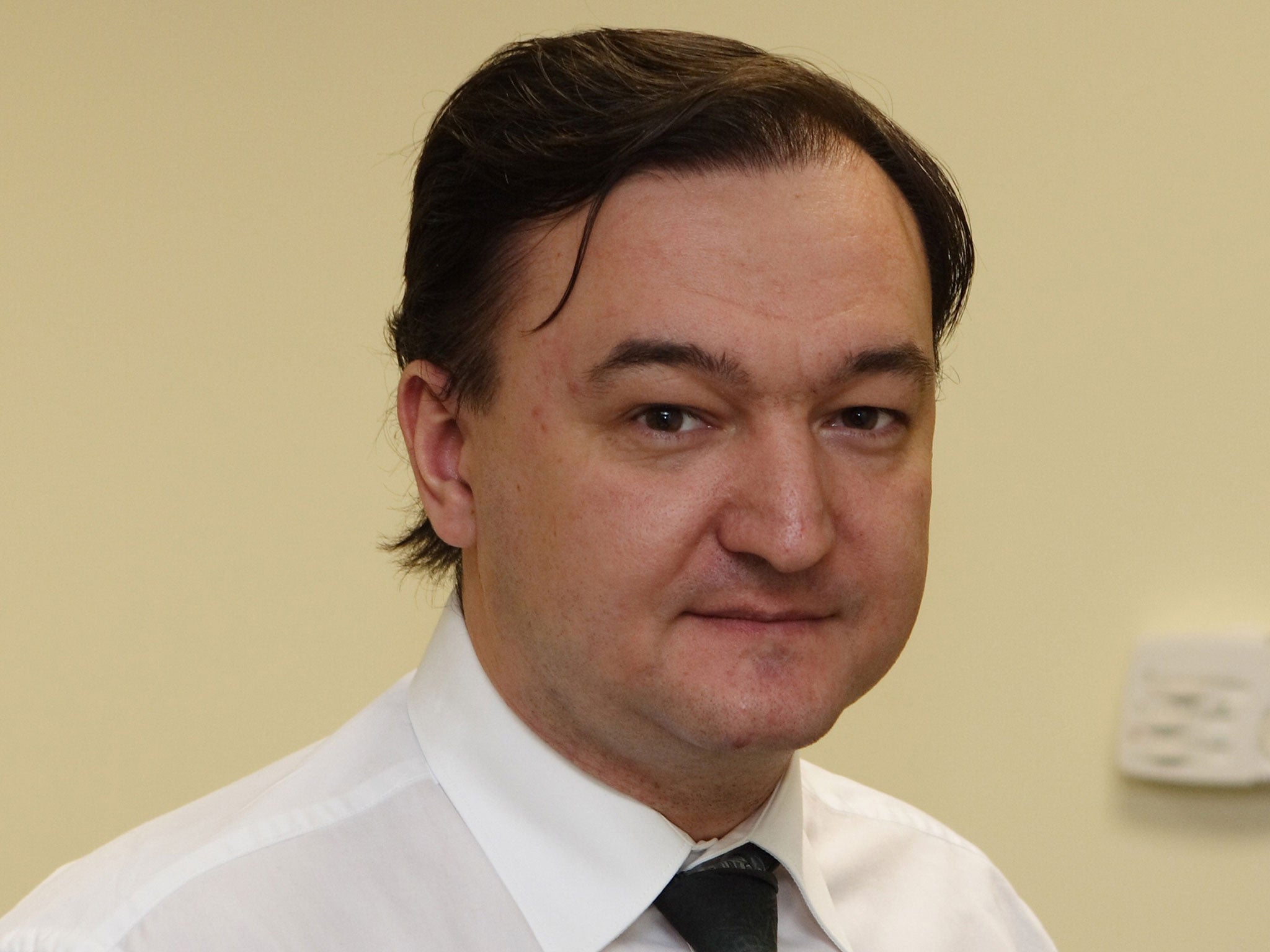 A former Moscow police officer is suing a British businessman who exposed how a network of corrupt officials and shadowy criminal underworld figures were behind the largest tax fraud in Russian history.
Lieutenant Colonel Pavel Karpov has launched libel and defamation proceedings in the High Court against William Browder, a millionaire hedge-fund magnate who has campaigned against corruption within the Russian government after his lawyer Sergei Magnitsky was tortured and died in police custody.
The 35-year-old officer, who was until recently a Moscow and Interior Ministry investigator, is one of more than 60 Russian officials who Mr Browder has publicly accused of being behind a scam that led to the theft of $230million from the Russian tax payer. Mr Browder has also accused him of being among a group of police officers who arranged for the arrest and torture of Mr Magnitsky when he uncovered the scam and went public with his allegations.
If the case ends up in the High Court, it will shed a spotlight on a scandal that has become a source of major international embarrassment to the Kremlin because of the mounting evidence that prominent officials within the Interior Ministry, tax offices and the judiciary aided the scam.
Mr Karpov insists he had nothing to do with the fraud or the subsequent cover up – or the arrest, torture and death of Mr M. In court documents obtained by The Independent Lawyers from Olswang, the major London law-firm which represents the former detective, say the allegations made by Mr Browder have caused "serious hurt, embarrassment and distress."
They insist that while Mr Browder's quest to pursue those who killed Mr Magnitsky might be legitimate, his campaign has wrongfully made false and highly defamatory claims against their client including that he is complicit in fraud, torture, kidnapping and murder.
Lawyers for Mr Browder have stood by the claims and say they will show in court how Mr Karpov is a prominent figure within a Russian organised crime group that specialises in complex financial frauds. In a 68-page defence outline they also call on the High Court to strike out the case as an "abuse of process" that should not be decided in a UK jurisdiction.
According to Mr Browder's team the complex fraud began in June 2007 when Interior Ministry officers raided the Moscow offices of their hedge fund Hermitage Capital Management and took into custody a string of corporate seals and documents as evidence. Those seals were later used to fraudulently transfer ownership of two Hermitage subsidiaries which were then involved in a series of uncontested damage claims in the Russian civil courts. When judges awarded damages the claims were paid for using a $230m tax rebate that, despite the enormous sums involved, was signed off in 24-hours by tax officers who have since become very wealthy. The money was transferred into a small Moscow bank which moved the cash on before liquidating.
In response to the fraud and the killing of Mr Magnitsky, the United States recently approved legislation banning a number of officials allegedly linked to the scam from entering America or holding assets there although. Washington has never made the list public. To the fury of the Kremlin, which responded to the US legislation with a tit-for-tat ban on Americans adopting Russian children, Mr Browder has lobbied for similar exclusion lists in Canada and Europe. Police in Switzerland, Cyprus, Lithuania and Latvia, meanwhile, have launched investigations following revelations that money from the scam was laundered through banks on their territories.
Russian prosecutors have admitted that the $230m tax fraud took place. After initially accusing a number low level figures of being behind the scam – some of whom were dead before the events took place – prosecutors have since turned their sights on Mr Browder and Mr Magnitsky, launching a prosecution of both figures despite the fact that Mr Magnitsky has been dead for more than three years.
At the heart of the libel claim in the British courts is whether Mr Browder's campaign was right to name Mr Karpov as one of the officials involved in the Magnitsky fraud and cover-up.
The former police officer's complaints primarily centre around four videos which Mr Browder and his team of researchers uploaded between 2010 and 2012 onto the website Russian-Untouchables.com after claiming that they failed to receive any justice in the Russian courts.
The videos, which were made available in both English and Russian, allege that Mr Karpov is a member of a network of corrupt officials and criminal figures that specialise in complex tax frauds known as "The Klyuev Group". As well as highlighting his alleged associations to key members of the group, the videos and Mr Browder's defence document allege that Mr Karpov has managed to become significantly wealthy since the tax fraud scam despite his modest police salary of around 16,000 roubles ( £322) a month.
Mr Browder's lawyers say Mr Karpov and his mother - who subsists on a declared pension of $3,200 a year - have owned a string of luxury cars over the last eight years including a Mercedes which was purchased by Mr Karopov with a $60,906 loan. On the application for the loan - which was paid off in one year with interest - Mr Karpov allegedly declared his salary as a significantly higher amount than what his job pays him. Via his mother, Mr Browder also alleges that Mr Karpov owns a luxury apartment in Michurinsky Prospect - a highly sought after area of Moscow with a retail price of more than $900,000 for the flat. Two plots of land outside the Russian capital worth $120,000 were also purchased by Mr Karpov's mother in 2007
Flight records obtained by Mr Browder's team detail how Mr Karpov is a frequent flyer – allegedly spending 225 days travelling outside Russia on 47 trips to 17 different countries between 2004 and 2012. Destinations include France, the UK, Italy, the United States, the Caribbean, Spain, Dubai Cyprus and Turkey. 
They also reveal how he often travelled on flights with others who have been accused by Mr Browder of being key members of the Klyuev group. Mr Browder alleges that Mr Karpov also met with the alleged head of the group during a trip to Cyprus in 2006.
Mr Karpov told The Independent through his lawyers that – apart from one car – all his wealth including the other vehicles and properties were acquired before the 2007 tax fraud against Hermitage.
In a pre-action Letter of Claim seen by The Independent his lawyers insist there is nothing suspicious about his movements and that his association with people that Mr Browder has also accused of being part of the Klyuev group are simply friendships.
"There is nothing suspicious about our client's holidays and he has not sought to hide them," the letter states.
They say that while flight records show Mr Karpov was on the same flight to Cyprus as the alleged head of the Klyuev group, the pair "were not travelling, or holidaying, together and never have done." The Russian officer met the alleged head of the crime group only once at a social occasion that week in what is "a popular holiday destination for Russian nationals."
Mr Karpov's legal team also vehemently deny that their client had anything to do with masterminding the police raid against Hermitage's lawyers (they say he was abroad) or the subsequent arrest and torture of Mr Magnitsky.
Mr Browder alleges that Mr Karpov was one of the main detectives who instigated the investigation against Hermitage and that he had responsibility for the corporate seals in evidence lock-up that were later used to fraudulently transfer ownership of two subsidiaries. In the videos, Mr Browder's team claims that once Mr Magnitsky began to speak out publicly about the involvement of Russian officials in the scam, his arrest was organised by a number of police officers including Mr Karpov. However Mr Karpov told The Independent that Mr Magnitsky made no allegations against him in testimony in 2008.
They say that while Karpov was on the team that investigated Hermitage "our client was not involved in any way in the decision to open this criminal investigation or in any of the pre-raid preparatory work."
He insists the corporate seals were in a police lock up and that multiple officers had access to the room where they were kept. They also claim that there is no evidence that Mr Karpov had any involvement in the arrest of Mr Magnitsky in November 2008 and was only aware of his death once the media reported it.
If the case ends up in a trial it will be up to a High Court judge to decide which versions of these two sides of the argument are correct. Mr Karpov's lawyers say the case has to be tackled in the British courts because the origin of the allegedly libellous videos is in the UK.
But one of the difficulties any British judge will encounter in this case is the inability to compel witnesses from Russia or order Moscow to hand over vital documents.
As Mr Browder's legal team remark in their defence: "It would be wrong for a question about the possible collusion between organised crime and a foreign state to be investigated and determined by a court in a foreign jurisdiction in a civil action between private parties." The defence adds that they would be "unable to compel the attendance of witnesses from Russia and add that it would be "impossible to obtain documents which will be disclosable in this case".
Mr Karpov's legal team counter that their client "has a substantial reputation within the jurisdiction of England and Wales" which needs to be protected.
A judge will decide whether or not to hear the case in the next few months.
Join our commenting forum
Join thought-provoking conversations, follow other Independent readers and see their replies