Exclusive: Human rights lawyer Lord Joffe likens the battle for an assisted dying law to the abolition of slavery
The 82-year-old South African said passage of the Bill is inevitable
Paul Gallagher
Thursday 17 July 2014 17:57 Comments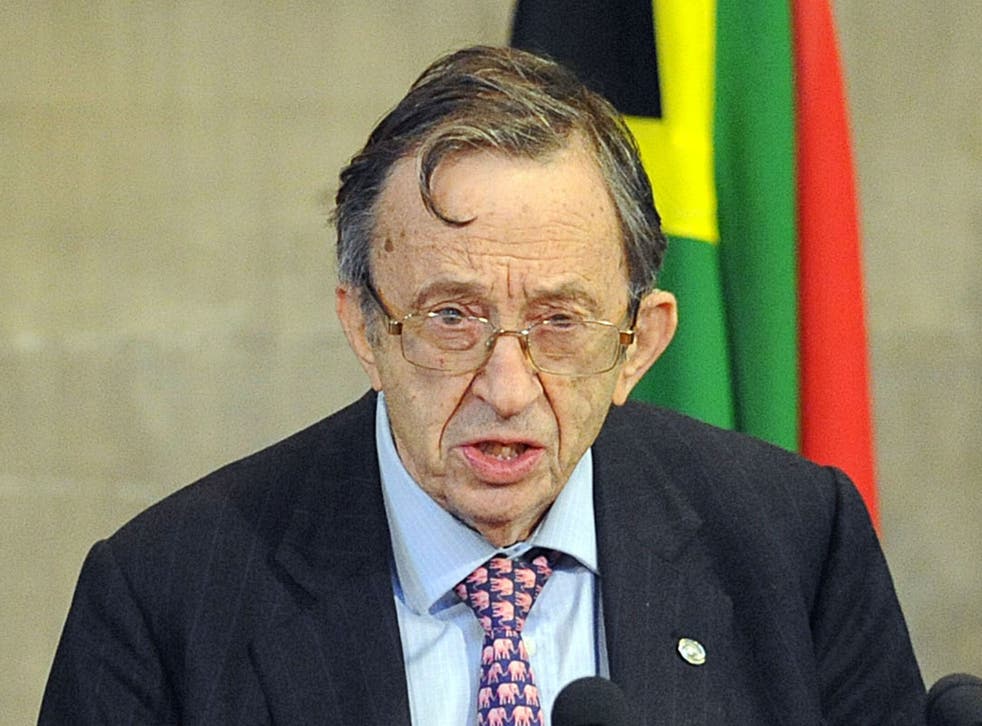 Around 1,000 people every year will end their lives through a new assisted dying law, according to the peer who has made the introduction of legislation allowing the terminally ill to choose when they die the cornerstone of his life's work.
Former human rights lawyer Lord Joffe compared opponents of the Assisted Dying Bill, debated in the House of Lords on Friday, to those who argued against decriminalising homosexuality and who opposed legalising abortion and inter-faith marriage. He also likened the battle for an assisted dying law to the abolition of slavery.
The 82-year-old South African said passage of the Bill, which will let patients with less than six months to live request life-ending medication from a doctor that they must self-administer, is inevitable.
Lord Joffe, a crossbench peer, has made four attempts to change the law – the last in 2006 when his Bill was defeated by 148 votes to 100 before it could be scrutinised in any detail – and said the former Labour Lord Chancellor Lord Falconer was the right man to lead the latest version of the Bill with his support.
He told the Independent: "Most of those who oppose assisted dying opposed the decriminalisation of homosexuality, they opposed inter-faith marriage and abortions, all of these. Opponents [to assisted dying] don't seem to recognise we are developing into a more and more compassionate and caring society. This doesn't mean they themselves are not caring and compassionate people, it means they have a bit of a blind spot when it comes to the compassionate development of our law.
"The Bill will get through – the only question is when. Assisted dying is spreading throughout the world. More and more communities are passing or considering legislation to allow assisted dying, subject to strict safeguards. But I'm certain it will get through in this country… one is comforted by the fact that it took William Wilberforce about 17 attempts to get slavery abolished."
The Assisted Dying Bill is based largely on a system that has operated in Oregon since 1997. Lord Joffe said his estimate of 1,000 deaths a year in England and Wales is based on data collated in the state over the last 17 years, where an average of 0.2 per cent of all deaths come about as a result of assisted dying.
He also dismissed the concerns of the Rt Rev the Lord Bishop of Carlisle who wrote in The Independent yesterday/on Thursday that "it is always dangerous to make laws according to a very few, very difficult cases, especially on matters of life and death".
Lord Joffe said: "It's not a little number of cases. Based on incidence of assisted dying in Oregon, with a lot smaller population, we estimate we would have about 1,000 assisted dying deaths each year - that's not a small number. There is no evidence at all that it would undermine the protection of the most vulnerable members of society. Much of the opposition is about looking for reasons why not rather than considering the evidence and coming to an objective view on the position."
Since 2002 more than 250 Britons have travelled to the Dignitas clinic in Switzerland. Healthcare Professionals for Assisted Dying, whose figures Lord Joffe's estimate is based on, believe around 9,300 people in England and Wales would discuss assisted dying with their GP or family, 1,600 people wish to continue with such a request, meet the eligibility criteria and receive a prescription for life-ending medication. They said approximately 990 people a year would take the prescribed life-ending medication and have an assisted death.
Alistair Thompson, spokesperson for Care not Killing, said that while Lord Joffe's estimate was correct it masked how many people are likely to choose assisted dying in the future. He said: "In the first year Oregon changed the law there were 24 prescriptions for life-ending medication and 16 assisted suicides. That jumped to 116 and 85 respectively last year, so while we can expect more than 1,000 assisted suicides here if the law passes, in the future that figure is likely to also jump five-fold."
More than 130 peers are expected to debate the Bill on Friday – almost double the number that discussed Lord Joffe's Bill in the chamber 10 years ago.
Lord Joffe said: "If the Bill passes, Parliament will demonstrate we are a caring society which has compassion for the people who are suffering terribly and that we respect the right of individuals to make decisions for their own lives."
Register for free to continue reading
Registration is a free and easy way to support our truly independent journalism
By registering, you will also enjoy limited access to Premium articles, exclusive newsletters, commenting, and virtual events with our leading journalists
Already have an account? sign in
Join our new commenting forum
Join thought-provoking conversations, follow other Independent readers and see their replies