Exclusive: MoD failed to act over Snatch safety alert
Soldiers' deaths in roadside bomb attacks on Land Rovers in Iraq, and then Afghanistan, led defence officials to run tests that exposed the vehicles as 'mobile coffins'. But troops were still forced to use them – with lethal results
Brian Brady
,
Jonathan Owen
Sunday 27 November 2011 01:00 Comments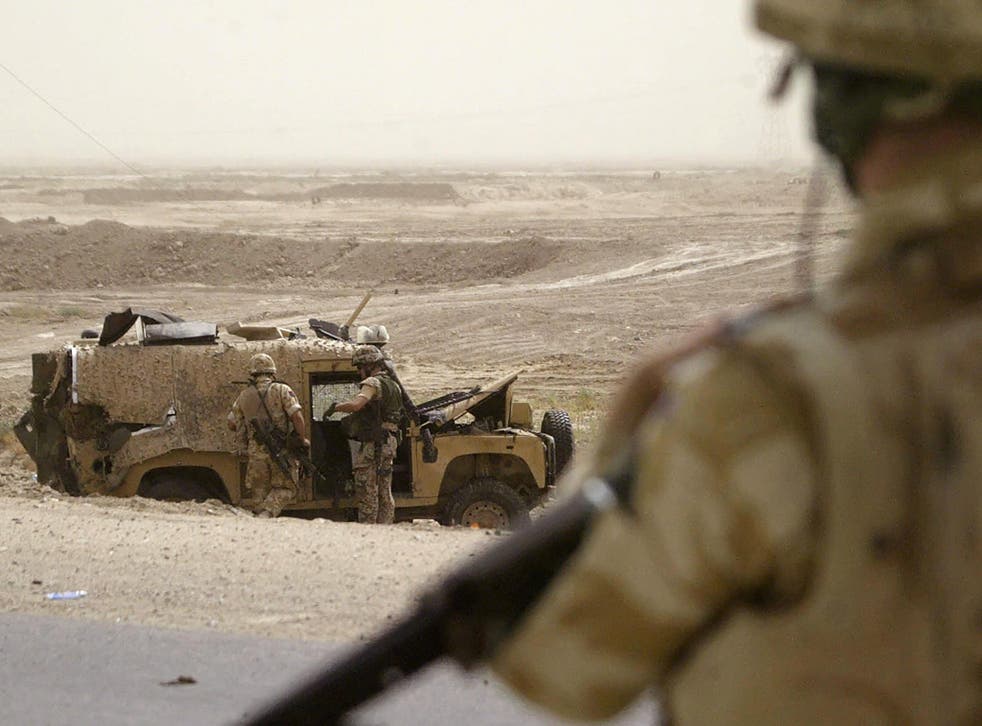 Defence chiefs continued sending British troops out in lightly armoured Land Rovers dubbed "mobile coffins" for years after their own tests proved the vehicles were critically vulnerable to attack from roadside bombs, secret documents have shown.
Secret tests of the Army's vehicles carried out in 2005 revealed that even when soldiers wore body armour the Snatch Land Rovers provided little protection from Improvised Explosive Devices (IEDs), which ripped through the "basic level of protection" provided by the vehicles. Some 37 British service personnel have died as a result of attacks on Snatches since 2001 – more than 20 of them since 2005, the year the tests were carried out. The vehicles are still in use in Afghanistan.
A series of internal papers, part of an assessment of the Army's vehicle fleet conducted six years ago, detail work to "assess the lethality of fragmentation against Snatch", and lay bare "scenarios where Snatch is overmatched by the threat". But, although the tests revealed the Snatch "performed poorly", the Ministry of Defence (MoD) withheld the reports, claiming that "disclosure of such information could prejudice the safety of the armed forces".
The families of soldiers killed in Snatches last night condemned the Army's policy on the vehicle; the Snatch has been modified several times since 2005, but still awaits replacement by a more modern and better-protected alternative.
Sue Smith, whose son Phillip Hewett was killed by a roadside bomb attack on a Snatch patrol in Iraq in July 2005, said she was "absolutely disgusted" to learn about the levels of concern laid bare in the documents. She added: "If it was a business they'd have been done for corporate manslaughter, they'd have been shut down."
Official documents released to the Iraq inquiry last year revealed that ministers had been warned that Snatches – originally bought for use in Northern Ireland – needed to be replaced in 2006. But in a "vehicle protection presentation" held on 16 March 2005 – the second anniversary of the Iraq invasion – the defence technology company QinetiQ reported that "Snatch performs relatively poorly but in line with expectations" when attacked by projectiles.
A copy of the document, obtained by The Independent on Sunday under freedom of information laws, showed that the investigation concluded that "Snatch as expected is overmatched", and also raised questions over the ability of body armour to protect troops.
Another study two weeks later conceded there was "a significant knowledge gap in the area of behind armour effects for the Snatch vehicle", and laid bare its vulnerability to attacks from larger devices.
The papers refer to "test data supplied by Defence Intelligence" that implies the weakness of the vehicles in the face of bomb attacks, noting that "Snatch [plus] Soft body armour or helmets provide some increase in protection". It warns that "The Snatch vehicle has also been increasingly exposed to attacks from IEDs during recent deployments."
In an assessment of the best type of additional protection, the QinetiQ experts stated: "As expected, the plate body armour performs better". But it took more than a year before upgraded Osprey plate armour was provided to soldiers in combat – when the MoD spent £16m on 16,000 sets of the armour – and for ministers to admit they needed to buy hundreds of vehicles "with improved protection for deployment to Iraq and Afghanistan".
An emergency review of the Snatch vehicles was not announced until 2008 – after a tide of protests from the families of service personnel who had been killed or suffered horrific injuries in a series of IED attacks in Afghanistan.
Despite the dangers being known by the MoD more than six years ago, not one of the replacements for the Snatch has arrived in Afghanistan. Officials took five years before deciding to place an "urgent operational requirement" in 2010 for armoured vehicles to replace the Snatches. The replacement – the Foxhound – is part of a £200m package of 200 light patrol vehicles ordered by the MoD.
The Conservative MP Patrick Mercer, a former Army officer, said soldiers had called Snatch "the mobile coffin" for years. He added: "Myself and others pointed out [its] inadequacy as far back as 2005; that was only partially addressed by the wearing of extra body armour. It is not acceptable that this vehicle is still being used in the most dangerous of areas."
Jocelyn Cockburn, a solicitor who represents several families of soldiers who died in Snatch Land Rovers during the Iraq war, said: "The MoD's defence to Sue Smith's case is that there was no particular threat to Snatch associated with IEDs in July 2005 when Phillip Hewett died. It is denied that there was an identified risk to Snatch from IEDs in July 2005."
An MoD spokeswoman said the Snatch was upgraded four times since 2004, because better-armoured alternatives were not available. Older Snatch variants were no longer used on operations and the MoD had ordered more than 2,500 new armoured vehicles. She added: "Commanders have a range of vehicles they can use, but have to balance the level of protection with the tactics they want to employ."
Case study
Private Phillip Hewett, 1st Battalion, the Staffordshire Regiment
Sue Smith's son was 21 when he died – killed in a Snatch Land Rover in Iraq. Phillip Hewett, a private in the 1st Battalion Staffordshire Regiment, died on 16 July 2005 in a roadside bomb attack on a patrol in Al Amarah.
His mother, 50, from Tamworth in Staffordshire said: "The shrapnel severed his main carotid artery so Phillip bled to death. The only thing that gives me some comfort is that he was unconscious, but I know that he was peppered with shrapnel.
"I'm absolutely disgusted [to learn about the documents]... I knew about Snatches before Philip died because his father was in the Army – he was in Northern Ireland, and they weren't allowed out in a Snatch because of roadside bombs.
"So I had nine years with a soldier telling me that Snatches weren't safe, and then my son gets killed in one."
Register for free to continue reading
Registration is a free and easy way to support our truly independent journalism
By registering, you will also enjoy limited access to Premium articles, exclusive newsletters, commenting, and virtual events with our leading journalists
Already have an account? sign in
Join our new commenting forum
Join thought-provoking conversations, follow other Independent readers and see their replies