Exclusive: The Lariam scandal - MoD 'ignored decades of warnings about dangers of suicide drug'
Drug that most GPs are reluctant to prescribe for their patients and that is banned by US military is putting thousands of British soldiers' lives at risk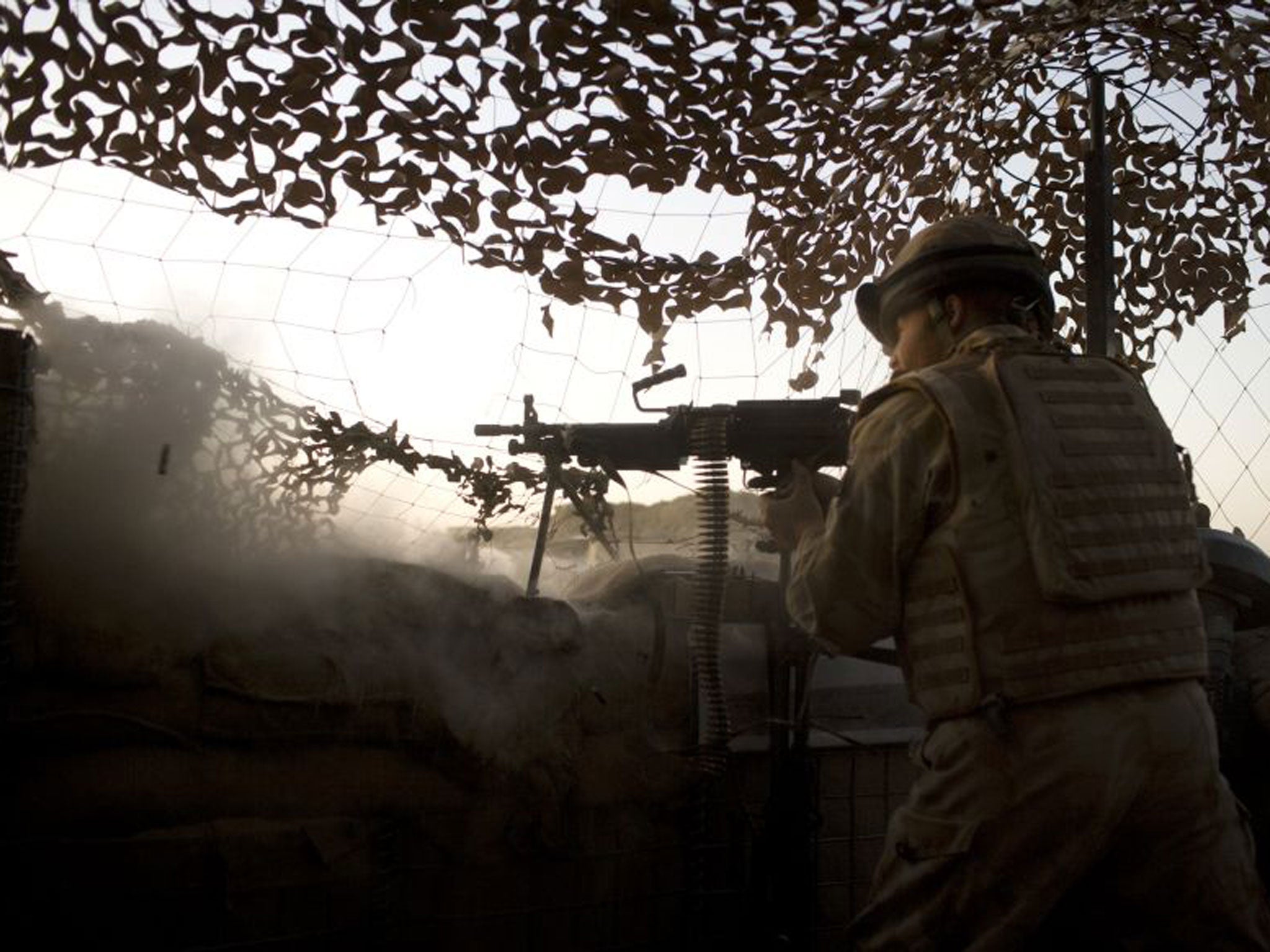 Thousands of British soldiers are being put at increased risk of psychosis and suicide because the Ministry of Defence refuses to stop using a controversial anti-malarial drug that has just been banned by the US military, The Independent can reveal.
Mefloquine – better known as Lariam – has long been the subject of warnings over its effects on mental health and is now only used by a minority of people travelling abroad.
Amid mounting concerns about the dangers of the drug – which has been linked with a string of suicides and murders – the US military acted this month to ban its use among special forces. The decision came after it was linked to the massacre of 16 Afghan civilians by a US soldier.
Yet British soldiers are still being given Lariam – a drug described as a modern-day "Agent Orange" by doctors because of its toxicity.
Speaking to The Independent, a former senior medical officer accused the MoD of ignoring repeated warnings over the dangers of the drug. Lt-Col Ashley Croft, who served for more than 25 years in the Royal Army Medical Corps and is an expert on malaria, said: "For the past 12 years I was saying this is potentially a dangerous drug – most people can take it without problems but a few people will experience difficulties and of those a small number will become psychotic and because there are other alternatives that are safer and just as effective we should move to them but my words fell on deaf ears."
Lt Col Ashcroft, who retired in April, accused the MoD of being in "denial mode". He added: "The problem is that it can make people have psychotic thoughts and therefore act in an irrational manner and potentially a manner that is dangerous to themselves or their colleagues, or civilians."
Doxycycline and malarone are safer drugs which are as effective in preventing malaria, according to the retired officer. "Really the only people that get it [Lariam] now are the poor old soldiers and they have no choice."
Mefloquine is typically given to soldiers serving in sub-Saharan Africa, parts of Latin America and South-east Asia. Lt Col Croft estimates around 2,500 soldiers a year are given the drug.
Lariam was developed by the US Army in the 1970s, and approved by the US Food and Drug Administration (FDA) in 1989. It became a popular drug for preventing and treating malaria, but recent years have seen it become superceded by newer antimalarial drugs, such as malarone.
While most NHS doctors now recommend that civilians travelling overseas take alternatives to Lariam with fewer side-effects, British service personnel are given little choice about whether to take the drug.
This is despite the US military banning Lariam on safety grounds. An order issued earlier this month by the US Special Forces Command states: "medical personnel will immediately cease the prescribing and use of mefloquine for malaria prophylaxis". It adds: "Hallucinations and psychotic behaviour can occur and continue for months or years after mefloquine use; cases of suicidal ideation and suicide have been reported."
The decision comes after an order in July from the FDA to force manufacturers to give the drug a "black box" label, its strongest warning. The FDA warned that some neurological and psychiatric side effects can last for months or years after people stop taking the drug.
Staff Sergeant Robert Bales, the US soldier who killed 16 Afghan civilians in March 2012, had taken Lariam while serving in Iraq.
Dr Remington Nevin, a former US army doctor and expert on the psychiatric effects of Lariam, who is based at the Johns Hopkins Bloomberg School of Public Health, said: "As a result of its toxic effects, the drug is quickly becoming the "Agent Orange" of this generation, linked to a growing list of lasting neurological and psychiatric problems including suicide." In addition to the mental health risks, physical side effects range from internal bleeding to liver and lung damage.
But there are no signs of the British Army stopping its use of Lariam. An MoD spokesperson said: "All our medical advice is based on the current guidelines set out by Public Health England. Based on its expert advice, the MoD continues to prescribe mefloquine as part of the range of malaria prevention treatments recommended. It is just one of the prevention treatments available and is only prescribed under certain circumstances to ensure the treatment provided is the most effective."
While ordinary soldiers are routinely given the drug, the MoD ordered that it should not be given to air crew or divers, given the particular risks of such posts. In its latest guidance for commanders, dated 2013, it cites "significant risk of side effects, which could degrade concentration and co-ordination", and that any such specialist personnel who take it will be unfit for duty for three months.
A spokesman for the Public Health England Advisory Committee on Malaria Prevention (ACMP), said: "Mefloquine is an extremely effective antimalarial and we are not aware of any new data that alter our view of the safety of mefloquine." He added: "Whenever new evidence about antimalarials appears the ACMP considers this as part of its continuous process of developing advice."
Lt Col Croft condemned the ACMP for "promoting this drug as 'safe'" and added: "They shelter behind collegiality, and won't budge from this position since it would imply that their earlier judgement on mefloquine was wrong, and if they were to now change their advice then they as individuals could potentially be cited, in personal injury actions brought by mefloquine-damaged travellers."
And Dr Nevin commented: "Public Health England has a responsibility to protect the travelling public from the threat posed by dangerous medicines, and should carefully reconsider its recommendations in light of mefloquine's neurotoxicity and its association with risk of permanent neurological injury and death."
He added: "Mefloquine toxicity is also a potentially life-threatening condition that is fully preventable by use of safer daily antimalarials."
Roche, the company that makes Lariam, warned of the risk of suicide more than a decade ago. And this July, in a letter to doctors in Ireland, Dr Maria Luz Amador, the company's medical director, warned that the drug "may induce potentially serious neuropsychiatric disorders" and that "hallucinations, psychosis, suicide, suicidal thoughts and self-endangering behaviour have been reported."
A statement from Roche said: "All medicines have side effects and we are sorry to hear about those that experience adverse reactions to our medicines." It continued, the benefits "outweigh the potential risk of the treatment and Roche maintains the position that there is no causal relationship between suicidal tendency, suicide or self-harm and Lariam."
But it cautioned: "Lariam should not be prescribed for prophylaxis in persons with active depression or with a history of major psychiatric disorders or convulsions."
Doctors "tend to steer clear of it," said Dr Claire Gerarda, the chair of the Royal College of General Practitioners. "I wouldn't encourage it, because I think it's got nasty side effects. I can't remember the last time I prescribed Lariam."
Lariam: The suicides, murders and incidents of self-harm
The controversial anti-malarial drug Lariam has been linked to a series of military suicides, murders and incidents of self-harm during the past 20 years.
* Staff Sergeant Robert Bales, the US soldier who killed 16 Afghan civilians in 2012, had taken Lariam while serving in Iraq. Although he is not mentioned by name, an "adverse event" report was made to Roche, manufacturers of the drug, on 29th March 2012 from a pharmacist regarding an unnamed Army soldier. "The patient who was a soldier in the US Army developed homicidal behavior and led to Homicide killing 17 Afghanis," it said. The report, which was passed on to the US Food and Drug Administration, claimed the drug had been given "in direct contradiction to US military rules that Mefloquine should not be given to soldiers who had suffered TBI (Traumatic brain injury) due to its propensity to cross blood brain barriers inciting psychotic, homicidal or suicidal behaviour."
* Canadian peacekeepers beat, tortured and shot two local teenagers in Somalia in 1993. Major Barry Armstrong, the military commander of the Somalia surgical unit, in a report dated October that year, stated: "I believe there may be an additional, simple explanation for our difficulties in Somalia: Canadian and American troops may have been impaired by the use of mefloquine."
* In 2000, Lance Corporal Kristian Shelmerdine, the Parachute Regiment, shot himself in the arm while serving in Sierra Leone. He blamed the accident on the drug, claiming to have had bad dreams and woken up to find himself shot, but was found guilty of 'negligent discharge'. Two years later, four US soldiers based at Fort Bragg, North Carolina (three of whom had recently returned from Afghanistan, where troops were prescribed Lariam) killed their wives. Two of the soldiers killed themselves.
* In 2004, a US Army reservist shot himself in Iraq – just weeks before he was due to return home. In a US army report which subsequently emerged, an army psychiatrist stated: "if toxicology reveals the presence of mefloquine, SPC Torres' case should be viewed in light of other suicides suspected to be associated with the drug."
Jonathan Owen
Join our commenting forum
Join thought-provoking conversations, follow other Independent readers and see their replies