Major incident declared after 'massive explosion' shakes homes in Leicester
Witnesses describe low booming sound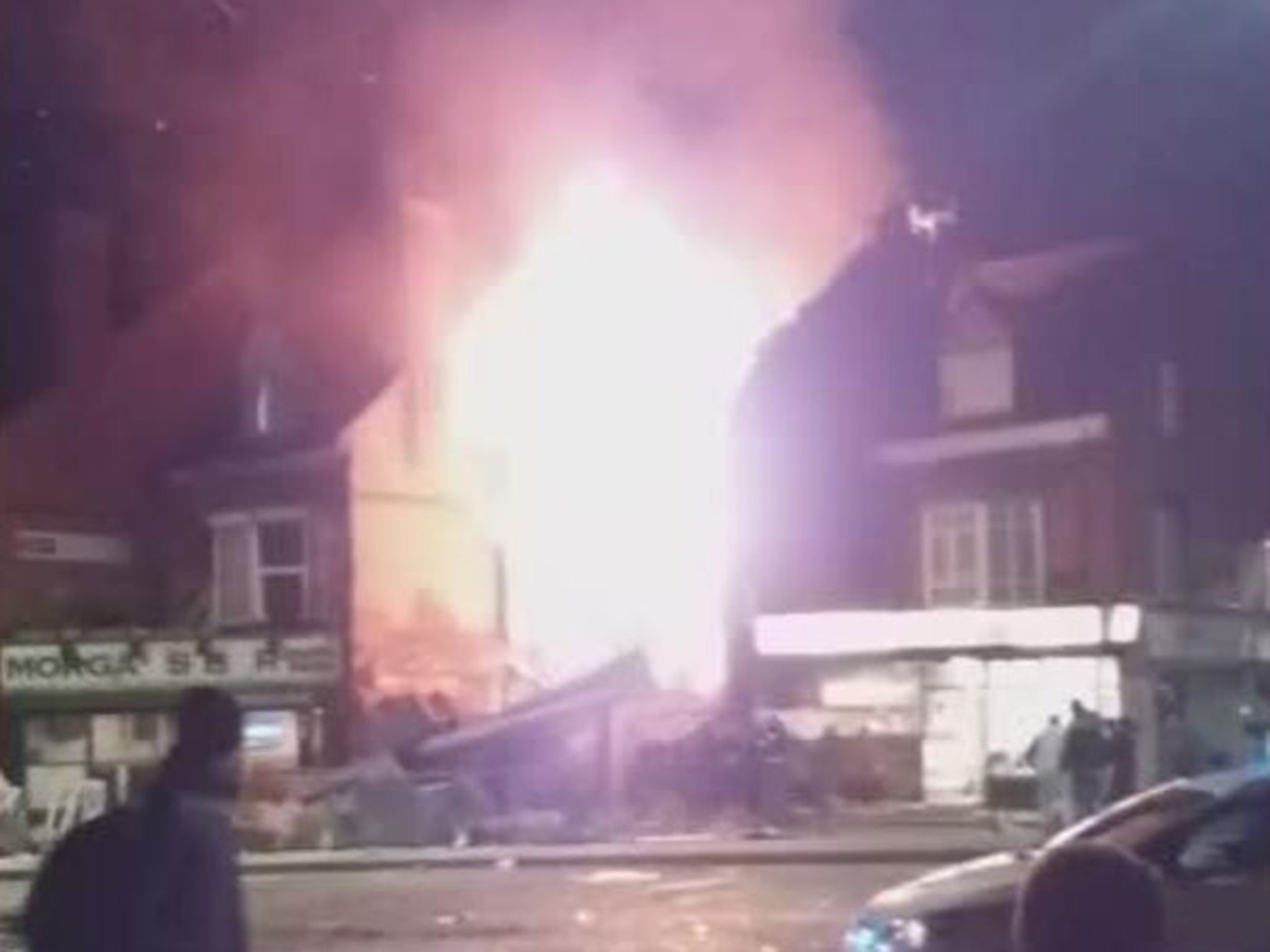 Two people are in a critical condition after a suspected explosion destroyed a shop and the flat above it in Leicester.
Police declared a "major incident" following the blast, which took place about a mile west of the city centre.
Residents reported hearing a low booming sound and feeling their houses shake.
Fire burns following 'massive explosion' in Leicester
The emergency services said they were called to reports of a blast shortly after 7pm and six fire engines were sent to the scene.
The police evacuated 60 homes and cordoned off Carlisle Street and a section of Hinckley Road.
Ambulance officials said six people were injured, two critically. They were taken to Leicester Royal Infirmary and doctors remained at the scene, they added.
Leicestershire Police said there were no indications of terrorist activity. They advised people to stay away from the area.
Photographs showed wreckage of a shop on Hinckley Road, a major arterial route into the city, engulfed in flames. People were seen in footage trying to move pieces of rubble outside the building as blue lights flashed.
A fire and rescue service spokeswoman said the emergency services were conducting a search and rescue operation and it was unclear if people were trapped in the rubble.
She said the two floor building had a loft conversion that had suffered a "pancake collapse".
Electricity supply was cut off for a number of properties in the Hinckley Road area while emergency services dealt with the incident, Leicestershire police said in a statement.
John Alexander, a local resident and journalist who was evacuated from the area told the BBC the shop and the flat above it had been "completely flattened" by the explosion.
He was sitting in his front room when he felt "a huge shock" that sounded like a "rush of air", he said.
When he came out of his house, he saw rubble lying across four lanes of the road.
People had been drinking in a pub near the shop and smoking in a nearby bus shelter at the time of the blast.
Kat Pattinson who lives on the same road as the fire told Sky News: "We are down the same street – about 500 metres from where the blast has taken place and our whole house shook.
"We checked on our children first and foremost and then we went outside.
"There is just an awful lot of smoke here at the moment and the whole area is cordoned off."
Eye-witness Tahir Khan said: "I was driving past when it happened.
"Loads of people were gathered and there was gas and flames coming out of the building.
"I looked on the road and half the building was on the road. Literally the whole of the side of the building had been blown out.
"I couldn't believe it, it was like a Hollywood movie."
Leicestershire Police said in a statement: "There has been a major incident on Hinckley Road, Leicester. All emergency services are currently dealing with this. Carlisle Street and part of Hinckley Road have been closed Please avoid the area."
MP for Leicester West, Liz Kendall said on Twitter: "Terrible news, am in touch with police as situation develops, thoughts and prayers with all those affected and with our amazing emergency services."
Anyone concerned about family members is asked to call 101.