'A flipping nuisance': Police complain about Extinction Rebellion's 'floppy' protest tactic
'We have asked them to stop being floppy' senior Metropolitan police official tells London assembly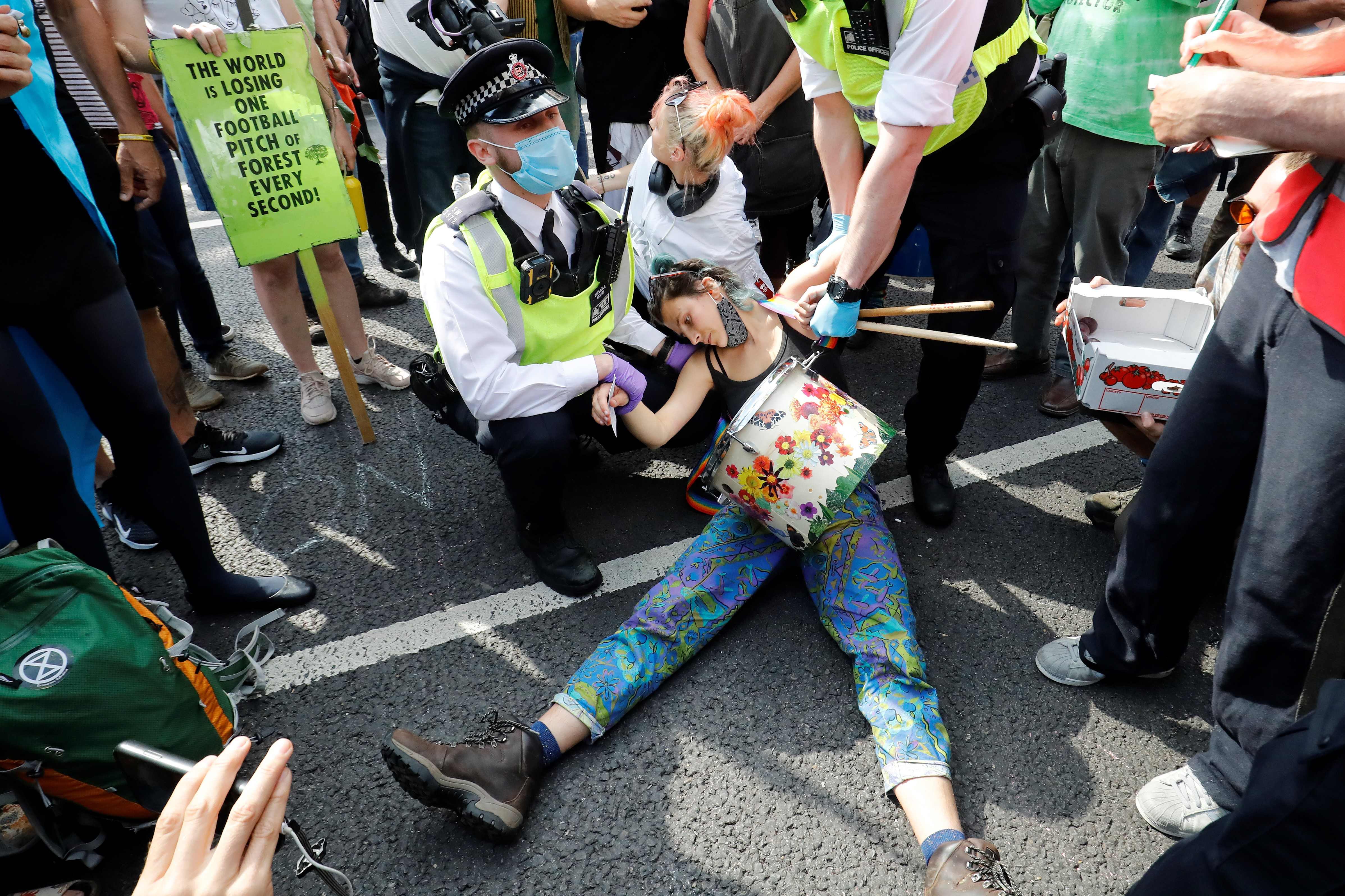 One of the nation's most senior police officers has said described a tactic deployed by Extinction Rebellion activists to ensure they peacefully cause as much disruption as possible while being arrested a 'flipping nuisance'.
Sir Steve House, Deputy Commissioner of the Metropolitan Police, said his officers had urged protesters to stop their bodies falling limp as they are taken away — a peaceful disruption tactic deployed by the environmental group that forces the police to deploy extra officers to conduct arrests.
At the beginning of September, more than 680 activists were arrested in 10 days of protests across the capital designed to highlight the ongoing threat of the climate crisis and demand political action.
Speaking to the London Assembly Police and Crime Committee said the tactic was "a flipping nuisance" and "a complete pain in the neck".
"We have asked them to stop being floppy", he added. "It might seem like a silly thing to say, but when we arrest them and pick them up they go all floppy, which is why you see four or five officers carrying them away.
Extinction Rebellion block roads at London Fashion Week, February 2020
Show all 22
"It's a complete waste of officers' time, and a complete pain in the neck. If they could just behave like sensible adults — you've made your point, you wanted to be arrested, you've been arrested, get up and walk away with one officer and stop wasting police time.
"This is a real issue, and they will not do it, and it is a flipping nuisance."
Sir Steve added: "The problem with them going floppy and four officers carrying them away is that it looks to the general public like the police are overreacting here.
"We're not making them go floppy — they're just being a nuisance."
Across this year's action, which did not reach the level of participation seen in 2019 when more than a thousand were taken in by officers, alleged offences including obstructing the highway, criminal damage and breaching the legal conditions set on the demonstration.
However the police response to the protests came under scrutiny after activists blockaded the print works of several UK newspapers — with Home Secretary Priti Patel calling the group "eco-crusaders turned criminals"
Following the blockade she added: "The very criminals who disrupt our free society must be stopped. And together we must all stand firm against the guerilla tactics of Extinction Rebellion."
Join our commenting forum
Join thought-provoking conversations, follow other Independent readers and see their replies