Extinction Rebellion protests: Activists blockade Oxford Circus with wooden pyramid before 'red hand' march on Westminster
Steve Coogan joins protesters on march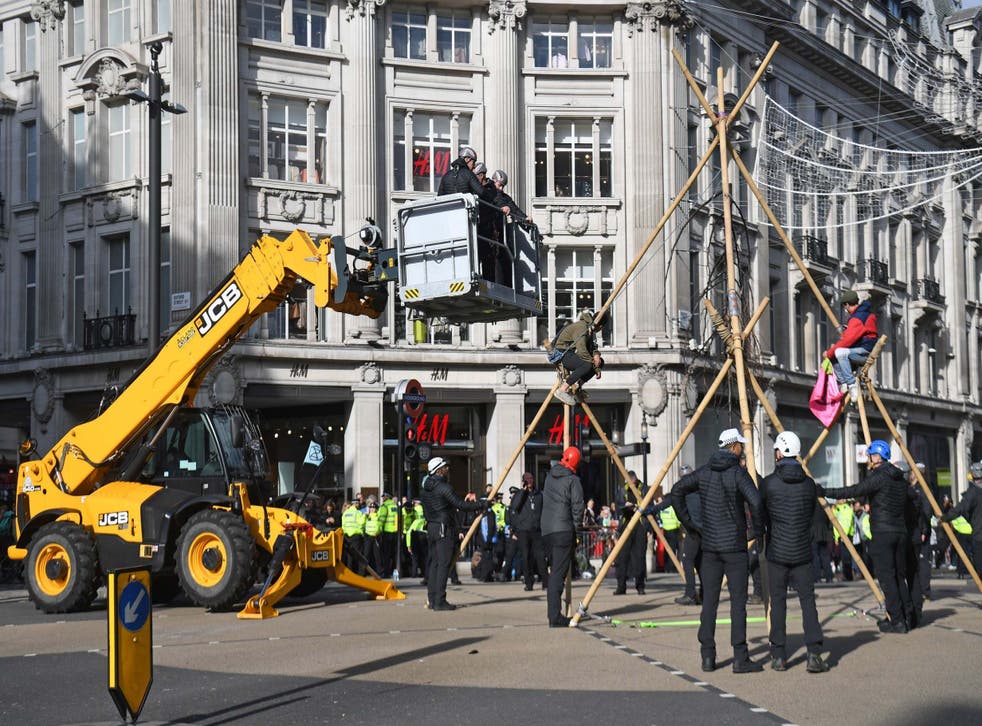 Extinction Rebellion protesters have been removed from Oxford Circus after blocking it off with a wooden pyramid.
Demonstrators had to be removed with a cherry picker as they perched on the structure in London.
Extinction Rebellion London said the junction – also targeted by the group in April – was chosen because Oxford Street is heavily polluted and is the centre of fast fashion.
Citing an Oxfam report from 2015, it also said the central London street was a "hub of luxury goods for the wealthiest".
A spokesperson for Extinction Rebellion said: "It's not about causing meaningless disruption. We have a vital message to bring – the consequences of the climate and ecological crisis are horrific."
Best Global Climate Strike protest signs, Friday 27 September 2019

Show all 57
The blockade was part of a two-week series of protests called the autumn uprising, which are due to finish on Sunday.
An hour into the Oxford Street protest, police began clearing the demonstrators away and then the JCB was brought in by specialist teams.
The protesters then moved to Whitehall with their hands painted red for a sit-down protest.
Among the protesters was actor and comedian Steve Coogan, who said: "Some people try to characterise it as a fringe movement, but it's not. I like the fact that it was started by young people but now older people have joined in too.
"Climate change feels like just another issue on the agenda that people are reluctant to pay attention to. But people in Extinction Rebellion and people who seriously believe want to make it a bigger issue.
"Anyone who is against the movement is motivated purely by the bottom line.
"I have always been environmentally aware and environmentally conscious. I just do not want to stand on the sidelines and not participate. It's easy to sit and not do anything."
The group released a statement ahead of the march, claiming they are willing to be caught "red handed".
The statement reads: "We are holding our hands up high in open rebellion against the UK government. But we are also accountable for our actions and are willing to be caught red handed. We criticise our opposition, and are open to criticism.
"Today, we will march in a solemn, unified and peaceful procession through Westminster, beginning at 11am at Whitehall Gardens by the William Tyndale statue. We will stop off at six government departments and deliver specific demands to each one, decided by a series of people's assemblies during the autumn uprising.
"We will raise our red hands, taking responsibility for our actions – we all have blood on our hands. We march in admission and recognition of the part we play in the injustice of this emergency, and the ongoing suffering of thousands of people around the world due to climate and ecological breakdown."
A speech in parliament square is set to end the procession.
Extinction Rebellion have been subject to a public order ban since Monday.
The group challenged the ban but a high court judge said a judicial review into the police decision will not be heard until next week.
Extinction Rebellion wanted a hearing before the end of the protests on October 19.
Join our new commenting forum
Join thought-provoking conversations, follow other Independent readers and see their replies