Extra police deployed to 'mudbath' Isle of Wight Festival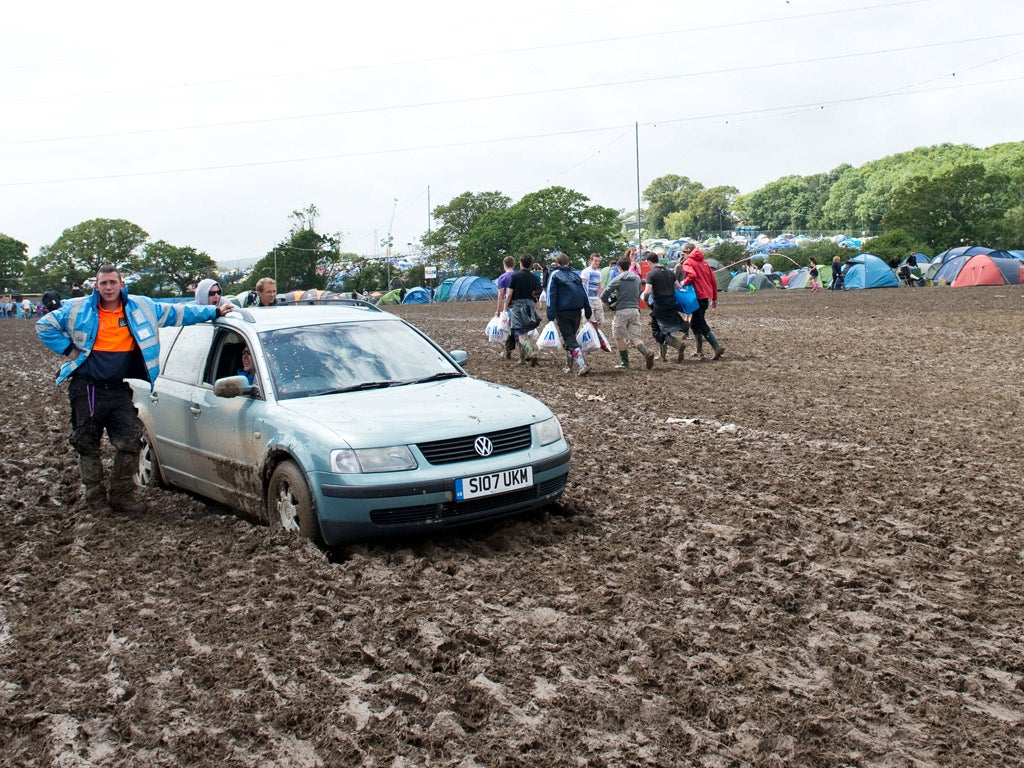 Extra police are to be deployed to help revellers leave at the end of the Isle of Wight Festival after heavy rains turned the site into a mudbath causing traffic chaos.
The festival was affected by a deluge which saw gridlocked drivers forced to sleep in their cars as the car parks had become flooded and inaccessible with mud.
The queues caused ferry companies to suspend their services and about 600 people were stranded on ferries on the Solent as the cars could not disembark due to backed up traffic on the island.
But after emergency car parks were opened off-site on Friday the backlog was cleared and sunshine even broke through the cloud in the afternoon for the festival, which opened with Feeder, followed by Example, Elbow and Tom Petty and the Heartbreakers.
Hampshire police announced that extra officers will be brought in to support organisers Solo as they assist the festival-goers as they leave and attempt to remove their vehicles from the muddy car parks tonight and tomorrow morning.
More than 100 officers and police support staff are involved in patrolling the site and ensuring the safety of those attending the event.
Chief Constable Alex Marshall, who visited the site and spoke to festival-goers on Friday night into Saturday morning, said: "It was a wet and muddy start for many campers this year but thankfully the weather did not seem to dampen the festival spirit on site.
"I'd ask that those heading home by car drive sensibly and carefully.
"Due to the volume of traffic on the site, drivers should expect some delays and we would ask you to be patient and remain with your vehicles, as the organisers work to get you home.
"The unprecedented impact the rain had on the site brought with it a unique challenge in the festival's 11-year history and our officers, PCSOs and staff worked hard alongside Solo and our partner agencies to tackle the situation as quickly as possible."
Revellers were urged to take care as they head home due to the volume of mud on the road and on vehicle tyres.
When leaving the site, drivers are advised to test their brakes by slowly and gently pressing down on the brake pedal.
Plans are in place between Hampshire Constabulary, Wightlink and Red Funnel ferries to ensure those who have booked are still able travel even if they miss their crossing time.
Mr Marshall said: "I'd like to thank festival-goers for their patience while the festival's emergency liaison Team has dealt with and will continue to deal with what has been a very challenging situation."
Bassist with opening band Feeder Taka Hirose described how they had to start playing to an almost-empty field because the site was opened late to the public because of safety concerns over heavy winds.
He said: "We were a bit worried, obviously, being on so early, and obviously there was also a problem with the doors opening late.
"So we're thinking 'Hang on a minute, we're meant to be on at 4.30', then we were told 'No, its 4.10 now, doors aren't opening till 4'. We're like 'There's not going to be many people then'.
"So we walked out, 'Is this a joke?' So we tried to shorten our set and go on later, but I think they let us have five minutes later, but after three songs it suddenly filled up and by the end it was heaving, wasn't it? It was great."
Acts taking to the stage yesterday included Madness, Big Country, Jessie J, Tinie Tempah, Biffy Clyro with the headline slot being taken by Pearl Jam.
The event at Seaclose Park, Newport, will finish today with Bruce Springsteen and the E Street Band.
PA
Join our commenting forum
Join thought-provoking conversations, follow other Independent readers and see their replies