Extreme Jenga: Whole building collapses after 'engineer took out the wrong brick'
Watch the moment a two-storey building is reduced to a heap of debris
Heather Saul
Friday 28 March 2014 12:56 Comments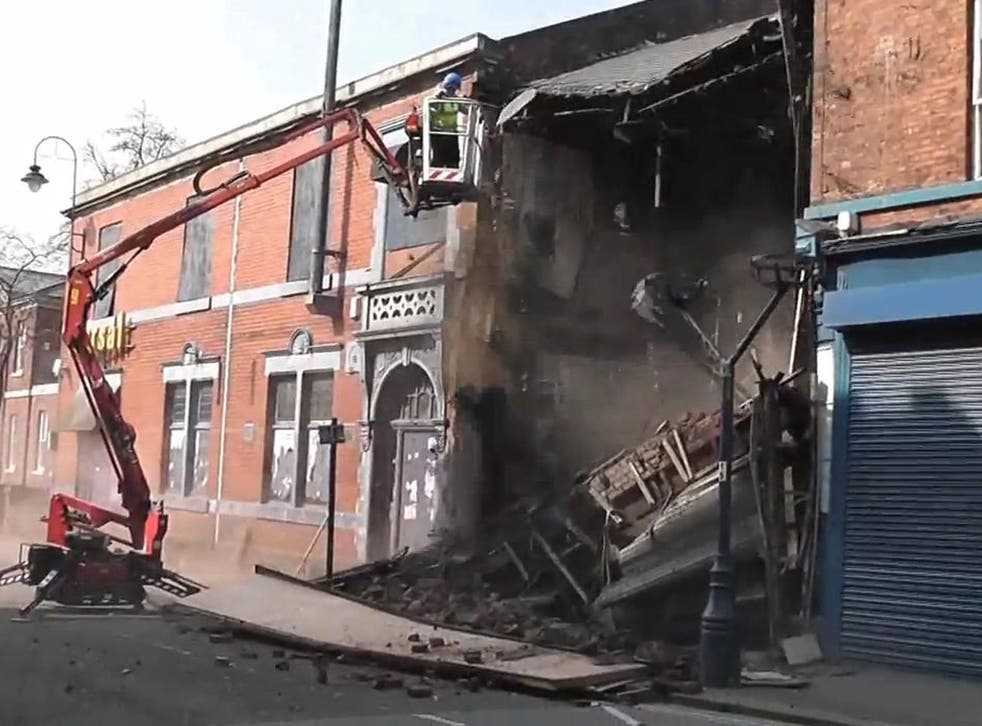 An engineer was left staring at a house-shaped hole after an entire building collapsed seconds after he dislodged a few bricks from the exterior wall.
In video footage captured by a bystander, the man can be seen tackling exposed beams and brickwork at the side of a disused building in possibly the most extreme game of Jenga on record.
He can be seen picking at bricks at edge when suddenly the whole – yes whole – building collapses into a heap without warning.
"He was up there trying to make it safe and he obviously took out the wrong brick. The whole lot came down with a loud rumble," an eyewitness told The Manchester Evening News.
The building in Ashton-under-Lyne, Greater Manchester, was once the home of troubled poet Francis Thompson and had a blue plaque to commemorate his time there.
Police had been called earlier that morning following reports of falling bricks and dispatched engineers to make the building safe.
The remains of the building and a section of the road surrounding it have since been cordoned off. No-one was hurt.
Register for free to continue reading
Registration is a free and easy way to support our truly independent journalism
By registering, you will also enjoy limited access to Premium articles, exclusive newsletters, commenting, and virtual events with our leading journalists
Already have an account? sign in
Join our new commenting forum
Join thought-provoking conversations, follow other Independent readers and see their replies