F-16 fighter jet narrowly misses onlookers near Waddington Air Show
Spectators threw themselves to the ground as the plane passed overhead
Lizzie Dearden
Monday 07 July 2014 12:35 Comments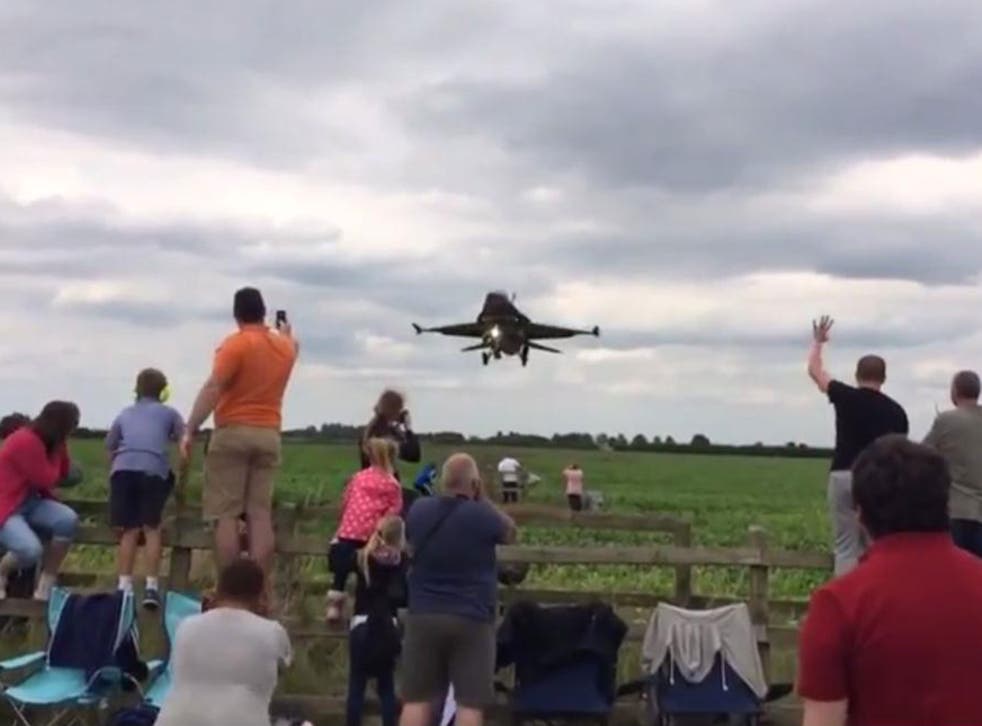 Aviation enthusiasts got a bit closer to the action than they expected when an F-16 fighter jet missed their heads by feet as it came in to land.
Footage of the moment at the Waddington International Air Show in Lincolnshire show shows spectators waving as the Turkish aircraft approached in the distance.
But as it got closer, and lower, some panicked and people can be seen ducking and running for cover.
As people recovered after the narrow miss, one man remarked: "That was a bit close, wasn't it."
The spectators did not seem to be ticket-holders at the Air Show, which sold out, and were standing on a public road outside the RAF base where it is held.
The fence separating them from the landing strip displays a sign warning people not to climb on it.
More than 150,000 people were expected at the 20th annual show, at an RAF base near Lincoln.
The Red Arrows put on a display and iconic Spitfires and Typhoons were among the 160 aircraft on show.
All proceeds from the two-day event go to the RAF and local charities.
Next year's event has been cancelled because of £35 million improvement works on the runway.
Register for free to continue reading
Registration is a free and easy way to support our truly independent journalism
By registering, you will also enjoy limited access to Premium articles, exclusive newsletters, commenting, and virtual events with our leading journalists
Already have an account? sign in
Join our new commenting forum
Join thought-provoking conversations, follow other Independent readers and see their replies