Vigilante campaign to drive 'fake homeless people' off streets condemned by police and local authority
'The dangerous practice of 'outing' people as professional criminals, based on often unverifiable information, fails to acknowledge the very complex vulnerabilities and chaotic lives of those concerned,' police say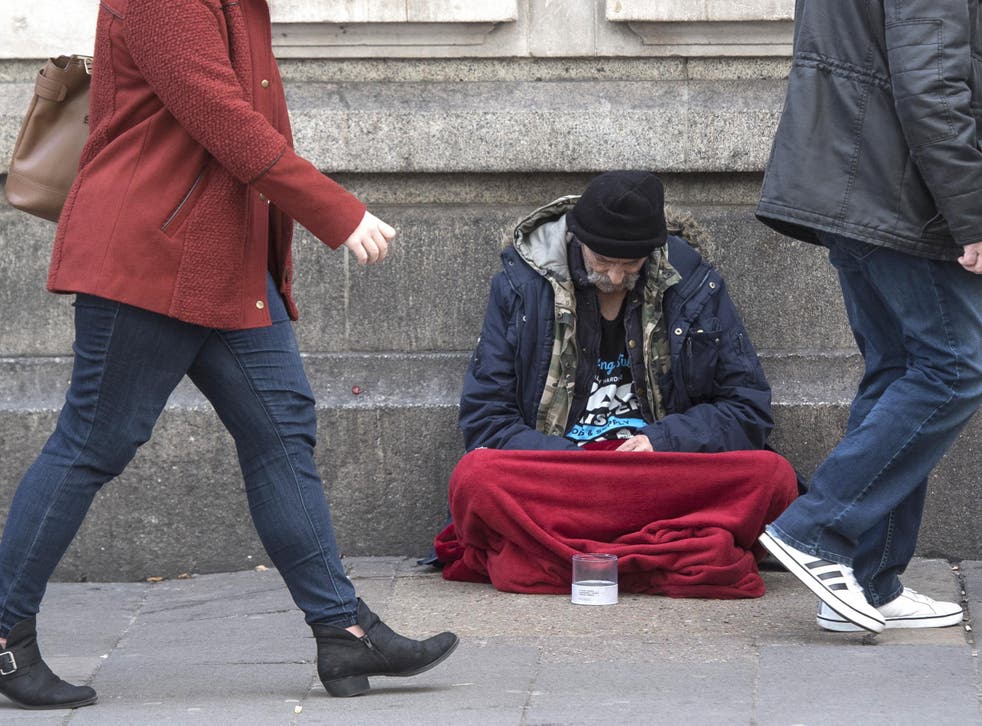 A vigilante campaign to drive "fake homeless" people off the streets of Torbay's town's has been condemned by police, local authorities and charities.
Stickers and posters appeared in Torquay last week threatening beggars that they would be photographed and their pictures would be checked with the authorities to identify whether they are genuinely homeless.
Torbay Council, which manages the Devon towns of Paignton, Brixham and Torquay, said one homeless person had already been wrongly identified as a "fake beggar" and become the subject of abuse via social media as a result.
Called "Killing with Kindness", the campaign was branded a success by those leading it. They claimed the number of ambulance service call-outs to the town centre area had reduced over the weekend as a result of the operation.
"One thing these people don't like is being photographed or filmed, so we've gone and done that," said Ashley Sims, of Humanity Torbay, which led the campaign. "We have identified who is genuine with the relevant charities and their names and if they are homeless or not.
"Five of them have told us they won't go begging anymore if I don't out their photo up. Of the 17 photographed, only two were genuine street homeless."
But police, the local council and homeless charities have criticised the group.
"The dangerous practice of 'outing' people as professional criminals, based on often unverifiable information, fails to acknowledge the very complex vulnerabilities and chaotic lives of those concerned," said Superintendent for Local Policing and Partnerships, Jacqui Hawley. "We in no way condone this activity and take the view the campaign should cease with immediate effect."
UK news in pictures

Show all 50
She added that the force would "encourage those driving the campaign to engage with police and the local authority to support a safe and effective mechanism to address these issues."
Nick Pannell, the chairman of the Friends of Factory Row charity, which has been working with Torbay's homeless community for many years was also highly critical of the campaign.
"This persecuting of vulnerable adults on our streets is a disgrace and those involved in encouraging it should be ashamed of themselves," he told Devon Live.
Calling reports that a lot of money was made from begging "wildly exaggerated", he said the people on the streets were "not professional beggars changing out of smart designer clothes into rags, but genuinely desperate, sad, lonely, alienated human beings with profound problems who are living at the edge of our communities."
He added: "Then someone comes along with a camera and starts taunting them, publishing their pictures, holding them up to public ridicule and condemnation."
A Torbay Council spokesperson said they had a "very real concern" as to the consequences of the campaign and asked that the campaign be halted.
"We are already aware of an individual wrongly identified as 'fake homeless,' who has then been the subject of abuse via social media," they said. "The actions being proposed by this campaign encourages vigilantism and enables anyone so-minded to target people, and is therefore unacceptable. Such behaviours cannot be supported or condoned on any level by Torbay Council.
"We have asked that the campaign be halted, and have invited those involved to meet to discuss how to work together in the future."
Register for free to continue reading
Registration is a free and easy way to support our truly independent journalism
By registering, you will also enjoy limited access to Premium articles, exclusive newsletters, commenting, and virtual events with our leading journalists
Already have an account? sign in
Register for free to continue reading
Registration is a free and easy way to support our truly independent journalism
By registering, you will also enjoy limited access to Premium articles, exclusive newsletters, commenting, and virtual events with our leading journalists
Already have an account? sign in
Join our new commenting forum
Join thought-provoking conversations, follow other Independent readers and see their replies