Far-right extremists sent to same deradicalisation scheme as potential jihadists
Nearly 10 per cent of all referrals to Prevent in Scotland were for right wing extremism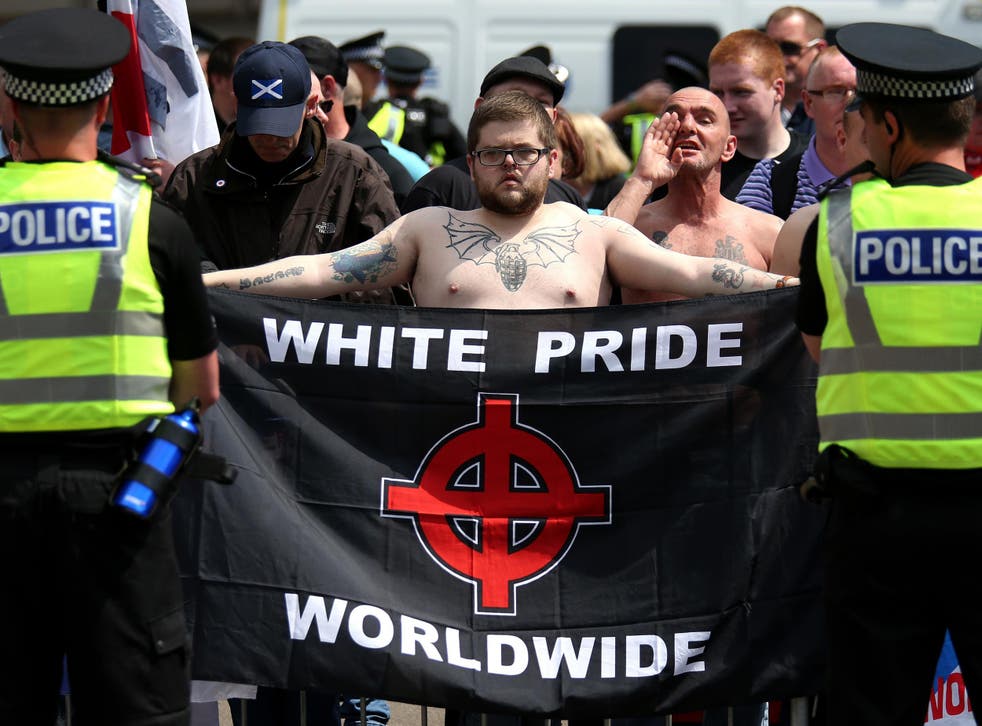 Far-right extremists are being sent to the same deradicalisation programme as suspected Islamist terrorists in Scotland, according to new figures.
Just under 10 per cent of all referrals to the Government's deradicalisation programme, Prevent, in Scotland in 2015-16 were for people suspected of far-right extremism.
Out of the 81 referrals, eight were for far-right extremism and 28 were for "international extremism" – which typically means expressing support for the radical Islamist ideology of Isis or other terror groups.
A further eight cases reported by the force were for other types of extremism and in 37 cases the reason for referral was not given.
The Prevent programme has been criticised in the past for what was perceived as too narrow a focus on Islamist terrorism, but figures revealed by The Independent earlier this year showed that right wing extremism made up a third of all cases nationwide.
The Scottish figures, which were published just before Christmas, cover the period up to April 2016 – just months before Labour MP Jo Cox was murdered by far-right extremist Tommy Mair a week before the EU referendum.
Mair was jailed for life in November 2016 after shooting and stabbing Ms Cox while shouting "Britain first" and "this is for Britain" in the small market town of Birstall in West Yorkshire in her Batley and Spen constituency.
The majority of those who were referred to Prevent were young and male.
Far right and anti-fascists clash in Dover, January, 2016

Show all 6
There were 74 males referred to the programme compared with seven females.
Fifteen of the referrals were for people under the age of 15 but the majority of people referred to the programme were between the ages of 15 and 30. One referral was for a person aged over 60.
The figures for the period between 2016-17 are not yet available but it is possible the number of referrals may rise following the crackdown on and proscription of far-right groups such as National Action over the past year.
The Government banned two neo-Nazi groups operating under the names Scottish Dawn and NS131 in September after identifying them as aliases of National Action which was banned in December 2016.
A spokesman for Hope Not Hate told the Glasgow Herald: "It's no surprise that people are being referred to Prevent over extreme right viewpoints.
"The Home Secretary has already banned one neo-Nazi organisation and two affiliates that were, as she put it, 'concerned with terrorism'.
"Jo Cox was murdered last year by someone with a 30-plus year connection to white supremacist viewpoints."