'Far-right' gallery in London forced to close because it 'keeps getting attacked'
LD50 has been shut for a month due to 'constant attacks'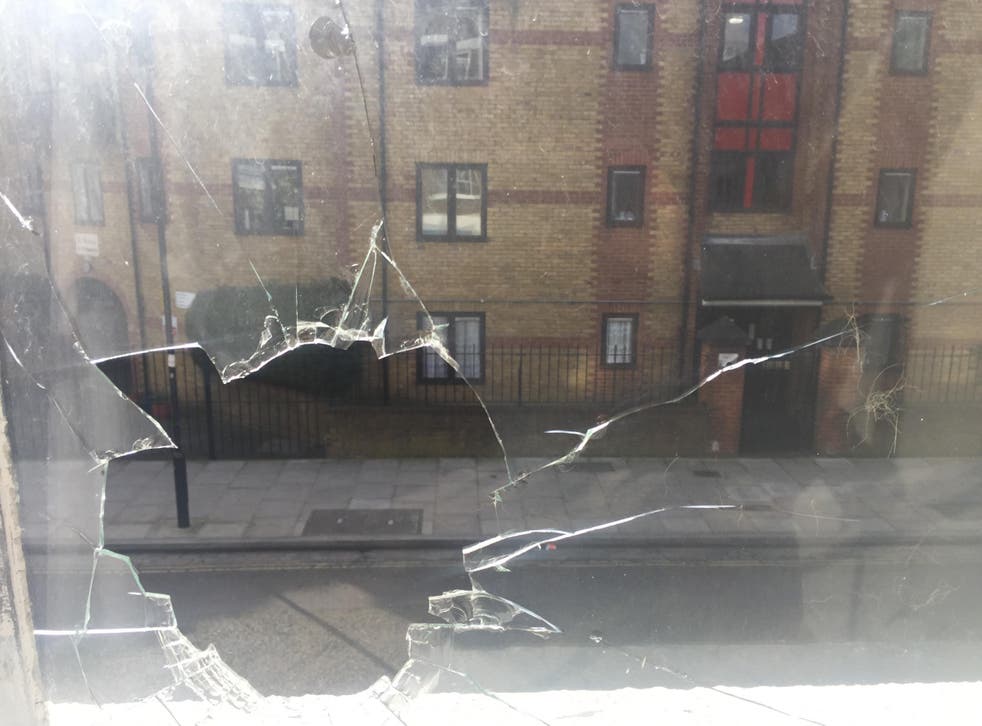 A gallery in North London which has been accused of spreading alt-right propaganda has been forced to close because of attacks from protesters.
The owners of LD50 gallery in Hackney, which held exhibitions displaying alt-right propaganda and a conference hosting a number of far-right speakers, said it has had to remain closed for a month due to "constant attacks" against the building.
It's windows have allegedly been smashed and it has been daubed with graffiti.
Lucia Diego, who has been running LD50 gallery since the start of 2015, told The Independent "anti-fascist" protesters were attacking the space because they believe it is racist.
She added that she was considering "walking away" unless the situation de-escalates.
Police have confirmed to The Independent that there were reports of criminal damage on the property last week, but could not provide any further information.
It comes amid reports that the gallery owners have been evicted from the premises following alleged attacks, although Ms Diego has denied these claims.
Grassroots campaign group Shut Down LD50 Gallery has accused Ms Diego of spreading far-right propaganda and hosting a conference "dominated by revolting bigots", after it held an exhibition displaying alt-right propaganda used during the US presidential election and invited speakers who have expressed far-right views to speak about the matter.
The group has held a number of protests outside the gallery since February, with support from Mayor of Hackney Phillip Glanville and Hackney Stand Up to Racism and Fascism.
Shut Down LD50 announced earlier this week that the tenants had been evicted by the landlord.
"The Shut Down LD50 campaign can happily disclose that the landlord of the LD50 Gallery has asked the tenants, Lucia Diego and Alexander Moss, to vacate the premises," it said in a press release.
"The gallery sign has been taken down from the building at 2–4 Tottenham Road, Dalston, London, and there is no indication that any future events will be taking place in the space. As of April there will no longer be a racist cultural centre operating in Hackney."
A spokesperson for the group, Andrew Osborne, told The Independent a neighbour had informed him that the landlord had given Ms Diego notice to leave the premises, and that they had been ordered to move out on 1 April.
Ms Diego, who has owned the gallery since early 2015, denied these reports, but said the it had remained shut for a month due to attacks on the property.
"There are reports going about saying that we've been evicted but that is not true," she said. "The landlord knows what's happening and we've filed police reports together about the vandals. He's just concerned about vandalism against his building.
"The gallery is here, but unfortunately we are closed since the attacks begun and I don't know when we will be able to resume. The police have told us that for the time being it's not safe to be around, so we haven't been able to work in the office or anything.
"It's a month now that we haven't been able to do our next exhibition. They're attacking the space because they think we are a racist gallery, but we have only done a show with alt-right people once."
When asked about the exhibition and event in question, Ms Diego said it observed "what happened with the presidential election in America" and was not intended as a political statement.
While she admitted that the gallery had played host to alt-right speakers, she claimed the protesters had "not listened" to what they said during the event.
"We opened the gallery with the idea of looking at the impact of the Internet on society and the world, so most of our shows had dealt with that subject," Ms Diego said.
"In the last exhibition we looked at what happened with the presidential election in America. We did these talks in the gallery, and did an exhibition based on all the Internet content that was generated in alt-right forums, on Twitter and other platforms."
She added: "It was the first time we'd displayed anything political before. It was just merely because it was happening online over the last year and we find it very interesting that all these online platforms were discussing this idea, so we thought we'd curate a show that studies what's happening online.
"People are also angry that we hosted talks in the gallery by some alt-right figures. But instead of listening to the talks the speakers gave, they are looking at these people's biographies and trying to find the most outrageous thing they've said or done in the past."
Speakers at the conference included Nick Land, an English philosopher who has been associated with the alt-right and other right-wing movements, as well as Brett Stevens, who has previously praised Norwegian mass murderer Anders Breivik.
When asked for her political views, Ms Diego said she did "not support the liberal agenda", but was "not an alt-righter at all".
She said she had not read enough to enable her to make a decision on the movement and that she was looking at it as a "form of study, but not as a form of sympathy".
Police are reportedly investigating the alleged criminal damage on the property.
Register for free to continue reading
Registration is a free and easy way to support our truly independent journalism
By registering, you will also enjoy limited access to Premium articles, exclusive newsletters, commenting, and virtual events with our leading journalists
Already have an account? sign in
Register for free to continue reading
Registration is a free and easy way to support our truly independent journalism
By registering, you will also enjoy limited access to Premium articles, exclusive newsletters, commenting, and virtual events with our leading journalists
Already have an account? sign in
Join our new commenting forum
Join thought-provoking conversations, follow other Independent readers and see their replies