Farewell to the world's oldest tailor
Changing fashions force Tissimans of Bishop's Stortford to close after 400 years
Susie Mesure
,
Freddie McConnell
Sunday 03 February 2013 01:00 Comments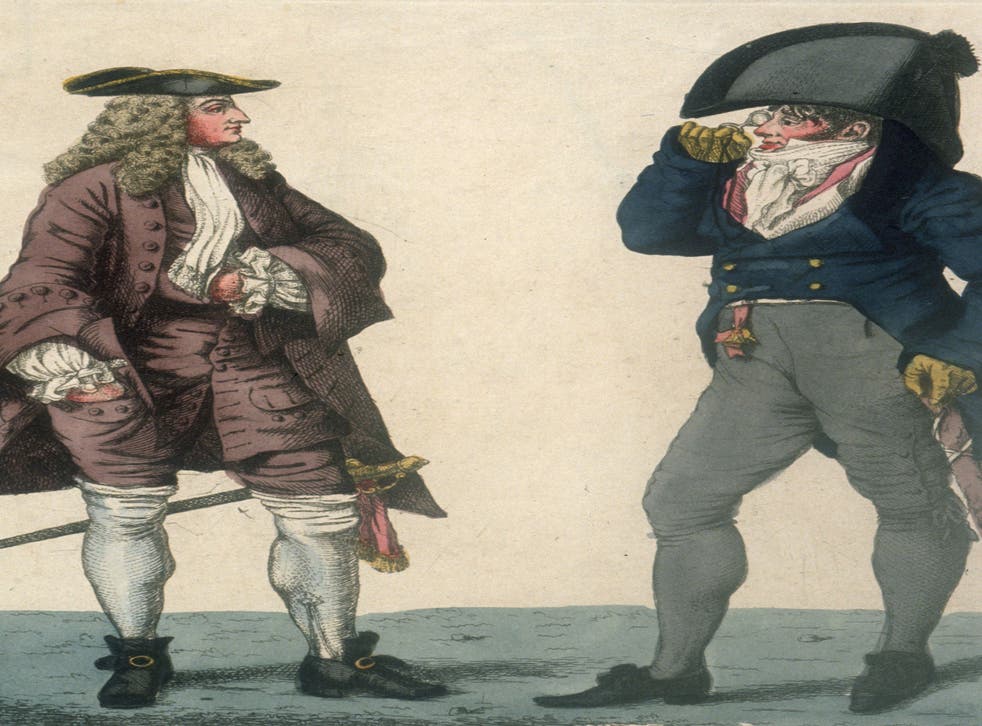 The neck ruffs and powdered wigs are long gone, as are the buckled shoes and beribboned coats. But the socks are still as dandy as any of the striped stockings of old, and the cut of the jackets hanging up just as sharp.
Customers wait in a room at the back, queuing for their turn, much as they have done for the 400-plus years that the shop known as Tissimans has traded in Bishop's Stortford, Hertfordshire.
Just another Saturday, then, or perhaps not: for all around me I overhear snatches of hushed conversations. "We wanted to come down one last time," goes one. "This is my son. I thought I'd bring him in before it goes," says another. And this, from a member of staff: "You can have what you want for half price now. I don't care any more." More than four centuries of Saturdays at Tissimans will come to an end later this month when the shop, which lays claim to being the oldest men's clothing establishment in the world, shuts its doors for the last time. A closing-down sale starts this week and the man trying to buy his son's groom outfit for a wedding this summer is told to go elsewhere.
Freddy Cole, 22, who has helped to run Tissimans for his father for the past six years, said they could no longer afford to keep trading. "A lot of people have come out of the woodwork since we said we are closing, but where were they during the past five years?"
Tucked out of the way, on the town's misnamed High Street, home these days to little more than a police station, a church and an old pub, Tissimans has paid a heavy price for changing fashions, both sartorially and commercially speaking. With men no longer dressing up for work, the shop's persistent focus on formalwear is out of touch. And then there's the internet. "I see people come in, try on stuff, and then I never see them again. They find websites selling things cheaper than I can afford to," Mr Cole said.
The recent closure of the town's Pearsons department store and Clement Joscelyne furniture shop only exacerbated Tissimans' woes, prompting shoppers to abandon Bishop's Stortford altogether.
Trevor Tucker, who runs a fish stall on the corner of the High Street, 20 yards or so from Tissimans, shook his head. "We've been here nearly 40 years and I've seen this town die, literally die. There's nothing to bring people in. I rang the council up, and I said, 'Is there something going to be done about this town?' I said, 'It's dying.' He says, 'Can't comment on that.' It's a shame, because this was a lovely town."
Helen Gibson, a local historian who has lived in Bishop's Stortford for 50 years, said: "We know from the ledger books that Tissimans supplied livery to lots of aristocratic homes, including Sandringham." Customers included the sculptor Henry Moore, and, further back, Dr Samuel Johnson's servant, Francis Barber, bought the writer a hat there in 1769.
The current owners, who run two other menswear shops, in Epping and Uckfield, bought Tissimans just six years ago. The shop started trading as Slaters in 1601. The name "Tissimans" is thought to come from the Swedish, describing someone who sold tissue, or fabric.
Beryl Jones, a long-time local resident who was walking past the front of the shop, summed up its fate. "The trouble is, you have a shop like this, and people are very sad that it goes, but they've never shopped here. They say it's just part of the scenery."
Register for free to continue reading
Registration is a free and easy way to support our truly independent journalism
By registering, you will also enjoy limited access to Premium articles, exclusive newsletters, commenting, and virtual events with our leading journalists
Already have an account? sign in
Join our new commenting forum
Join thought-provoking conversations, follow other Independent readers and see their replies