Farmers herd cows through Stafford Asda in protest at plummeting milk prices
Reduced global demand has meant that farmers are losing money on every litre of milk they produce
Doug Bolton
Monday 10 August 2015 07:50 Comments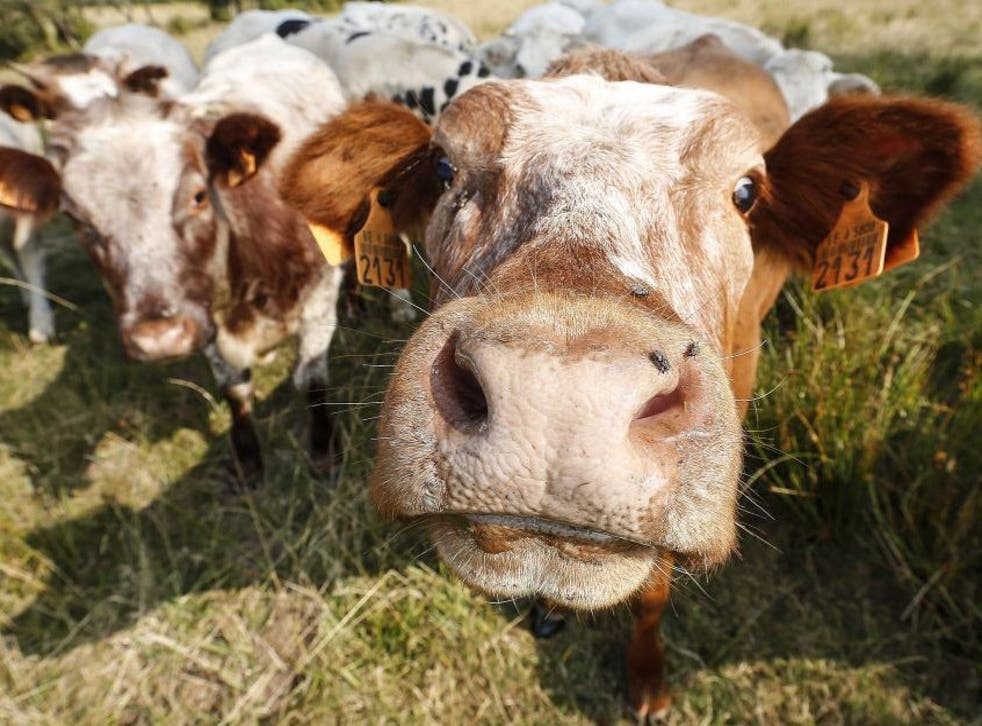 Two cows were herded through an Asda supermarket in Stafford during a protest over how much dairy farmers are paid for the milk they produce.
Police were called to the supermarket after two heifers and around 70 protesters entered the store and congregated by the milk section.
A video posted online shows the cows being led through the aisles past groups of confused shoppers.
It shows one of the protesters saying: "The reason we're doing this is because the milk is far too cheap."
"We cannot afford to sell milk at this price."
"This milk should not be cheaper than bottled water, and that's the point we're trying to make today."
Although it seems unusual, the protest in Stafford is just one of many that have taken place around the country, as anger grows in the dairy farming community over the decreasing prices that farmers are paid for their milk.
In other protests, farmers have cleared supermarket shelves of milk, either paying for the milk and leaving the supermarket bare, or simply leaving their trolleys at the tills.
Farmers say they need to be paid at least 30p a litre of milk to cover their costs - but according to dairy farmers' group AHDB Dairy, British farmers were paid an average of 23.66p a litre for their milk in June.
And things are set to fall even further, as Arla, Britain's biggest milk co-operative, announced a price cut of 0.8p per litre, making the standard litre price 23.01p for its UK farmers.
The price of milk has plummeted recently, down from 34p a litre in October 2013.
Reduced global demand for milk recently has meant that there is an oversupply of British milk, meaning that farmers are paid less for their produce.
A spokesman for Staffordshire Police said: "Officers were in attendance to ensure that the protest remained peaceful and minimal disruption is caused to the general public."
Register for free to continue reading
Registration is a free and easy way to support our truly independent journalism
By registering, you will also enjoy limited access to Premium articles, exclusive newsletters, commenting, and virtual events with our leading journalists
Already have an account? sign in
Join our new commenting forum
Join thought-provoking conversations, follow other Independent readers and see their replies