Fears for future of Camden Market after massive fire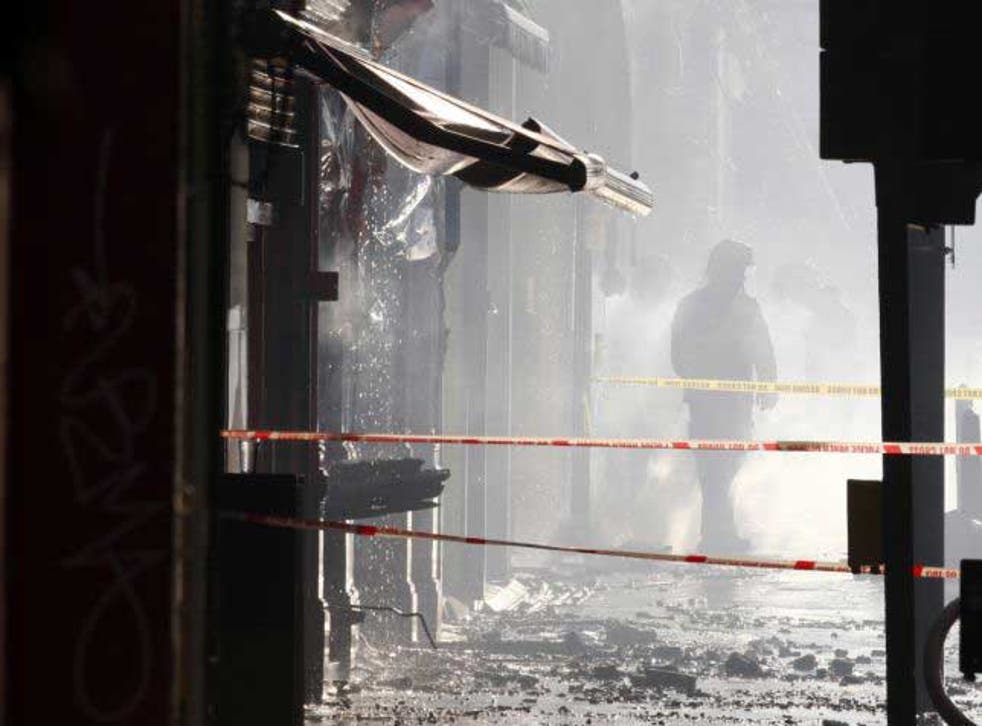 Traders and residents are struggling to come to terms with the long-term impact that Saturday night's huge fire could have on Camden Market. While it was claimed yesterday that most parts of the complex would reopen for business later this week, there were fears that 300 jobs were at risk.
There were no reports of any casualties and while fire officials said that the source of the fierce blaze had been "exactly located" the details were not being made public last night.
The owner of the Canal Market complex, Camden Market Holdings, said in a statement that more than 300 people – stall owners and employees – could lose their jobs.
But it stated its commitment to rebuilding the section of market destroyed by fire. The statement said: "More than 300 people who run stalls in the markets may lose their livelihoods and we will be doing all we can to get them back running their businesses."
As many as 100 firefighters tackled the blaze on Saturday night, as thousands of revellers and shocked local people looked on.
The fire wrecked part of the market, shops and The Hawley Arms pub – a favourite of the troubled singer Amy Winehouse and the supermodel Kate Moss.
Yesterday afternoon, firefighters were still working at the pub, where smoke was still rising. The landlady, Ruth Charles-Ridler, said: "I'm devastated. Everyone I have spoken to is in complete shock. Clearly, there is severe damage, but we are just hoping that it is not structural. We definitely plan to reopen."
The fire raged for three hours before London Fire Brigade (LFB) brought it under control. There were no reports of any injuries.
Camden Market Holdings said it was meeting with Camden council, adding that it was still awaiting permission to enter the site to assess the damage. Its statement added: "Camden Market has a worldwide reputation and has 30 million visitors a year. We want to meet with the stallholders and the local community as soon as we can to show that we are fully committed to recreating the market as soon as possible."
Traders, stallholders and business leaders were hoping to meet fire and police chiefs for an update on the continuing efforts to damp down the buildings.
Simon Pitkeathley, chief executive of Camden Town United, an organisation which represents businesses in the area, inspected some of the buildings affected by the blaze.
He said: "When I walked in there, it took my breath away. I was not expecting it to be that bad. From the road, it looks bad enough, but it is not until you are inside that you see the full extent. The damage goes back quite a long way."
Fire crews were hampered by fears over structurally unsafe buildings. Guy Foster, London Fire Brigade station manager, said that preliminary investigations were under way. He added: "There are hotspots that are quite difficult to get to, but our crews are making good progress."
Join our new commenting forum
Join thought-provoking conversations, follow other Independent readers and see their replies