Fears grow as Croydon cat killer casts net more widely
Alarm spreads through south London as more felines suffer grisly fate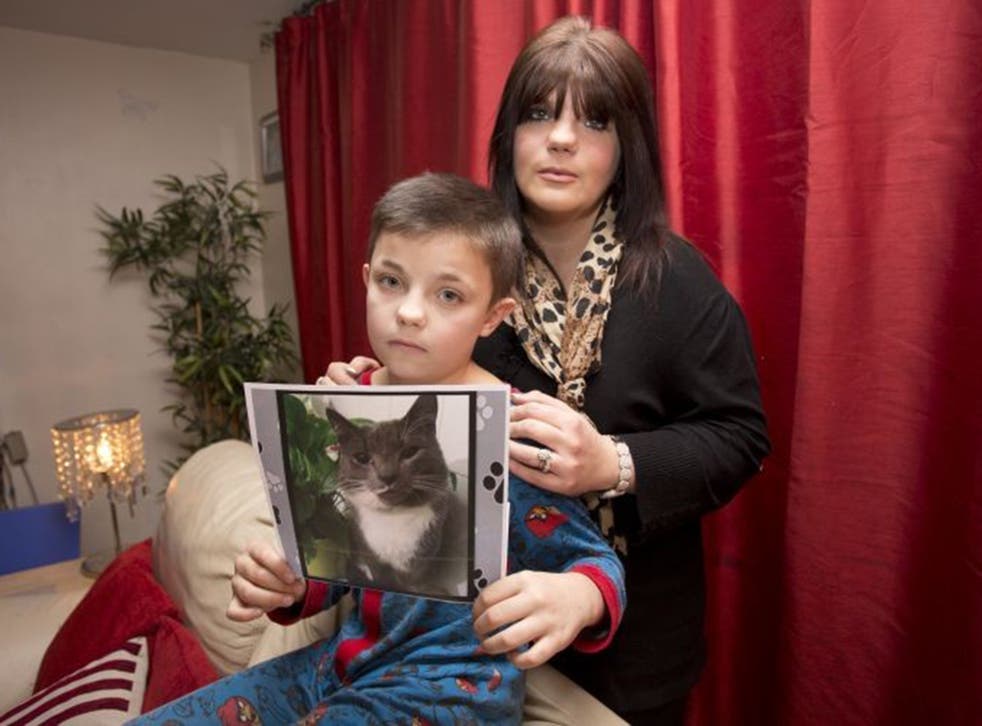 Rushing to work after ensuring Miko, her normally errant three-year-old tom cat, was safely locked inside her home, Katherine Perry is taking no chances. She said: "It's driving us both mad - he's used to wandering the streets. But it's not worth the risk with this maniac around. I'd rather have a crazy cat than a dismembered one."
The "maniac" in question is the Croydon Cat Killer, a figure whose grisly trail across a swathe of south London has led to fears that a serial killer with a taste for felines is stalking parts of the capital. Over the last two years, the eviscerated - and often decapitated - remains of anywhere between a dozen and 66 cats have been found strewn across suburbia.
Often the victims have been found within a few metres of their homes, apparently left in public spaces to ensure their discovery. To add to the sense of meticulous ghoulishness, the body parts are not accompanied by any blood, suggesting that the unfortunate pets have been killed and then transported elsewhere for butchering before being placed back at the scene.
But now it seems the murderer of beloved mousers is on the move.
After months of bodies turning up within a few miles of Croydon, home to some of the capital's grittier neighbourhoods, remains have started to turn up in more far-flung - and monied - locales such as Dulwich.
A decapitated kitten was found on Silvester Road in plushly gentrified East Dulwich on 12 February with reports of further victims across a 15-mile radius stretching from Sutton to Mottingham.
Judging by the number of moggies going about their business in and around Silvester Road early on 26 February, it takes more than the threat of dismemberment to send the pampered felines of Dulwich scurrying for their baskets and indoor scratching posts.
But while the cats remain cool, their natural insouciance is increasingly absent from their human owners.
A local animal rescue sanctuary which has helped to gather reports of killings has been distributing leaflets advising owners to keep their animals inside "24/7 if possible" and asking for people to watch out for anyone acting suspiciously, "particularly if they are carrying a knife or bladed weapon".
A vet working for the sanctuary - South Norwood Animal Rescue and Liberty or SNARL - has suggested that the dead cats are being lured to their deaths with with raw chicken after meat was found in the stomachs of some of the animals.
Ms Perry, a human resources consultant in the City, said: "It's like something from a bad horror film - 'here kitty kitty', then wallop. But if someone is going around taking a knife to cats in such a sadistic way you have to worry. It's really quite hideous and creepy. Whoever is behind this must be unwell."
After a recent acceleration in the number of apparent killings (there have been at least a dozen incidents in the last eight weeks), police have launched a formal investigation amid a growing profusion of theories about the likely identity of the killer or killers, and their motivation.
Police are dealing with a growing list of supposed sightings. Among various reports of potential suspects is a man in deerstalker hat and an empty bag seen repeatedly approaching cats in Dulwich and two women seen bundling a cat into a car in Sutton.
And as the riddle of London's mutilated moggies this week began to garner international headlines, the more lurid hypotheses included the suggestion that the increases in cases meant the killer could soon graduate from cats to people on the basis that some of history's most high-profile murderers - ranging from the Boston Strangler to Soham killer Ian Huntley - were cruel to animals before turning to human victims.
The possibility also remains that the Croydon Cat Killer is a creation of mild hysteria and that a slew of unconnected cat killings and mutilations by other animals, such as foxes, has been misidentified as the work of human hands.
But it seems increasingly clear that a cat hater of some form is at large.
The Independent understands that forensic examination of six cat corpses by police and the RSPCA suggests the butchering of the creatures - including the removal of heads, tails and intestines - has been carried out with the sort of precision that can only come from a knife.
The cats were found to have been killed by "blunt force trauma" - opening up possible causes of death from a blow from a tool to being hit by a vehicle - and then dismembered after death. One intriguing aspect of the discoveries is that so far no human DNA has been recovered from the corpses.
For Detective Sergeant Andy Collin, the task of trying to piece together this grim jigsaw has so far provided more frustration than solid progress.
The officer in charge of the cat killer hunt, which even comes with an official name of Operation Takahe, told The Independent: "It is possible that the six cats we have examined were killed accidentally, but equally it could have been intentional. But once they were dead it seems that heads and tails have been removed by human hand.
"It is a large geographical area and as yet we have no clear leads. We are very much having to not rule anything out."
With one animal charity offering a £5,000 reward for the capture of a killer and SNARL asking for information about flashers seen in the vicinity of the discovery of remains, the feline furore is unlikely to diminish any time soon.
Theories about the killings range from a gang initiation rite to an individual with a grudge against cats for the damage they do to wildlife to a sadist whose cruelty may indeed run the risk of overlapping into attacking people.
Vince Egan, associate professor of forensic psychology at Nottingham University, said: "In some individuals we have seen animal cruelty as part of a broader pattern in which humans are also harmed. It is far more likely that this reflects a rather more banal pattern of anti-social behaviour, such as drunkenness or something that doesn't go further. But when we have so little to go on you have to keep your mind open."
For the cats of south London, it seems the curfew will continue.
Register for free to continue reading
Registration is a free and easy way to support our truly independent journalism
By registering, you will also enjoy limited access to Premium articles, exclusive newsletters, commenting, and virtual events with our leading journalists
Already have an account? sign in