Fears of 'DIY transitioning' as hormone drugs sold to transgender women without checks
Exclusive: Regulators are investigating after an online pharmacy based in Essex mailed drugs to a reporter from The Independent without proof of age or medical need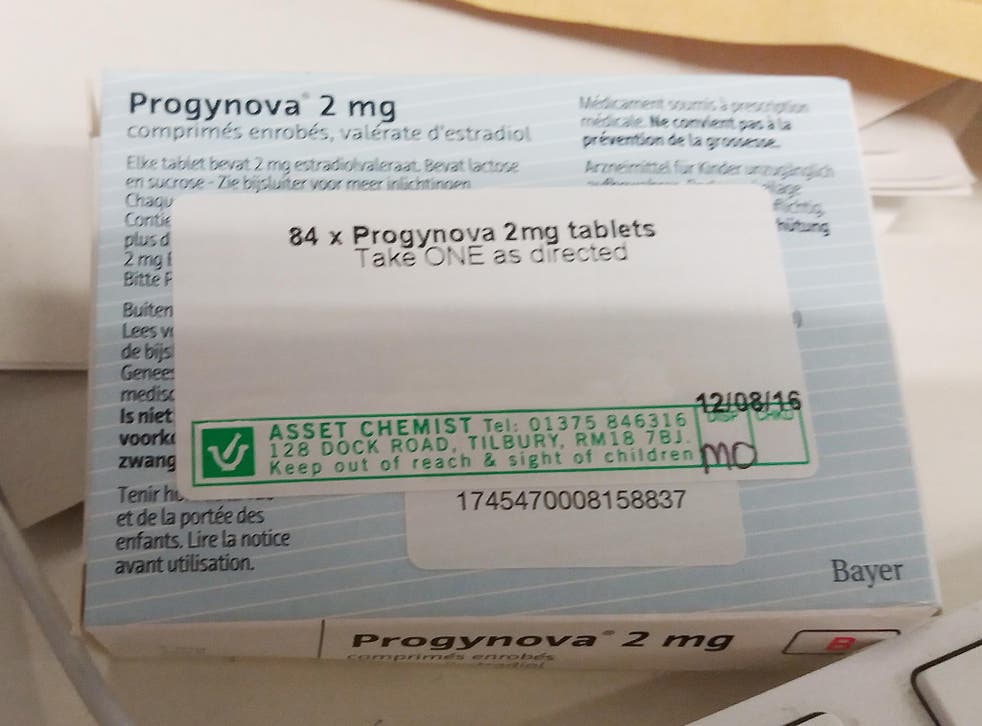 An Essex pharmacy has prescribed potentially harmful female hormone drugs used by the transgender community without carrying out age checks or a consultation.
During an investigation for The Independent, a reporter was mailed progynova, a female sex hormone that can cause liver problems and high blood pressure if used unmonitored in larger doses, after merely filling out a simple web form from AssetChemist.co.uk, an online pharmacy based in Tilbury.
The company, run by GP Dr Toyin Adenaike and pharmacist Oluyomi Adenaike, has apparently become popular in the transgender community since it started in 2014, with individuals claiming on internet forums they did not need to prove their age or previous prescriptions prior to delivery.
The risky practice of self-medicating, or "DIYing" among transgender people is common in the UK, where waiting lists to see specialists at gender identity clinics can stretch to years.
The AssetChemist.co.uk site offers "emergency prescriptions" for people who claim they are currently taking medicine but who are unable to obtain a prescription from their usual GP.
A reporter was able to buy 84 two mg tablets of progynova by paying £6 for a private prescription and after claiming their GP was being unhelpful.
While the reporter was asked to provide evidence of a previous prescription, the drugs were posted a couple of weeks later at the end of August without the required evidence having been given.
No checks were made to ensure the reporter's stated date of birth was accurate.
Female hormones are potentially dangerous, as they can cause liver problems at high dosages.
Progynova is also associated with an increased risk in deep vein thrombosis and should not be taken at all by individuals suffering from certain conditions such as angina.
Doctors are required by their professional regulators to have "adequate knowledge of a patient's health" before prescribing online.
Pharmacists, meanwhile are expected to ensure that patients are who they claim to be, and that the medicines are "safe and appropriate taking into account their age, gender and other medicines".
Asset Chemist did not ask what condition the medication was to be used for or enquire about any pre-existing health conditions when The Independent's reporter bought the drugs.
Once prescribed, the drugs were dispensed by the Asset Chemist pharmacy in Tilbury, where Oluyomi Adenaike – who describes himself on social media as "a seasoned social media expert, strategist, pharmacist and leader" – is superintendent pharmacist.
Online medical websites are regulated by the Care Quality Commission in the same way as bricks-and-mortar GP surgeries, while individual doctors fall under the General Medical Council (GMC).
After being contacted by The Independent, the GMC and the General Pharmaceutical Council, which is the regulatory body for pharmacists, said they were now investigating.
Comments on online forums used by the community appear to show the chemist is a "go-to" source for those who have chosen to self-medicate.
One satisfied customer posting on a "TransDIY" section of the social media forum Reddit in February this year provided photographs of the hormones they claimed to have received.
"When you order, unless you have a prescription, they will need you to answer a questionnaire and they'll prescribe it... Select that you aren't currently taking it and that you have no medical problems, and give an excuse as to why you couldn't goto the doctor yourself (your car broke down, you have bad insurance, you know, the whole America thing) and they should give you the prescription," they said.
"You basically need to write some reasons why you can't get meds from your own doctor. Don't write anything stupid," another advised.
A third, writing in January this year, says: "I just wrote what they wanted to hear, that my doctor had prescribed it before… I didn't mention what any of it was for." A respondent to this post says: "Bloody hell … I can start this Trans thing."
Dr Adenaike, who practised in Essex before moving to Lagos in 2015, is responsible for the online doctor service that provides the prescriptions.
The CQC has told The Independent that she asked the CQC to cancel the registration of the service in October.
The CQC said that once cancelled, the pharmacy can no longer legally "provide treatment of disease disorder or injury (including its an online consulting and prescribing services)".
Susan Goldsmith, Chief Operating Officer of the GMC, said: "We are grateful for the information provided by The Independent.
"Our prescribing guidance makes it clear that doctors may prescribe only when they have adequate knowledge of the patient's health, and are satisfied that the medicines serve the patient's needs."
The General Pharmaceutical Council said: "All registered pharmacies, including those operating online, are required to meet the GPhC's standards for registered pharmacies at all times. In light of the concerns raised in this case, we will be making enquiries to determine what, if any, regulatory action to take."
Neither Dr Adenaike nor Mr Adenaike responded to The Independent's repeated requests for comment.
Lonely road: Why school is hell for transgender pupils

Show all 2
Trans DIYing is considered so risky that GPs have been ordered by the doctors' regulator, the GMC, to start prescribing "bridging hormones" to self-medicating patients.
But the guidance has proved controversial among GPs, with doctors union the BMA complaining it could lead to members prescribing outside of their "limits of competence".
Dr Chaand Nagpaul, chair of the BMA's GP committee, told The Independent: "The BMA is keen that high quality healthcare is available to the trans community. It is important that NHS properly funds and provides accessible specialist services to this group of patients, which includes having access to appropriately prescribed medication.
"It is not acceptable that delays to advice and treatment is leading to some patients having to directly purchase drugs online without a clinical assessment.
"The government must address this deficiency in provision of service to the trans community. The BMA has discussed with the GMC its concerns in this area and will be continuing to work with them and commissioners to resolve these issues."
Register for free to continue reading
Registration is a free and easy way to support our truly independent journalism
By registering, you will also enjoy limited access to Premium articles, exclusive newsletters, commenting, and virtual events with our leading journalists
Already have an account? sign in
Register for free to continue reading
Registration is a free and easy way to support our truly independent journalism
By registering, you will also enjoy limited access to Premium articles, exclusive newsletters, commenting, and virtual events with our leading journalists
Already have an account? sign in
Join our new commenting forum
Join thought-provoking conversations, follow other Independent readers and see their replies