FGM victim Afusat Saliu and her daughters 'will be deported to Nigeria tonight' despite fears for their safety
Saliu fears her daughters are at risk of the female genital mutilation she endured before fleeing the country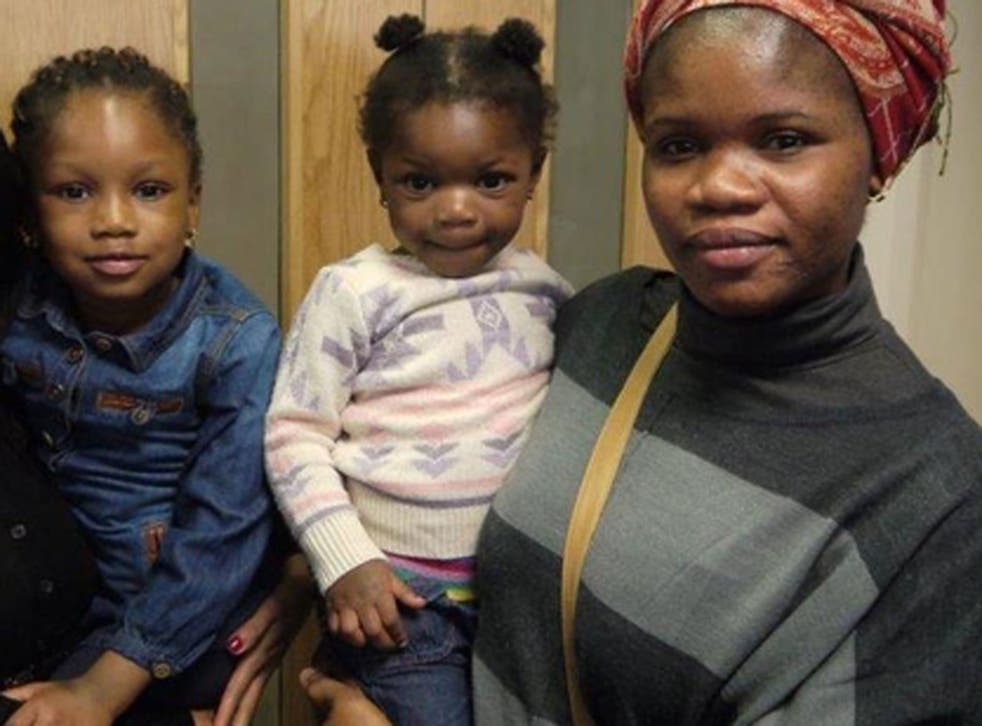 A mother and her two young children who are allegedly at "serious risk" of female genital mutilation (FGM) will be deported to Nigeria after 7pm tonight, her lawyers have said, despite fears for their safety and nationwide calls to halt their deportation.
More than 125,000 people have signed a petition calling for the Home Office to suspend her removal from Britain but despite this Afusat Saliu, 31, was taken into custody with her daughters by UK Border Agency staff on Wednesday and has been told she will be flown back to Nigeria tonight.
Ms Saliu - herself a victim of FGM - fears her children will be cut and she will be forced to marry a man against her will if she returns to her native country.
She told The Independent in April that she was fighting to stay on behalf of her children. "It's so scary. I don't want them going through the same pain I went through," she said.
Anj Handa, a close friend of Ms Saliu, said the whole family has been detained in a removal centre for six days and her solicitors have been able to speak with her directly since yesterday. She said she and her daughters have been forced to sleep on the floor in the detention centre.
Her case made headlines last week when it emerged Virgin Atlantic could have been the carrier initially due to fly the family back last Thursday, just weeks after Holly Branson published a blog post on the Virgin Unite website calling on the public to "join me in standing against FGM".
A spokesperson for the airline refused to comment today on whether they would be taking Ms Saliu and her family back tonight.
Ms Handa told The Independent that Ms Saliu, who has no immediate family in Nigeria, has been offered two days in hostel accommodation when she arrives there, and after that point she has been advised to make her way to an aid centre.
Ms Saliu could be targeted by Boko Haram militants, she added, because of her conversion to Christianity when she moved to Leeds three years ago. Ms Saliu's father was allegedly killed by the group.
Ms Handa, who set up the initial Change.org petition said: "We have been thwarted at every turn and the Government has failed on so many counts in this case. The Home Office has failed to stick to its own guidelines on so many counts and have failed Afusat and her daughters miserably.
Bhumika Parmar, of BP Legal who is representing Ms Saliu, said: "Over the last few days we have been working and fighting desperately and tried very avenue for the Government to hear her case but it seems they are determined to send her back.
"It's been a very tough few days for Afusat and her daughters and you can just vulnerable they are and how they have been affected by this ongoing saga.
"We have been told that Afusat and daughters will be sent home today although they haven't given us an exact time. We haven't been able to get hold of Afusat but will continue to make the case for her and will continue our appeals."
Ms Saliu fled from Nigeria in 2011 after her stepmother allegedly threatened to subject Bassy to female genital mutilation. She was heavily pregnant at the time.
A spokesperson for the Home Office said: "We consider every claim for asylum on its individual merits and in this case the claimant was not considered to be in need of protection.
"The case has gone through the proper legal process and our decision has been supported by the UK courts on five separate occasions, while the European Court of Human Rights declined an application to halt the removal."
Join our new commenting forum
Join thought-provoking conversations, follow other Independent readers and see their replies