Fight for Yashika campaign dealt 'cruel' blow: Home Office plans to remove 'right to family life' – by deporting whole Bageerathi family
Yashika Bageerathi, 19, has been supported by school friends, teachers, politicians and an online petition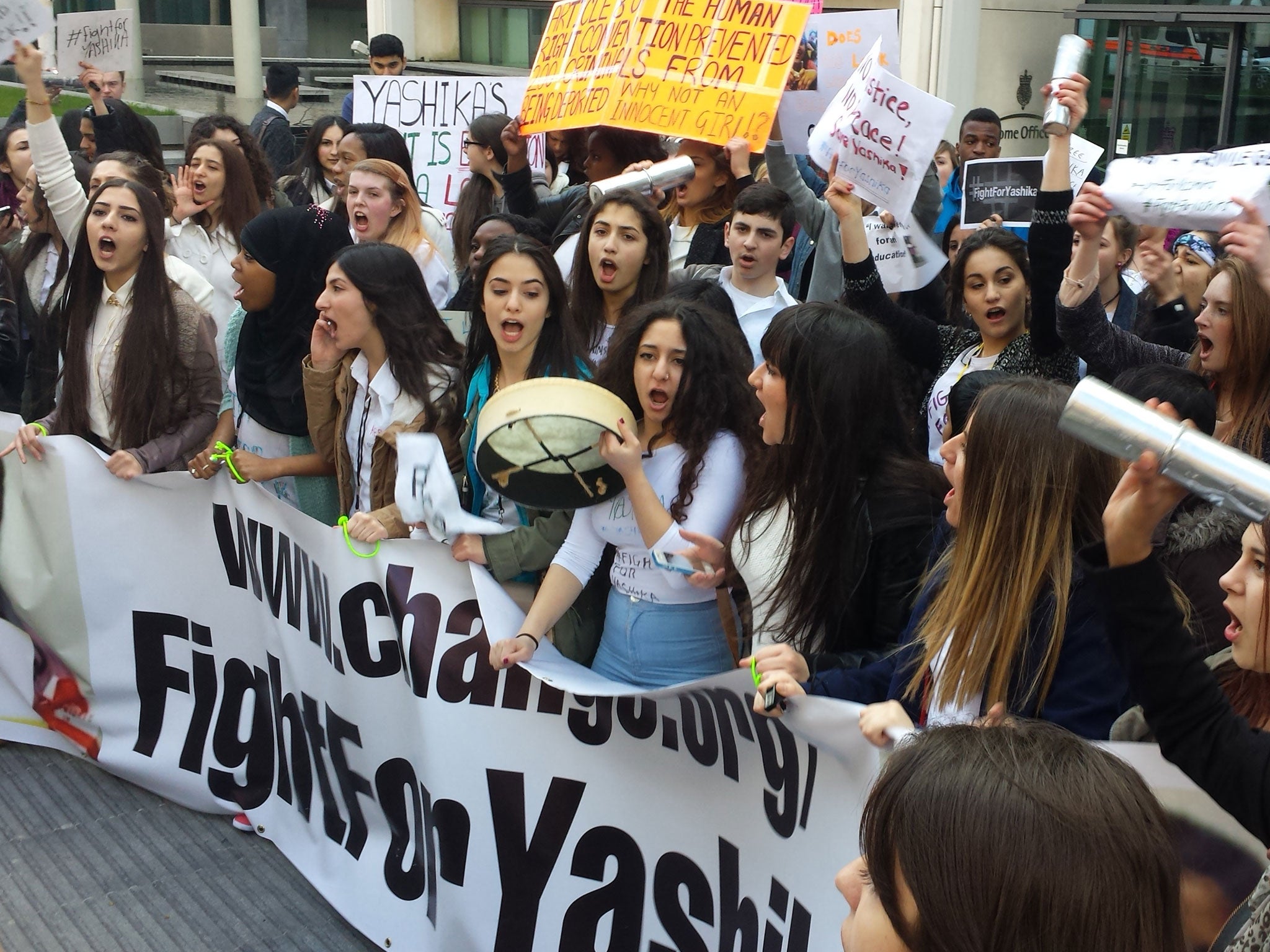 A campaign to prevent a teenager from being deported back to Mauritius on her own have been dealt a "cruel" blow after the Home Office apparently moved to negate her "right to family life" defence – by also deporting the rest of her family.
Yashika Bageerathi, 19, is a promising student preparing to take her A levels, and has been supported in her appeal by teachers, politicians and the model and actress Cara Delevingne.
Along with her mother Sowbhagyawatee, 38, sister Shaivya, 16 and brother Cherish, 11, Yashika fled Mauritius to escape a relative who had been physically abusing her.
It seemed yesterday that she had been given a last-minute reprieve from deportation, when she was brought to Gatwick Airport only to then be returned to a detention centre in Yarl's Wood, Bedfordshire.
Yet the Home Office has now been accused of playing a "cruel game" over Yashika's asylum case.
Her headteacher said tonight that solicitors had received a letter from the Home Office this afternoon stating she has no grounds for appeal - and that her mother is also to be deported.
Lynne Dawes, the head at Oasis Academy Hadley in Enfield, north London, explained that it may mean there is no longer any argument for Yashika to remain in the UK.
Supporters had argued that Yashika right to a family life should be considered, and described the decision to remove her alone as "unfair and disproportionate".
Ms Dawes said: "The thing is how they have been treated - people have to understand that this is the way we as a country are treating people.
"I don't know the wrongs and rights of their asylum case, but I do know that they are genuinely scared of going back to Mauritius - that is very clear when you speak to the family.
"Yashika has got the support of everyone in her academy because she adds so much. But we are hearing a lot of other cases of teenagers who are fearful that when they turn 18 they will be removed, and cases of people who have already been removed.
"Even if this is no longer about her right to a family life, Yashika is about to do her A-levels and her sister has her GCSEs coming up this summer - if they are removed it will ruin their education."
Yashika's school friends told the Evening Standard the decision from the Home Office represented a "cruel game".
Jennifer Dana-Tariah, 16, said: "We are appalled by the decision. They have used one of our arguments against us and it is a cynical betrayal. We are now fighting for four people."
According to Ms Dawes, Yashika was not flown back to Mauritius yesterday because British Airways refused to take her on the plane.
Her fellow pupils have used social media and demonstrations to protest against the decision to send Yashika back.
A petition by the students calling on Immigration Minister James Brokenshire and Home Secretary Theresa May to stop the deportation and allow the student to complete her A-levels garnered nearly 23,000 signatures on change.org.
Model Cara Delevingne also made a plea on Twitter to Mrs May not to send the aspiring maths teacher back.
As well as the pupils' online campaign, Ms Dawes and the student's mother met their MP, David Burrowes, on Friday. He made representations to the Home Office in an effort to delay the deportation yesterday.
Mr Burrowes, MP for Enfield Southgate, added that the decision to remove the teenager would have had to be delayed regardless, because "the minister has to consider my representation before removal. He hasn't yet done that and that has to happen before she goes".
The Home Office has refused to comment on the case.
Join our commenting forum
Join thought-provoking conversations, follow other Independent readers and see their replies