Ebola UK: First checks underway at Heathrow's Terminal 1 – but passenger from Gambia says she wasn't checked
Some passengers travelled from Liberia to Heathrow via Brussels – but others will go on to UK airports without screening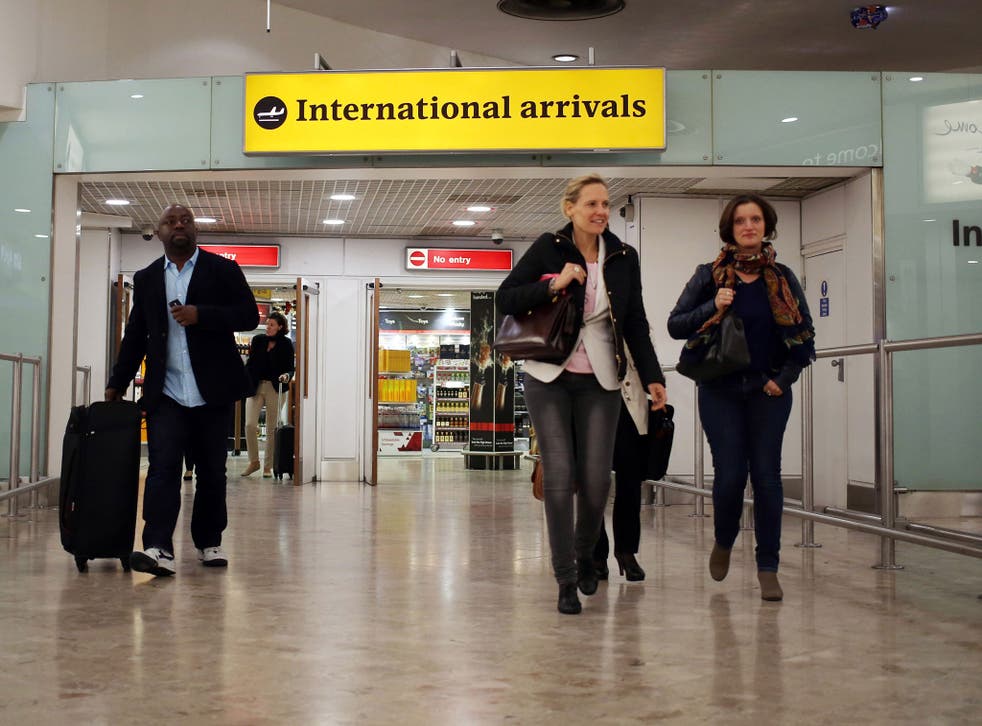 As the death rate from Ebola in Sierra Leone, Liberia and Guinea rises, a screening programme seeking to identify victims of Ebola arriving from West Africa begins today at Heathrow.
Last week the Government said it would not introduce screening, but then reversed the decision based on what it said was new advice from the Chief Medical Officer. Checks are to be made of passengers arriving at Heathrow and Gatwick airports, and London St Pancras Eurostar terminal. When the system is fully up and running, 200 medical staff will be deployed.
Terminal 1 at Britain's busiest airport is the location for the first checks. It was chosen because Brussels Airlines flights arrive there. The Belgian carrier is the leading link between West Africa, and one of only three airlines serving the worst-affected countries; the other two are Air France and Royal Air Maroc.
To confuse the picture, this is the last day that Brussels Airlines will serve Terminal 1. Tomorrow, the carrier moves, along with three other airlines, to the new Terminal 2. Terminal 1 will then have no flights of interest.
The screening has met with lukewarm support from the medical profession. Some experts have said it will divert staff and resources pointlessly, as it is unlikely to identify any sufferer who was not picked up by the pre-flight screening in West Africa. Yesterday the Health Secretary, Jeremy Hunt, modified the medical mission statement by saying: "I call it 'Screening and Monitoring'."
In pictures: Ebola virus

Show all 62
Passengers will be asked by UK Border Force officials during the routine passport checks if they have travelled from one of the afflicted countries. If they say they have, then staff from Public Health England will interview them, take their temperature and provide information on how to respond if they develop symptoms such as a high temperature, headaches, fatigue and nausea.
The only flight from Africa to Europe of interest today is Brussels Airlines flight 1497 from Monrovia in Liberia to the Belgian capital. It was an Airbus A330 jet, with up to 284 passengers on board. Some will have remained in Brussels, while others transferred to dozens of different flights - a total of 43 with Brussels Airlines flight numbers alone. These include connections to Birmingham, Bristol, East Midlands and Manchester, where no checks will take place.
The connecting flight to Heathrow, SN2093, arrived at 9.18am. One passenger, Regina Gere, had flown from Banjul in The Gambia via Brussels. She told London Live: "No-one stopped me. I did see a sign saying "Health Check", but they didn't come to me anyway. I feel that if I've just come from West Africa, where I was screened, it should be standard procedure. As a person who lives in Britain, I'd feel safer."
Some passengers and crew arriving at Heathrow had witnessed the quarantine of an Emirates jet that had arrived at the Boston's Logan Airport from Dubai. Five passengers were said to have been displaying symptoms of Ebola. Emirates does not serve any of the affected countries.
Register for free to continue reading
Registration is a free and easy way to support our truly independent journalism
By registering, you will also enjoy limited access to Premium articles, exclusive newsletters, commenting, and virtual events with our leading journalists
Already have an account? sign in
Register for free to continue reading
Registration is a free and easy way to support our truly independent journalism
By registering, you will also enjoy limited access to Premium articles, exclusive newsletters, commenting, and virtual events with our leading journalists
Already have an account? sign in
Join our new commenting forum
Join thought-provoking conversations, follow other Independent readers and see their replies