Gay marriage: 'When people's love is divided by law, it is the law that needs to change,' says PM as first same-sex couples tie knot
Gay couples across the country welcome a new dawn of equality as they are allowed to wed for the first time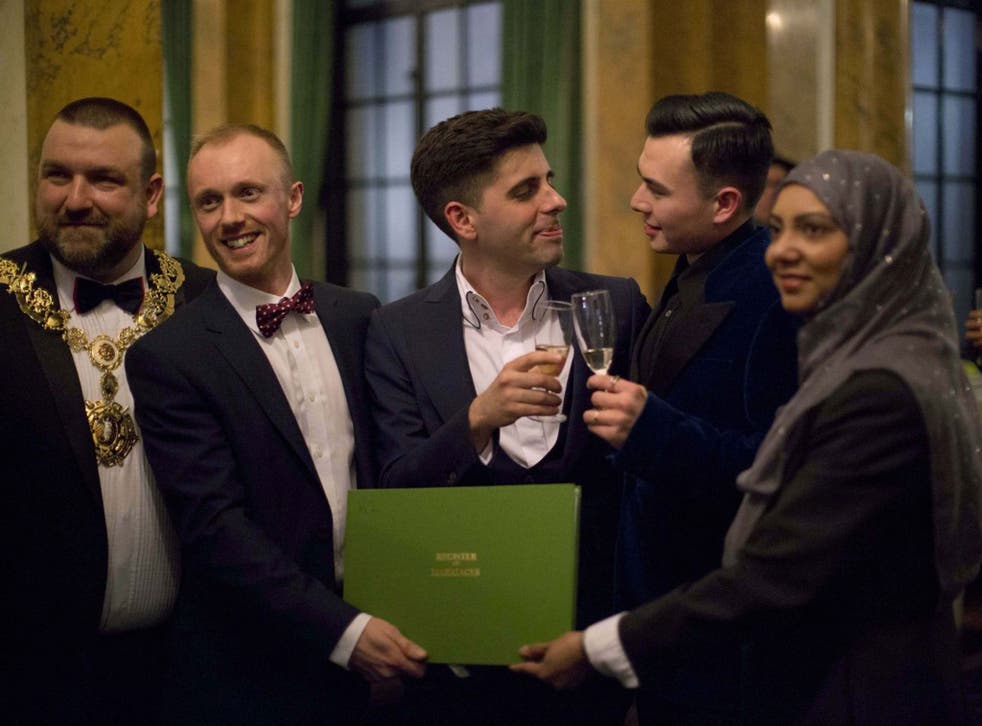 As the clock struck midnight and a new day dawned, gay couples around the country celebrated the first same-sex marriages.
Having waited for decades for the right to wed, it took just a few minutes to make history when Britain's new marriage law came into effect Saturday morning.
Londoners Sean Adl-Tabatabai and Sinclair Treadway were among the first to tie the knot during the early hours.
The two men married in front of about 100 guests at their local town hall in the borough of Camden and by 12.10am it was official: " You are now husband and husband."
This Saturday will go down in history as a landmark moment for a country that little more than a decade ago had a law banning the " promotion" of homosexuality.
"Some people say, 'You gays are trying to redefine marriage,' but the definition of marriage has already changed," said Treadway, a 20-year-old student originally from Los Angeles.
"Now it's between two people who love each other."
In pictures: UK's first gay weddings

Show all 16
The majority of the country is behind him – polls show about two-thirds of Britons back gay unions, with support highest among the young. Britain has seen none of the large street protests against gay marriage that have taken place in France.
Prime Minster David Cameron hailed the move, saying that no two people should be denied the right to get married on the basis of their sexuality.
"For the first time, the couples getting married won't just include men and women - but men and men, and women and women," Mr Cameron said in a statement.
"When people's love is divided by law, it is the law that needs to change."
On Friday rainbow flags were hoisted over two government buildings in what Deputy Prime Minister Nick Clegg called "a symbol to celebrate a massive achievement."
Treadway and Adl-Tabatabai, a 32-year-old TV producer from London, were married by the mayor of Camden, Jonathan Simpson, who declared the occasion "a huge step forward in civil rights for our country and also a big acknowledgment that love conquers all." They emerged to loud applause and the strains of "I Got You, Babe" by Sonny and Cher.
"It's amazing and surreal," Adl-Tabatabai said. "It did feel like a historic moment. When the mayor was saying those things, it really hit me."
Their union would have been unthinkable in the 1980s, when Prime Minister Margaret Thatcher's government passed a law banning schools and local authorities from "promoting" homosexuality or depicting it as "a pretended family relationship."
That law wasn't repealed until 2003. Yet when Parliament legalized same-sex marriage in July, it was by a wide margin and with the backing of Cameron.
There was some heated rhetoric — mostly from traditionalists in Parliament's unelected upper chamber, the House of Lords — but ordinary Britons overwhelmingly supported gay marriage.
"What has amazed me is how much of Britain, how quickly, has moved toward backing us on this," columnist and former Conservative lawmaker Matthew Parris told Sky News on Friday.
Some cite the transitional step of civil partnership, a compromise introduced in 2005 that gave gay couples the same legal protections and rights as heterosexual married partners — but not the label of marriage.
Adl-Tabatabai said civil partnerships had helped some people overcome their opposition to gay relationships.
"Their preconceptions of gay people and what their lifestyles are like are kind of changing," he said. "They're like, 'OK, I hate to say it, but maybe you're like us."
The government also defused some opposition by exempting religious groups from conducting same-sex weddings unless they choose to opt in. Quakers and Liberal Judaism are among the few who have done so. The Church of England, the country's biggest faith, remains divided on the issue and does not conduct same-sex weddings.
Britain is the 15th country to legalize same-sex marriage, which is also legal in several US states. But the march of gay rights is not universal — several countries, including Uganda and Russia, have recently introduced anti-gay laws.
In Britain, some argue that true equality won't have been reached until a gay couple can be married by a priest in Westminster Abbey, as Prince William and Kate Middleton were in 2011. Some gay-rights activists think embracing marriage is caving in to a heterosexist world order.
Still, Saturday feels momentous to couples including Laura Smith and Sarah Nutley, marrying at London's elegant Mayfair Library in a service that includes Britney Spears lyrics — Nutley is a fan — and quotes from "The Rocky Horror Show," which Smith loves.
"We're quite a traditional couple in a lot of senses, so we always wanted to get married," said Smith, a 25-year-old office manager from Boise, Idaho who moved to London six years ago. She met her 30-year-old British partner at work: "She thought I was an obnoxious American and I thought she was a bit standoffish."
They recently celebrated their fifth anniversary, but were never tempted to have a civil partnership.
"As much as civil partnership does give the couple the same benefits as marriage ... It's not the same," said Smith.
"It feels like a silver wedding," said Peter McGraith, who was marrying his partner of 17 years, David Cabreza, at a ceremony in London at one minute past midnight.
McGraith said he hoped this would send to a powerful signal to other gay couples around the world.
"It puts pressure on those places where our rights are completely denied," said McGraith who has two adopted children with Cabreza.
The law's passage in Britain last summer caused deep splits in Cameron's ruling Conservative Party, where many are opposed to same-sex marriage because it contradicts their Christian beliefs.
Despite shifting public attitudes in Britain, research for the BBC showed on Friday that about one in five British adults would turn down an invitation to a gay wedding.
The poll, conducted for BBC Radio 5, found that men were nearly twice as likely to stay away as women with 29 per cent saying they would not attend.
Campaigners hailed the change in the law as a "historic moment".
"These weddings will send a powerful signal to every young person growing up to be lesbian, gay or bisexual - you can be who you are and love who you love, regardless of your sexual orientation," said Ruth Hunt, acting chief executive for leading gay rights charity Stonewall.
Additional reporting by agencies
Register for free to continue reading
Registration is a free and easy way to support our truly independent journalism
By registering, you will also enjoy limited access to Premium articles, exclusive newsletters, commenting, and virtual events with our leading journalists
Already have an account? sign in
Register for free to continue reading
Registration is a free and easy way to support our truly independent journalism
By registering, you will also enjoy limited access to Premium articles, exclusive newsletters, commenting, and virtual events with our leading journalists
Already have an account? sign in
Join our new commenting forum
Join thought-provoking conversations, follow other Independent readers and see their replies