Kitchens on wheels and flagstone lounges: How Brits are preparing for a future with floods
With one in three homes set to be at risk by 2050, home owners are dreaming up innovative ways to be resilient – but should the government be doing more?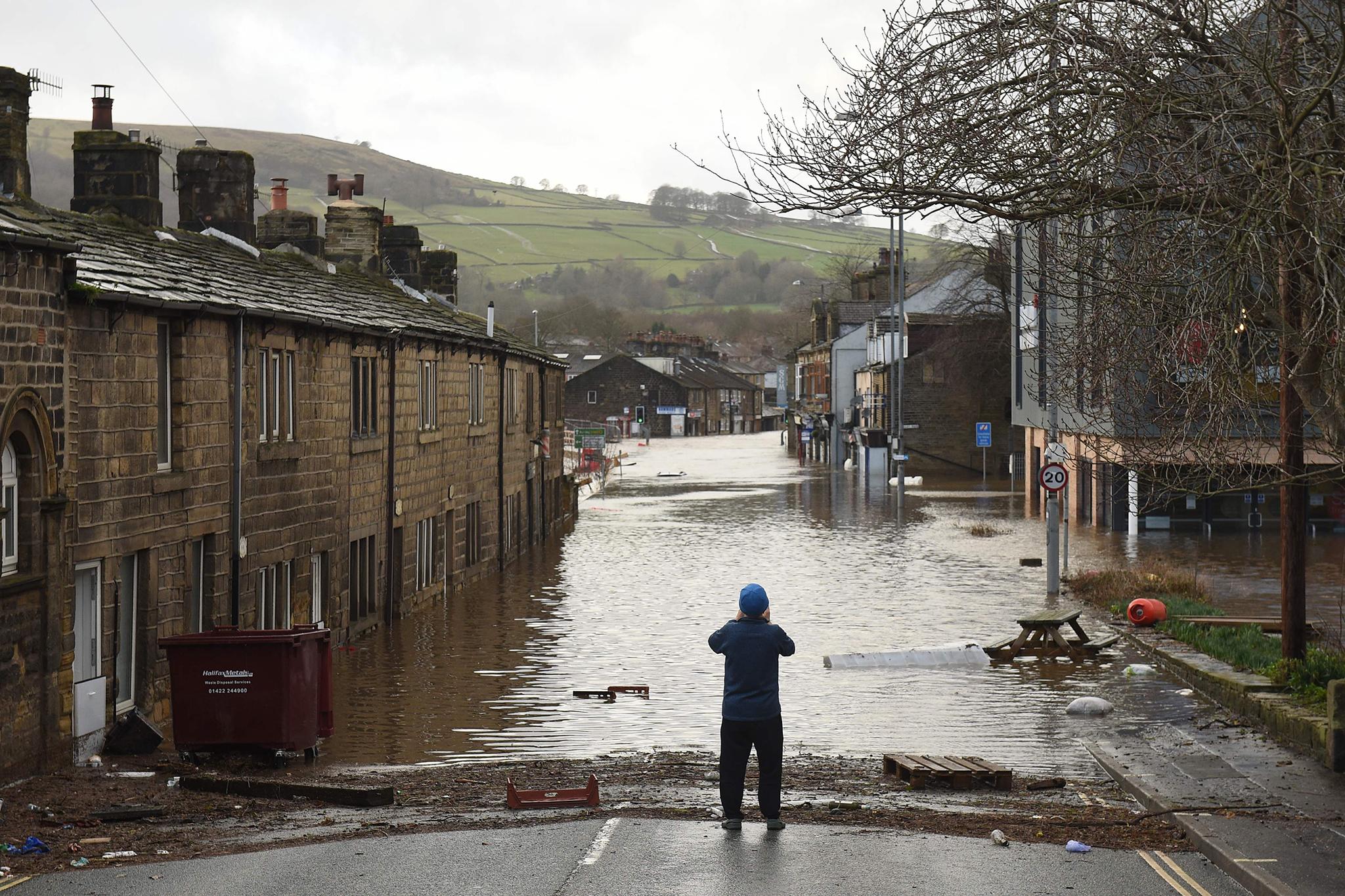 When it next floods in the West Yorkshire town of Mytholmroyd – and that is a when, not an if – Lisa Thwaites has what may be an entirely unique response planned.
She is the owner of the Blue Teapot cafe, a little one-room place nestled just yards from the River Calder here.
Four times in the last 10 years this eatery has been submerged. The last occasion, February 2020, was just five months after Thwaites had taken over. As Storm Ciara swept torrential water through more than 1,000 properties across the Calder Valley, the mother-of-three waded around her new business valiantly trying to salvage what she could.
"It was hopeless," she says today. "I was moving salt and pepper pots onto higher shelves while the tables and chairs were being battered about."
Altogether, she lost some £5,000 worth of stock and had to close for almost two months. Floors, walling, cupboards and counters had to be ripped out and replaced. Thwaites spent weeks scraping mud from nooks and crannies she barely knew existed. "Even now when I see sludge I feel anxious," she says.
Next time, however, she will be better prepared.
Next time the flood sirens go off in Mytholmroyd, Thwaites will be seen wheeling her entire kitchen – industrial oven, fridge, freezer and counter – out of the cafe's front door and up the hill to higher ground.
As she recovered from Ciara the 45-year-old vowed she would make the Blue Teapot so flood resilient that, when the waters came again, she would be able to wash down, dry out and reopen almost immediately.
As such, almost every unit and appliance are now on castor wheels, allowing them to be rolled to a friend's cafe up the hill. "It won't be easy," admits Thwaites. "But easier than coming back to a ruined kitchen."
She's done more too. Inside walls are now a mix of cladding and exposed waterproofed brick while the old vinyl floor has been replaced by a (minutely) slopping granite floor – effectively turning the entire cafe into a giant wet room. Ceiling-high storage has been installed, along with shoulder-high plug sockets. And those tables won't be battered about again: they have been screwed into the ground.
Pertinently, Thwaites has done all this in such a way that, today, no one sat enjoying coffee in here would ever think they were in a place essentially designed to mitigate disaster. The vibe is simple industrial chic. "Which I love anyway," she smiles. "On aesthetics alone, I think it's better now than before."
If the £25,000 transformation is a remarkable testament to one woman's refusal to be beaten by the elements ("no way," says Thwaites, "was I giving up my dream"), it is also part of a growing trend.
With one in six homes across the UK now at risk of regular flooding – a number the Environment Agency says will double by 2050 – more and more people are thinking up innovative ways to make their properties resilient to submersion.
They are laying flagstone floors in living rooms (overlaid with removable rugs); installing kitchen units at waist-high level; and dividing their electricity into two circuits – so there is power and heating upstairs even when downstairs is under water. One homeowner in the hard-hit Cheshire village of Lymm has placed breeze blocks around her garden. When flood warnings come, she brings them inside and plonks her furniture atop to keep it dry. "I refuse to sacrifice my sofa," Helen Douglas, a communications director, tells The Independent.
"It's called learning to live with water," says Heather Shepherd, flood recovery specialist with National Flood Forum. "And I'm afraid it is something more of us will have to do over the coming decades."
Behind this philosophy is a series of simple truths. That the effects of climate change are becoming ever more pronounced. That UK rainfall is set to increase by 59 per cent by 2050. And that, for the time being at least, it is simply not possible to build, engineer or even plant our way out of the predicament.
Mytholmroyd itself may be a prime example of this latter point.
Here, a monumental £41m flood alleviation scheme was officially declared winter-ready in December. Over five years, the Environment Agency and Calderdale Council have knocked down properties, built barriers, widened the river and increased plantation on the surrounding valley slopes in a bid to protect hundreds of properties.
Yet while the defence system will reduce the regularity of floods here, officials admit it cannot prevent such occurrences completely.
"This is a beautiful part of the world," says Scott Patient, cabinet member for climate change with the council and a Mytholmroyd resident himself. "But the price for living here is that there will always be some level of flooding. What we all have to do is try and mitigate that."
It is an outlook increasingly needed across vast swathes of the country, reckons Mary Dhonau, CEO of the Know Your Flood Risk campaign and a woman whose conversation is like a whistle-stop tour of recent UK submersion: Hull 2007, Calder Valley 2015 and Fishlake 2019 all get a mention within the first five minutes of her picking up the phone to The Independent.
"Ultimately, we need to deal with the climate crisis to reverse what we are seeing," she says. "But until that happens, for those of us who do live in flood risk areas, making homes more recoverable is crucial."
Victims of inundation have repeatedly told her that the most miserable part is not necessarily the initial hit itself but the realisation that they will be out of their homes for months afterwards.
"If you can reduce that recovery period – if you can make it so you can swill out your home, sanitise it, dry it and get back in within days or weeks – that will absolutely reduce the psychological, health and financial cost to those people," the 60-year-old OBE recipient says.
She herself knows first-hand about this. Between 1996 and 2000, her Worcester home was flooded 11 times to varying degress by the River Severn. The last time she remembers standing waist deep in water, watching her children's toys floating away. The family were out the property for nine months and Dhonau vowed never again.
She rendered walls, got rid of carpets, installed flood resistant doors and bought a sump pump. The next time a big flood happened in 2007, the family were out the house for only a couple of weeks.
"Knowing we would soon be home absolutely reduced the trauma," she says.
It is a point supported by research carried out by the University of Hull in 2018 – 11 years after summer flooding there damaged more than 10,000 properties, caused some £40m worth of damage and left one man, 28-year-old Michael Barnett, dead.
In a survey of residents who had been forced out of their homes, 37 per cent of respondents said they had suffered physical ill health as a direct result of the disaster. Far more – 82 per cent – reported a deterioration in mental health.
"Trauma is the right word," says Dr Sam Ramsden, who led the research. "It was 11 years on and people were still in shock at what had happened. It had a devastating impact on their whole lives."
Yet this research also raised a wider point.
Of 457 respondents, hardly any had done anything to prepare for a similar event in the future. Beyond moving valuables to a safe place and storing some sandbags, most homes remained as they were pre-2007.
Why? Partially because residents hoped the city's new £42m defence barriers would be enough to protect them.
But mainly because they had neither the money nor the time to invest in becoming resilient.
"This is flood poverty in action," says Dhonau again. "And it is being repeated all over the country. The people often most in need of making their homes more resilient cannot afford to do it. They are abandoned to live in hope that a flood doesn't happen."
It is for this very reason that she is among campaigners now calling for the government to support individuals wanting to take action.
Three main things should be done, such advocates reckon.
The first is that developers should be forced to meet a minimum flood resilient standard when building new homes in the first place: electricity separated into different circuits, garages beneath living spaces, self-closing air bricks should all come as default, some argue.
The second is that there should be the creation of a one-stop website rammed with easy-access information – including a list of approved contractors.
And the third? Government grants.
Currently, victims of major floods are eligible for £5,000 support. But critics say that is putting the horse after the cart.
"Grants need to be available before the floods," says Dhonau. "It should help people be prepared so they don't have to spend as much afterwards."
In the same way green grants are currently available to home owners wanting to make properties more energy efficient, she says something similar (although better administrated) should be in place for anyone in an at-risk area wishing to make their homes flood resilient.
"This is common sense," she says. "It is not only the ethical thing to do but it makes sense economically too. If we can help people with an initial spend that gets them back into their homes quicker after a flood, it reduces the long term outlay in supporting those people with health and financial problems in the future. It would save the country money in the long run."
Certainly, back in the Blue Teapot, Thwaites cannot understand why such a scheme isn't already in place.
"It's feels like every few months now that you read about a once-in-a-century storm somewhere," she says. "That isn't going to suddenly stop. Of course, we need to be helping those affected."
Join our commenting forum
Join thought-provoking conversations, follow other Independent readers and see their replies