'Flora was a real seeker after truth herself': Jim Swire won't ease up in campaign to find out who murdered his daughter in Lockerbie bombing 25 years ago
He knows the official version of is full of holes. James Hanning meets Jim Swire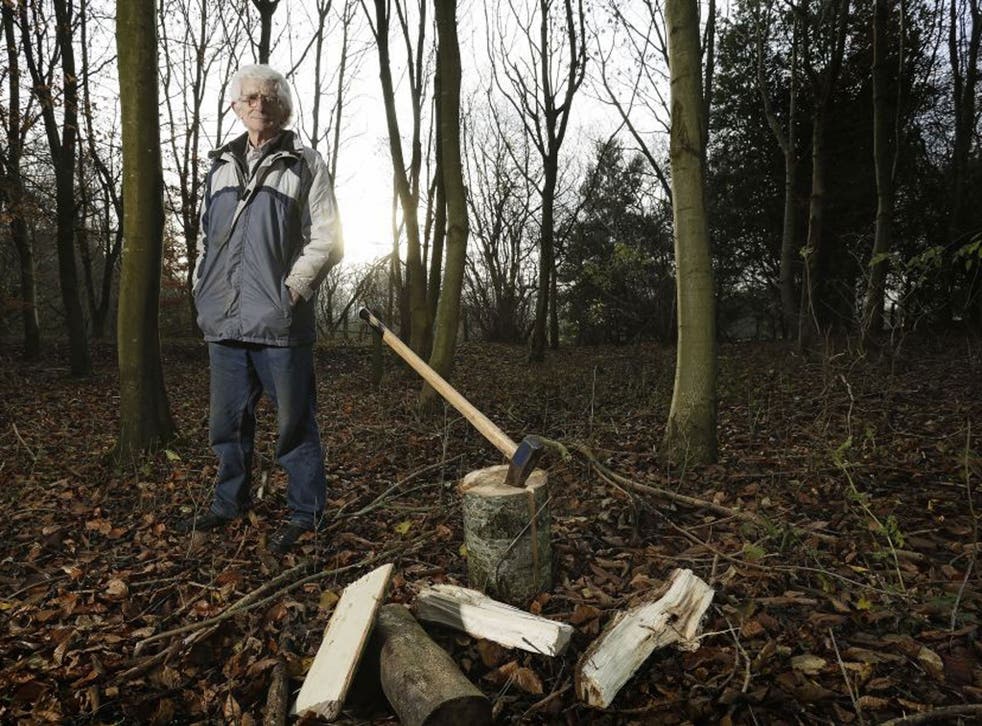 A church- going Eton and Cambridge-educated doctor bearing the surname of one of Britain's more time-honoured and philanthropic families is an unlikely leading member of the awkward squad. But then having your 23-year-old daughter exploded out of a plane at 30,000ft by a bomb would test the steadiest of people, which is what Jim Swire remains. The explosion of a Pan Am transatlantic airliner over the Dumfries and Galloway village of Lockerbie, which killed Flora Swire and 269 others, happened 25 years ago this week. "Lockerbie is just a small item now in people's memories," says Swire.
The idea of "moving on" after the death of a child is presumably a nonsense. It is particularly fatuous in the case of Jim and his wife Jane. They know the official version is full of holes, and that Abdelbaset Ali al-Megrahi, the Libyan who was imprisoned in 2001 and who died of prostate cancer last year, has become a scapegoat.
At their home in the Cotswolds, they talk of Flora, the much lauded graduate of Nottingham University who had, not long before the Lockerbie attack, been invited to work at the country's leading neurology institute in Queen Square, London, and who had bought a last-minute ticket to spend Christmas with her American boyfriend. That evening, in late December 1988, Jane had called Jim in from his study. "You must come and watch the nine o'clock news because there's been this plane that's gone down." From that moment were triggered the shock, the grief, the nightmares, the uncertainty of how sudden her death had been, the guilt of knowing Flora had died apart from her family.
And, in time, the campaigning. Jim emerged as the leading British campaigner. He attended the trial at Camp Zeist in the Netherlands, satisfied that Megrahi was guilty. The Libyan was indeed convicted, but Swire, unlike countless officials, politicians and American relatives of victims, was uneasy and wouldn't accept the official version. He was now convinced Megrahi was innocent. The evidence didn't stack up, and as anyone who has read the outstanding researches of journalists Paul Foot and John Ashton will testify, it has grown thinner ever since the official version first got off the ground.
For all his recent protestations about not being as mentally sharp as he once was and "stepping back", he's still at it, aged 76. He says he hopes the campaign has sufficient momentum that, with the support of a growing number of scandalised lawyers ("they're queuing up"), the campaign no longer needs him. He and Jane are too evidently devoted to one another for her to stand in his way, but she doesn't share his hunger for the truth.
"He's been promising to give it up for a long time. I'll believe it when I see it," she smiles. "He's like a dog on a hunt. He has to chase every hare until he gets a narrative that makes sense. I am uncertain that we'll ever know the truth. At the very core of it, none of it will bring Flora back. I've had enough to cope with." As we go outside, Jim puts an arm round her and tells me gratefully: "She's been very kind. She could have made me stop." "I doubt it," she says without rancour.
Jim drives us the 50 minutes north to just outside Bromsgrove, near Birmingham, where the family – they have another daughter and a son – grew up. There is an enchanting six-acre wood of oak, ash, sweet chestnut and cherry, planted by Swire after Flora died. From the air, the trees form the letter "F". "That's where she sat when she was dreading opening her exam results," he remembers. It is here, and at his allotment, that Jim potters about, cutting logs to heat his other daughter's house, supposedly "switching off".
After a lengthy police investigation and a thwarted court appeal, it would be easy to write off Swire, his life blighted by a shocking tragedy, as an obsessive. It has happened with the grieving parents of victims of other disasters, their judgement befuddled into unreason. Until you meet the man, that is. A more lucid, measured and quietly persuasive figure would be hard to imagine.
Countless journalists will testify to his helpfulness and command of detail. But he lacks a high-profile advocate in Parliament and, as time passes, Lockerbie slips from the nation's memory, a process only interrupted – until Megrahi's death in May last year – by occasional bouts of lynch-mobbery complaining at the terminally ill Libyan's temerity not to die after being released from prison on compassionate grounds.
There are two strands to his argument. One is simply that Megrahi, who was in Malta on the day in question, couldn't have put a bomb in a case destined to travel to Frankfurt and then on to London. From there, it would take off and explode en route to New York. The latter did happen, but Megrahi had no part in it, says Swire. The quicksand of Lockerbie detail has consumed many, but for those who prefer a one-stop shop, the most telling aspect is the prosecution's only piece of forensic evidence, the fragment of circuitboard found in the Borders countryside which Megrahi's accusers say was part of the circuitboard that caused the explosion.
That fragment, they say, was "similar in all respects" to others in a batch of 20 sold by Mebo, a Swiss company, and used in Libyan-inspired explosions in the 1980s. Yet it has been shown that this was not so. The Lockerbie fragment was coated in pure tin, whereas those sold to Libya were coated with an alloy. No other parts of the circuitboard, or any explanation of its origin, have ever come to light. "We lack an explanation as to where that came from," he says. "That fragment, remarkably like one of the corners of the timers that the Libyans bought, was a key item in the unfolding of the prosecution's story."
Once Libya is taken out of the equation (and there is no shortage of comparably doubt-raising material to do with compromised witnesses, far-fetched logistics and the lack of evidence from the now Gaddafi-free Libya), the West is left with no one to blame.
A widespread belief is that Iran, anxious to avenge the shooting down of one of its passenger planes five months earlier, was responsible – and that the Americans themselves believed this in the early days. Then, says Swire, partly to get its hostages out of Lebanon, the US decided "to blame somebody, anybody, rather than Iran". Swire has pointed out to church envoy Terry Waite, who was held in Lebanon by Iran-backed kidnappers, "the extraordinary coincidence of the first hostages being set free within a few days of the accusations being made against the two Libyans". Waite is now signed up to the Justice for Megrahi campaign, and will be among those at Saturday's service marking the anniversary at Westminster Abbey.
Swire's second strand concerns the failure of the prosecuting authorities to let on that the Heathrow baggage hall was broken into at just the time when a bomb would have had to be planted, if it did originate in London as he believes. It is also known that the authorities received warnings about bombs hidden in tape recorders (as the Lockerbie one was), yet this inconvenient truth doesn't fit the narrative of "the Establishment".
So what does he want? He thinks a focused inquiry into what went on at Heathrow might be feasible ("we're entitled to it under human rights legislation"), but doubts that the Government would allow anything wider, given the court case and David Cameron's dismissal of a book on Lockerbie containing a key piece of evidence as "an insult to the relatives". More likely to succeed, he believes, is a further court appeal, for which the relatives could apply. They'd get one, he believes, and win it, but that still wouldn't tell him who killed his daughter.
"She's the guiding light," he says. "I've always asked myself 'Would Flora be proud of what I'm doing?' and I've always thought till now that she would, as long as I wasn't damaging the family. She was a real seeker after truth herself."
Flora was reaching for a religious faith at the time she died, and, late in a long day, Swire reflects on his motives. He says he's too much of a scientist to swallow the Bible whole. "I don't know if I'm a Christian or not, but the Bible contains a great deal of the philosophy that Jesus left behind, and I've always thought that's the best philosophy of how to live that I've come across. I find myself unable to accept faith. I can't believe in miracles, but I can accept the philosophy."
Practically, he wants to reach out to those responsible, presumably with children and grandchildren, "and see if you can say to those people 'what are your feelings about what you have done?'. "It doesn't matter how they answer it, but one can try and find out why they did it. I would have loved to have been able to do that to someone I knew was involved. Partly I wanted to do the right thing by what Flora would have wanted. That may still come upon me ... but so far I'm happy that she would have been proud … and I would love to do something good out of the evil of all this." Sitting amid the poignancy of Flora's Wood, you'd be inhuman not to wish him well.
Register for free to continue reading
Registration is a free and easy way to support our truly independent journalism
By registering, you will also enjoy limited access to Premium articles, exclusive newsletters, commenting, and virtual events with our leading journalists
Already have an account? sign in
Register for free to continue reading
Registration is a free and easy way to support our truly independent journalism
By registering, you will also enjoy limited access to Premium articles, exclusive newsletters, commenting, and virtual events with our leading journalists
Already have an account? sign in
Join our new commenting forum
Join thought-provoking conversations, follow other Independent readers and see their replies