Teenagers arrested over flour and egg attack on woman amid fears of vigilante backlash
One social media user received abuse and threats after being wrongly identified as member of group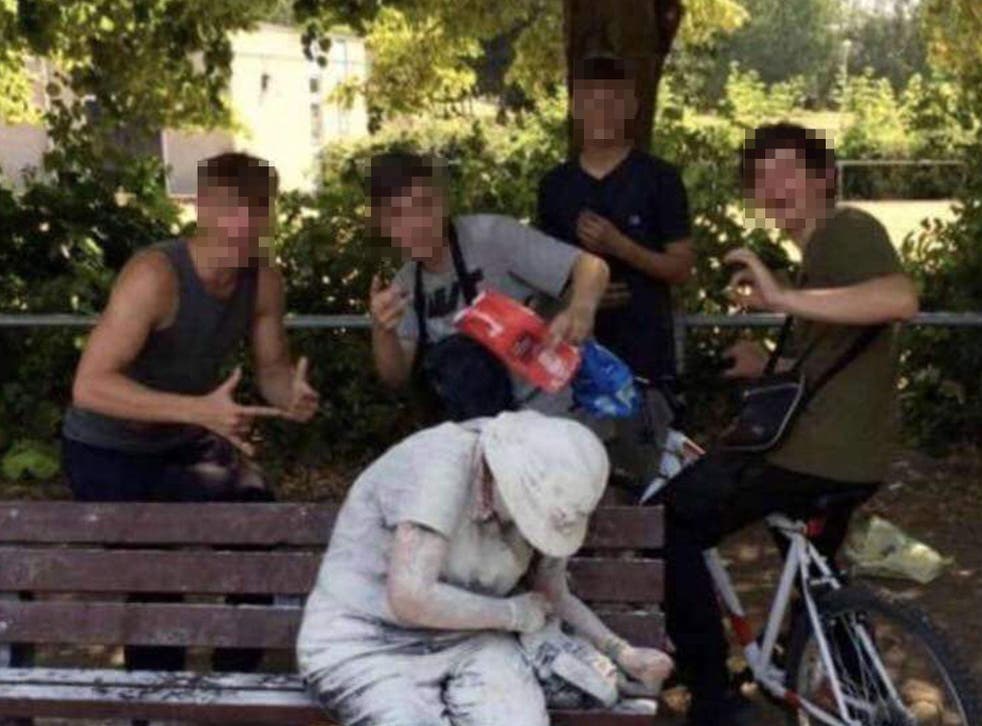 Four teenagers have been arrested over an attack in which a woman was pelted with eggs and flour, amid fears photos of the incident shared on social media could spark a vigilante backlash.
Images circulated widely online over the weekend appeared to show a group of youths stood around the victim, who sat hunched on a park bench in Bury St Edmunds, Suffolk.
The photograph, which originated on messaging app Snapchat, was often accompanied by appeals to identify the teenagers along with unverified claims the woman suffered some form of disability.
Police have arrested and bailed two 17-year-old boys and two 15-year-olds in connection with the incident, which took place on Friday evening.
However, at least one man reported he had become the target of abuse and threats after being wrongly identified online as one of the teenagers.
Those who have shared the images include social media personality Robin Armstrong, who posted a video to his 760,000 followers that has since gained more than 2.5 million views.
The comedian said he wanted to "lead the way" in finding the group during an expletive-laden rant, calling for the teenagers to be "hunted down".
Twitter user Tony Yates posted a version of the image on Friday that was retweeted 12,000 times by users of the site.
"These five sick f****** live in Bury St Edmunds and think it's funny to pour water over a old disabled woman's head then cover her in flour," he wrote. "Let's make these f****** Twitter stars #scum".
On Sunday, a man who cannot be named for legal reasons said he had been threatened on Facebook after being wrongly identified as a member of the group.
"There's a photo doing the rounds at moment of a group of young boys harassing an elderly woman in Bury," he said.
"They've been named and shamed and one of them happens to also be called [name redacted].
UK news in pictures

Show all 50
"I would just like to clarify I'm not that [name redacted] and that's not me in the photo.
"I'm much older than the boys in the photo and now that's cleared up, I would appreciate it if people stopped messaging me/threatening me about this."
The victim of the assault, who has been described by police as "vulnerable", was left "severely distressed" by the incident but physically unharmed, Suffolk Constabulary said.
The force added the attack appeared to have been sparked by a "verbal altercation" between the woman and the group of teenagers.
Register for free to continue reading
Registration is a free and easy way to support our truly independent journalism
By registering, you will also enjoy limited access to Premium articles, exclusive newsletters, commenting, and virtual events with our leading journalists
Already have an account? sign in
Register for free to continue reading
Registration is a free and easy way to support our truly independent journalism
By registering, you will also enjoy limited access to Premium articles, exclusive newsletters, commenting, and virtual events with our leading journalists
Already have an account? sign in
Join our new commenting forum
Join thought-provoking conversations, follow other Independent readers and see their replies