Focus turns to 'wingsuiting' after death of Olympic stuntman Mark Sutton
Wingsuits allow the wearer to both fall downwards and move across the sky at speeds up to 226mph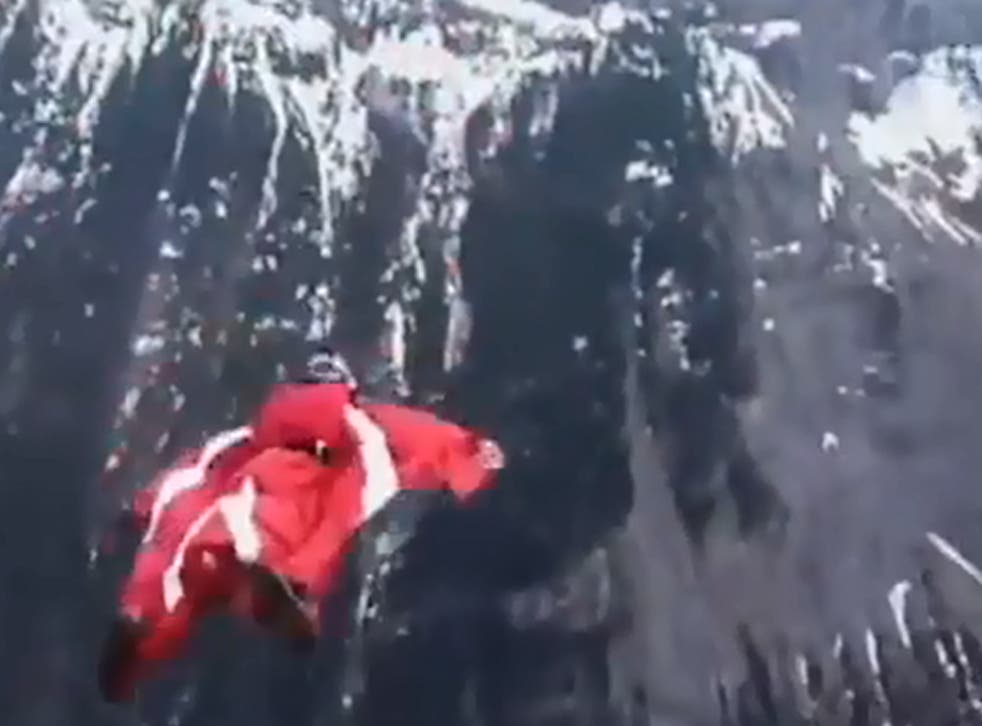 The death of Olympic James Bond parachutist Mark Sutton has focused attention on the growing popularity of wingsuiting, an extreme sport that sees people jumping off mountains, through valleys and flying parallel to cliffs at speeds of more than 200mph with little margin for error.
Mr Sutton, 42, died after leaping with a friend from a helicopter at 11,000ft while wearing a wingsuit above the Grandes Otanes area in Switzerland, close to the French border. He had been travelling at around 125mph when he hit a ridge, according to police who said his injuries were so severe that experts were forced to identify his body with a DNA test.
The former army officer was in Chamonix with around 20 wingsuit pilots, considered among the best in the world. A police spokesman added: "The group had been invited by an extreme sports company which makes films that are broadcast on the internet."
Formal identification is under way and an investigation has been opened. Mr Sutton had reportedly travelled to Chamonix earlier this week with his partner Victoria Homewood, 39. Repatriation of his body is expected to take a few days.
A video in tribute to Mr Sutton has been posted on YouTube showing footage from some wingsuit jumps he has made in Norway, Italy and Switzerland.
Mr Sutton stood in for Daniel Craig during Danny Boyle's opening ceremony for the 2012 games. Gary Connery, who played the Queen, said he had lost a close friend who was "smart, articulate and funny".
"In any sport where you share a common bond you can make friends in a heartbeat that last a lifetime," he added. "My relationship with Mark was like that."
He tweeted today: "All you jumpers/flyers out there, stay safe, make wise choices and know your limits and your locations, live to tell your stories, one love."
Mr Boyle also paid tribute, saying the sad news of his death marked "a huge loss to his profession".
Stuntman Steve Truglia told the BBC today that wingsuit flying is a "thrilling activity" that turns someone into "a flying fox", but a much more dangerous activity than traditional skydiving.
He said: "There's a growing sport for using wingsuit flying for proximity to mountains and ground. There's a lot of footage on YouTube of guys flying along cliffs, getting very close to ridges and through valleys and between trees. Some get very, very close to the ground."
In 1912, Austrian Franz Reichelt was the first man to wear a winged suit in a jump off the Eiffel Tower that resulted in his death. Only from the late 1990s has the extreme sport's popularity really grown after the first commercial wingsuits considered safe and accessible for skydivers were made. The suit itself has a large surface area enabling the wearer to both fall downwards and move across the sky at speeds up to 226mph – much faster than a typical skydiver's terminal velocity of between 110 and 140mph.
Joby Ogwyn frequently appears in those YouTube videos. He is a wingsuit pioneer having become the first person to fly over Mount Everest.
Felix Baumgartner, the Austrian daredevil who jumped to Earth from a helium balloon in the stratosphere last year, crossed the English Channel in 14 minutes using a wingsuit, albeit with a 6-foot carbon fin strapped to his back and an oxygen tank from which to breathe. He covered almost 22 miles jumping from almost 30,000 feet in the stunt 10 years ago.
BASE jumpers started using wingsuits 10 years ago leading to the more dangerous WisBASE jumping, or 'proximity flying', from the edge of cliffs and mountains. Ten people died WiSBASE jumping in 2011, the same year wingsuiters featured in summer blockbuster Transformers 3.
Mr Truglia said there is not much room for error. "You're travelling at great speeds, and over the ground, across it and down so there are a lot of judgements to be made. The route has to be planned, it's not like an ordinary skydive. The risk level is much, much higher. Most of the people like Mark, who sadly died doing this pursuit, are very, very experienced skydivers. They plan meticulously and are at the cutting edge of something that is potentially fatal."
He added: "It's quite normal for those of us who do those kind of sports to want to push things a bit and sometimes your luck runs out, it's as simple as that. It's not necessarily reckless, though you could argue the whole activity is reckless, those of us who do it – it's part of life to enjoy the thrill of doing something like that. It's what we live for."
Michael Bougher, from Stillwater, Oklahoma, has just taken up the extreme sport. He told The Independent he had performed the recommended 200 skydives before even trying on a wingsuit.
"I had ground training on how to exit a Cessna 182 (light airplane) from three different experienced wingsuit pilots," he said. "They showed me how collapse my 'wings' to regain stability and deploy my parachute. I also practice my emergency procedures many times before taking off. I do this before every jump, wingsuit or not. After my first wingsuit jump, I was hooked.
"It sounds to me like Mr Sutton was proximity flying. I don't have any plans to fly near cliffs or mountains. It's a dangerous sport and I understand risks involved in wingsuit jumps and skydiving in general. Just have to constantly review emergency procedures, get gear checks and know what my limit is. I will definitely keep flying my wingsuit."
Join our new commenting forum
Join thought-provoking conversations, follow other Independent readers and see their replies