Food bank use to soar to record levels over Christmas as UK families struggle to pay basic living costs, charity warns
Trussell Trust says it is 'picking up the pieces' as benefit payments fail to reflect cost of living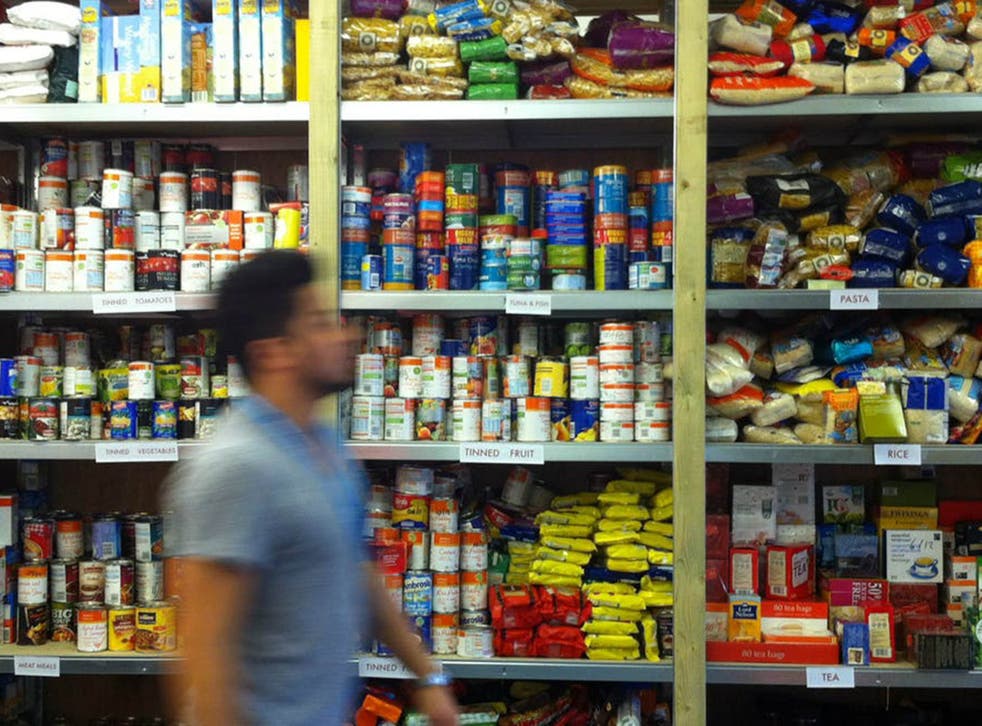 Britain's largest food bank charity is bracing for its busiest month ever during the approach to Christmas, as the number of families unable to afford their basic living costs continues to rise.
The Trussell Trust said it provided nearly 160,000 three-day emergency food supplies in December last year – a 49 per cent increase on the monthly average for the 2017-18 financial year.
The figure was 10 per cent up on December 2016, and food bank use has soared by more than 13 per cent this year. The charity provided over 650,000 emergency supplies to people in crisis between April and September 2018, compared with the 580,000 over the same period the previous year.
Inability of benefits to cover essential living costs, as well as delays in welfare payments under universal credit, remain the most common reasons for people being referred to a food bank, the trust said.
Chief executive Emma Revie said it was "unacceptable that anyone should have to use a food bank in the first place".
She continued: "Our benefits system is supposed to protect us all from being swept into poverty, but what we're seeing is people struggling to heat homes and put food on the table because they simply cannot afford the basics anymore and that just isn't right.
"We do not want to be here in the long term, continuing to pick up the pieces.
"That's why we're urging the government to ensure benefit payments reflect the cost of living and reduce the waiting time for universal credit to help ensure we are all anchored from poverty."
Margaret Greenwood, shadow work and pensions secretary, said the figures were a "clear warning to government" that no family should be forced to turn to a food bank, and said the new benefit system had contributed to the rise.
"Universal credit is failing and the punitive social security regime that the Conservatives have created is forcing many people into severe hardship instead of protecting them from poverty," she said.
The warnings come amid mounting concern over government's flagship welfare reform universal credit, which academics have described as a "complicated, dysfunctional and punitive" system that is pushing people into debt and rent arrears.
UK news in pictures

Show all 51
The Independent revealed last week that more than half of people denied universal credit were found to be entitled to it when their cases were investigated, prompting fresh demands for the national rollout of the new system to be halted.
A Department for Work and Pensions spokesperson said: "The reasons for people using food banks are complex, and it would be wrong to link a rise to any one cause. No one should have to face hardship with universal credit and we have made 100 per cent advances available from day one.
"For families that need extra support we are spending £90bn a year on working-age welfare, and we recently announced a £39m partnership with Citizens Advice to support vulnerable people to make and manage their universal credit claim."
Join our new commenting forum
Join thought-provoking conversations, follow other Independent readers and see their replies