Food bank use among children over school holidays surges by 20% in a year, figures show
'I want to go back to work. I'm not one of those mums who wants to stay at home. I want to work,' says single mother at food bank in Epsom, who is unable to earn a living due to lack of free childcare places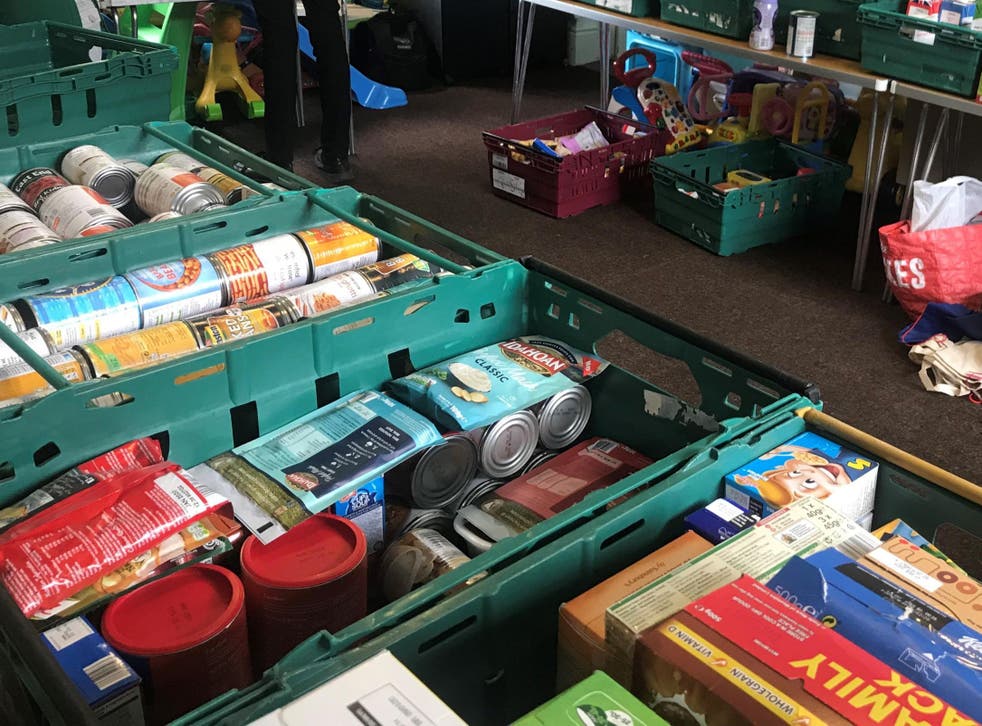 Food bank use among children during the school holidays has surged by a fifth in one year, according to new data which has fuelled concern around the impact of universal credit and other welfare reforms on youngsters.
Figures published by the Trussell Trust, the UK's largest food bank provider, show 87,496 food parcels went to children during the summer holidays last year – a 20 per cent increase on the same period in 2017.
More than a third of all emergency food parcels distributed by food banks in the Trussell Trust's network go to children, but the charity said there was extra financial pressure during the holiday period for families entitled to free school meals during term time – with this summer set to be the network's busiest to date.
Delays and gaps in benefits are the most common reasons for people having to turn to food banks, with the five week wait for a first universal credit payment being a key driver of need, the charity said.
Alice, a single mother who is currently relying on food bank supplies, told The Independent that she and her two-year-old daughter were currently surviving on £20.70 a week because she had five weeks to wait for her first universal credit payment.
Speaking at a food bank in Epsom, she said: "Universal credit has been bad from the beginning. I had to sign up three times online before it got accepted. And then you have to go for a meeting. I went to the job centre to do it. I had to walk for an hour to get there.
"Now it's left me with just £20.70 to live on. I just do what I can. Sometimes I have to go to my mum. I've been [to this food bank] quite a few times. I wouldn't know what to do without it."
Another single mother, Santana, said she was increasingly frustrated because, due to a lack of affordable childcare for her two-year-old, she had been unable to get back into work.
The 31-year-old has been living in temporary accommodation in Epsom since July 2017 after her landlord downgraded to a smaller property and she was unable to find an affordable alternative – leaving her and her daughter "stuck".
The mother, who is on universal credit, said her daughter was starting at the local nursery in September but that she was only able to send her there for three hours a day.
"I've got universal credit moaning at me telling me to get a job. When I told my advisor my daughter could only do three hours a day in the afternoon, he said couldn't you have just put her in for full days. But when I put her name down the full day slots had already gone," she said.
"I want to go back to work. I'm not one of those mums who wants to stay at home. I was working up until three days before she was born, in a little cafe, because I didn't see the point in sitting around waiting for the baby to come out. I want to work.
"It's just really awkward because guarantee, wherever I work, it's going to be walking time there and back because I don't drive."
The latest figures come against a backdrop of soaring food bank use in UK, with the number of emergency parcels delivered increasing by 19 per cent in the past year.
The Trussell Trust's chief executive Emma Revie said: "No charity can replace the dignity of having enough money for the basics. While it's great to see schemes in place to tackle holiday hunger, food banks and other emergency food provision cannot, and must not, be a long term solution to poverty."
Shadow work and pensions secretary Margaret Greenwood said it was "simply wrong" that families should have to rely on food banks to feed their children.
"The high level of housing costs, the spread of low paid, insecure work and deep cuts to social security have left families struggling to meet basic household bills," she added.
"The government cannot simply abdicate responsibility for families being pushed into poverty and children going hungry in the summer."
Tory MP says people who use food banks have 'cashflow problem'
A government spokesperson said: "Our priority is to support people to improve their lives through work while helping low income families with the cost of living.
"That's why we have raised the personal allowance to take 1.74 million of the lowest paid out of income tax altogether, frozen fuel duty for the ninth consecutive year, increased the National Living Wage and confirmed that the benefit freeze will end next year.
"Meanwhile, we've seen record high employment and wages continuing to outstrip inflation so people have more money in their pocket."
Register for free to continue reading
Registration is a free and easy way to support our truly independent journalism
By registering, you will also enjoy limited access to Premium articles, exclusive newsletters, commenting, and virtual events with our leading journalists
Already have an account? sign in
Register for free to continue reading
Registration is a free and easy way to support our truly independent journalism
By registering, you will also enjoy limited access to Premium articles, exclusive newsletters, commenting, and virtual events with our leading journalists
Already have an account? sign in
Join our new commenting forum
Join thought-provoking conversations, follow other Independent readers and see their replies