Food banks bracing for 'busiest and most difficult winter on record'
Looming end of Universal Credit uplift and furlough scheme said to be creating 'sense of foreboding'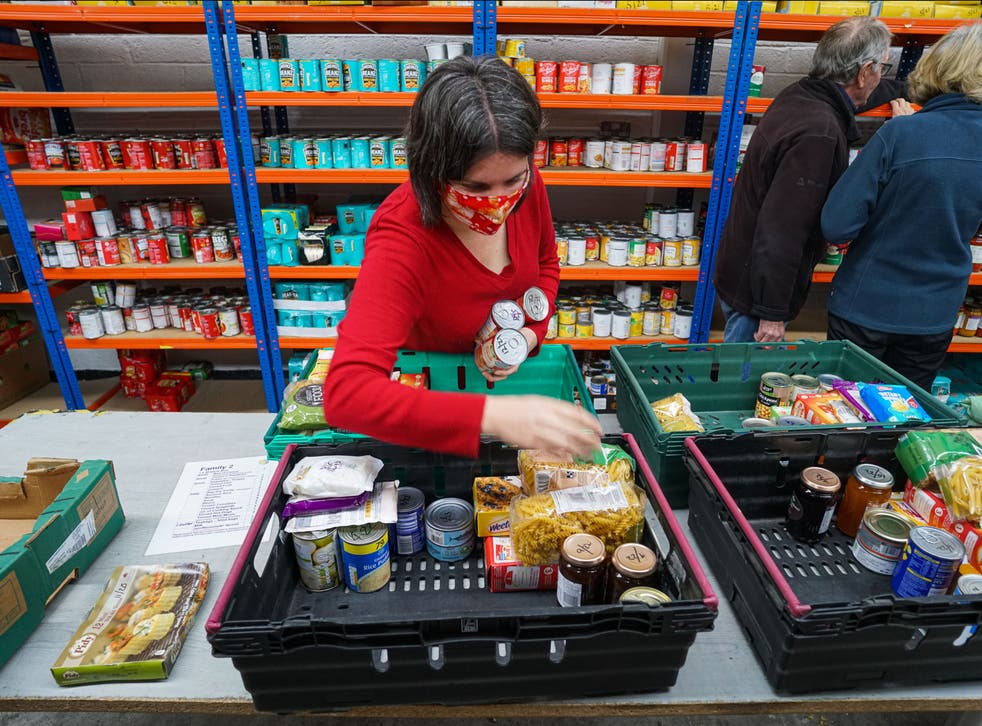 A network of food banks have warned they are bracing for "what looks set to be the busiest and most difficult winter on record", with a "perfect storm" of impending policy changes expected to push even more people into poverty.
While the coronavirus crisis was estimated to have forced tens of thousands of people to turn to food banks for the first time last year, the forecast from the Independent Food Aid Network (IFAN) – which represents more than 500 food banks in the UK – for the second winter of the pandemic appears bleaker still.
The group's co-ordinator, Sabine Goodwin, pointed to three "devastating" changes, all planned for October: the overnight loss of the £20 Universal Credit uplift; the end of the furlough scheme; and a "dramatic" increase in energy prices as the regulator Ofgem raises a cap on the most widely-used tariffs.
"The scale of the disaster about to unfold cannot be overestimated," Ms Goodwin wrote in the British Medical Journal (BMJ) on Thursday.
"Independent food banks have come to expect a busy August as the UK's social security safety net continues to be eroded," she added. "As parents try to find ways of scraping together the cost of new school uniforms and taking care of their children through the school summer holidays, money for food runs dry.
"But this summer is different – there is a sense of foreboding among members of the Independent Food Aid Network."
Despite the work of campaigners, Ms Goodwin warned "matters are about to get much worse". She added: "Food banks are trying to prepare as best they can for what looks set to be the busiest and most difficult winter on record."
Some 15 million households are expected to see their bills increase by at least £139 in October, in what has been reported as the largest hike in energy prices in a decade. Ofgem has blamed the increase of the cap – first introduced in January 2019 to tackle "rip-off" prices – on a 50 per cent spike in wholesale energy costs over the past six months. This rise occurred as inflation jumped amid the easing of pandemic restrictions.
Speaking earlier this month, the regulator's chief executive, Jonathan Brearley, admitted it was "extremely difficult news for many people", but said: "Across the sector the profit margin is actually zero, so right now companies are making what it costs them to sell the energy they sell. What we can't do as a regulator is ask them to sell the energy for less than it costs them to buy."
And with the furlough scheme set to end on 30 September, having helped fund 11 million people's wages since the pandemic began, the National Institute of Economic and Social Research predicts the official unemployment rate will rise around half a percentage point after furlough ends – totalling 160,000 more people out of work.
Meanwhile, campaigners and MPs have furiously opposed the government's planned removal of the Universal Credit uplift, which the Joseph Rowntree Foundation (JRF) warned on Thursday would hit more than one in three working-age families with children in nearly every constituency across the country.
The charity described the move – confirmed by Boris Johnson last month – as the "biggest overnight cut in benefits since the Second World War", which it said will have "deep and far-reaching consequences on families with children across Britain".
The chair of Kirkcaldy food bank, Joyce Leggate, was quoted in the BMJ as saying: "Very few of our clients are able to withstand any reduction in their benefit level, never mind this savage cut as winter is approaching and household bills will rise again.
"As a food bank, we do not know if and how we will be able to provide the support that will inevitably be needed."
UK news in pictures

Show all 50
Citing Department for Work and Pensions (DWP) data which suggested that, between April 2019 and March 2020, some 43 per cent of households relying on the pre-pandemic rate of Universal Credit were food insecure, Ms Goodwin said the government's own statistics "reveal that the £20 increase to Universal Credit payments was essential".
And demand for food banks has already been rising. According to the Trussell Trust, the UK's largest food bank provider, it distributed 2.5 million emergency food parcels to people in crisis between 1 April 2020 and 31 March 2021.
This represented a 33 per cent increase on the previous year, and some 980,000 of these parcels went to children.
Both the IFAN and JRF urged the government to abandon its plans to axe the uplift – a call supported by six former work and pensions secretaries and reportedly scores of Tory MPs. "It's poverty that is at the heart of the ever-worsening food insecurity crisis and only bold actions that increase people's incomes will make the difference that counts," Ms Goodwin added.
Katie Schmuecker, deputy director of policy and partnerships at the JRF, said: "Plunging low-income families into deeper poverty and debt, as well as sucking billions of pounds out of local economies, is no way to level up.
"It's not too late for the prime minister and chancellor to listen to the huge opposition to this damaging cut and change course."
But speaking on Thursday morning, Mr Johnson indicated the cut was still set to go ahead, saying: "My strong preference is for people to see their wages rise through their efforts rather than through taxation of other people put into their pay packets."
Citing a December 2020 report linking austerity to a post-pandemic health crisis, Ms Goodwin said: "The impact of the pandemic on pre-existing health inequalities is already widely recognised. The cut to Universal Credit will inevitably deepen health inequalities, yet further."
A DWP spokeperson said: "The temporary uplift to Universal Credit and furlough scheme are part of a £400bn support package which has helped families through the financial disruption of the toughest stages of the pandemic, and our £429.1m Covid Local Support Grant was introduced to support families with food costs.
"We extended them beyond the easing of restrictions. Now, with record vacancies available alongside the successful vaccination rollout, it's right that we focus on our Plan for Jobs, helping claimants to increase their earnings by boosting their skills and getting into work, progressing in work or increasing their hours, with Universal Credit providing a vital welfare safety net."
Register for free to continue reading
Registration is a free and easy way to support our truly independent journalism
By registering, you will also enjoy limited access to Premium articles, exclusive newsletters, commenting, and virtual events with our leading journalists
Already have an account? sign in
Register for free to continue reading
Registration is a free and easy way to support our truly independent journalism
By registering, you will also enjoy limited access to Premium articles, exclusive newsletters, commenting, and virtual events with our leading journalists
Already have an account? sign in
Join our new commenting forum
Join thought-provoking conversations, follow other Independent readers and see their replies