Food bank use hits record high as emergency supply packages surpass 1.5 million in 12 months, figures show
Universal credit 'key driver' of increasing need for emergency food parcels, says Trussell Trust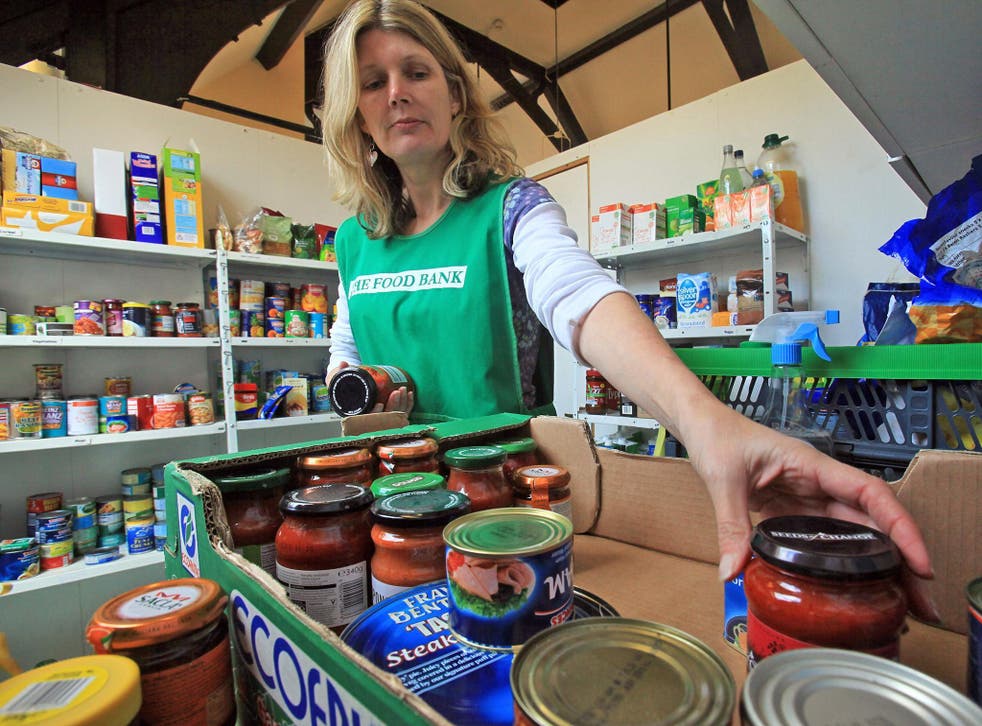 Food bank use has soared to record levels, with the number of emergency supplies distributed across the UK having risen by nearly a fifth in one year, new figures show.
Campaigners said it was "shameful" that a growing number of Britons were unable to feed themselves after data published by the Trussell Trust, the UK's largest food bank provider, revealed 1,583,668 three-day emergency food supplies were distributed in the year to March 2019 – a 19 per cent rise on the previous year.
More than half a million of these (577,618) went to children, fuelling concerns about rising child poverty, after government figures last month revealed that the number of youngsters living in absolute poverty had increased by 200,000 in a year – to a total of 3.7 million.
The figures have also prompted renewed criticism of the government's flagship welfare reform, universal credit, as the Trussell Trust said issues with moving onto the new system were a "key driver" of increasing need, primarily due people having to wait five weeks for payment under the new system.
Labour's shadow work and pensions secretary Margaret Greenwood branded the sharp rise "shocking" and said the "need for emergency food parcels in one of the richest countries of the world" was "shameful".
"Nobody in our society should be forced to turn to food banks to survive. Despite ministers' attempts to explain away food bank use, the Trussell Trust is very clear that cuts to social security and the five-week wait for universal credit payments are key reasons for the rise," she added.
The Trussell Trust said the main reasons for people needing emergency food were benefits consistently not covering the cost of living (33 per cent), and delays or changes to benefits being paid, and urged ministers to scrap the five-week wait for a first universal credit payment.
Emma Revie, chief executive of the charity, said: "Our benefits system is supposed to protect us all from being swept into poverty. Universal credit should be part of the solution but currently the five-week wait is leaving many without enough money to cover the basics."
She urged the government to ensure benefit payments reflected the true cost of living and that work was secure and people were paid the real living wage, to help ensure everyone is "anchored from poverty".
"As a priority, we're urging the government to end the wait for universal credit to ease the pressure on thousands of households," she added.
"Ultimately, it's unacceptable that anyone should have to use a food bank in the first place. No charity can replace the dignity of having financial security."
A study by the Resolution Foundation in February found that child poverty risked hitting a record high by 2023-24 unless the government implements substantial changes to universal credit and other benefits.
The UN's special rapporteur on extreme poverty and human rights meanwhile warned in November that policies and drastic cuts to social support were entrenching high levels of poverty, and that Brexit was exacerbating the problem.
Campbell Robb, chief executive of the independent Joseph Rowntree Foundation, attributed the rise in food bank use to the government's "consistent failure to get to grips with poverty".
"When the use of food banks reaches a record high we are beyond the language of warning signs and wake-up calls. Unless we take bold action to solve poverty we risk undermining what we stand for as a country," he added.
"Low pay, insecure work, high cost of living, especially housing, and an ineffective social security system are holding people back from a decent life. At a time when we are deciding the future of our country we must redesign the systems that lock so many people in poverty."
UK news in pictures

Show all 50
A Department for Work and Pensions spokesperson denied that people were waiting five weeks for their first universal credit payment, saying the money was available to claimants "on day one".
"It also cannot be claimed that universal credit is driving the overall use of food banks or that benefit changes and delays are driving growth. The trust's own analysis shows a substantial fall in the share of parcels being issued due to benefit payment delays," they added.
"The best route out of poverty is to help people into sustainable employment which, with record employment, we are doing.
"For those who need a safety net we have invested £10bn into universal credit since 2016 alone, confirmed the benefits freeze will end next year and made changes to make universal credit fairer for women and families."
Join our new commenting forum
Join thought-provoking conversations, follow other Independent readers and see their replies