Ban eating and drinking on public transport to cut child obesity, says chief medical officer
But food businesses brand idea of calorie cap on servings 'knee-jerk and impractical'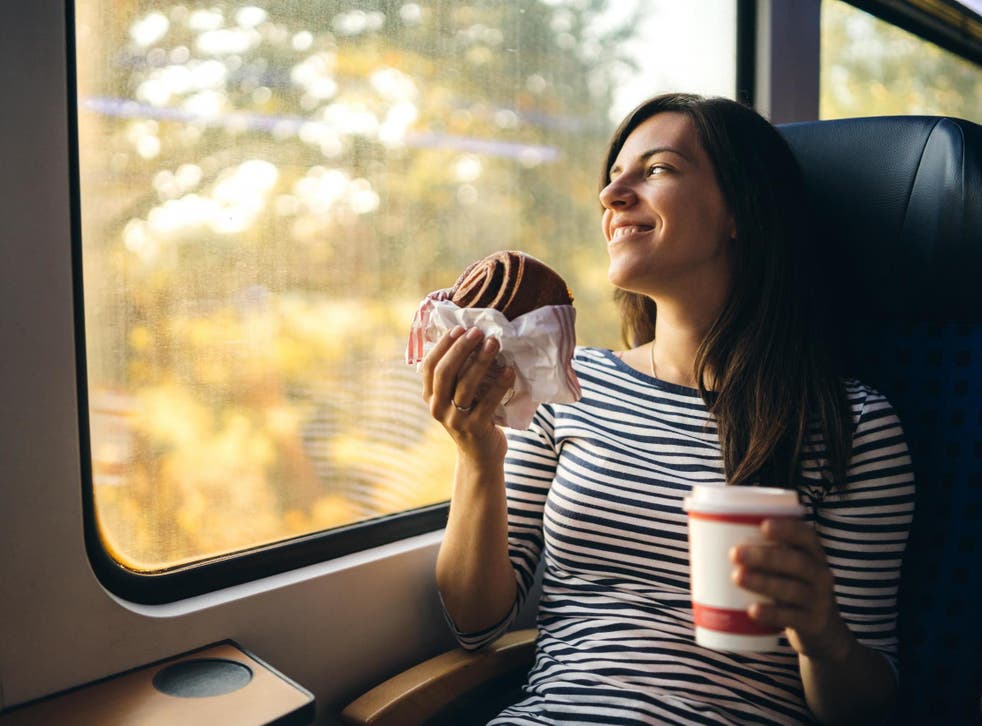 Eating and drinking on public transport should be banned to help cut childhood obesity, the UK's outgoing chief medical adviser has said.
VAT should be hiked on the unhealthiest foods to subsidise fruit and veg; and cafes, restaurants and pubs would face limits on calories per serving, under suggested plans.
But the UK's umbrella group for food outlets condemned the idea of a calorie cap as "a knee-jerk, impractical and unfair" measure, warning that businesses would suffer and customers would face higher prices.
And a passenger group questioned the wisdom of the food transport ban, calling it "largely unenforceable".
The new report also recommends the soft drinks tax be extended to milk-based drinks with added sugar, and calories should be shown on all food labels.
Wellness, health and wellbeing tips

Show all 6
The changes, set out by Dame Sally Davies in an independent report to government, are among a raft of radical measures drawn up because the UK is "nowhere near achieving government ambitions to halve childhood obesity by 2030".
It's believed the ban on food and drink on public transport would apply to all buses, Tubes and trains, although the report exempts "fresh water, breastfeeding and for medical conditions".
Calling on politicians to act, Dame Sally says twice as many primary-school children as 30 years ago are overweight, and the government's national childhood obesity plan, even if implemented in full, would not alone meet the 2030 ambition.
"Today's children are drowning in a flood of unhealthy food and drink options, compounded by insufficient opportunities for being active," she says. "We must go further and faster."
Her advice includes:
Using Brexit to review VAT rates on food, considering VAT tiers so the unhealthiest products have higher rates of tax, used to subsidise healthy food
Phasing out marketing, advertising and sponsorship of unhealthy food and drink at all major public venues
Ensuring healthy meals are provided in schools at a low price
Banning eating and drinking on urban public transport
Capping the number of calories per serving for all food and drink sold by cafes, restaurants, pubs, bars, takeaways, bakeries, coffee shops, sandwich shops, food on the go and delivery services
Introducing labels showing calorie or nutritional content even from places where food sales account for less than 25 per cent of trade
Getting suppliers and packaging firms to reduce portion-sized packaging for fast food
Dame Sally argues the health impacts of obesity are "cruel and avoidable" and that children have an underlying right to be healthy.
"Nearly half of all pregnant women are overweight or obese ... As many as one in four babies are gaining too much weight in their first 18 months of life, due to overfeeding," the report warns.
Prioritising children's health will help the NHS and tackle the rising epidemic of type 2 diabetes, Dame Sally says.
She also says children's health and rights must be prioritised when the UK makes trade deals in future. "Their health and a healthy environment must come above company profits," the report states.
Kate Nicholls, chief executive of UK Hospitality, said: "A blanket cap on calories for all portions of food and drink consumed out-of-home sounds like a knee-jerk, impractical and unfair measure.
"We are supportive of measures to tackle childhood obesity, but a cap on all portions clearly removes choice for all customers irrespective of age.
"Such a cap would cause problems for businesses, not to mention the obvious reduction in choice for customers and restricting of personal freedoms for adults."
Many businesses may struggle to prepare by changing or reformulating their menus, she warned.
"Lots of pubs, restaurants and hotels offer traditional favourites, like fish and chips, while coffee shops often offer a fantastic range of cakes, biscuits or brownies. If they are suddenly no longer able to sell them, or have to significantly change them because of an arbitrary calorie cap, it will clearly be a challenge and put them at a disadvantage.
"Margins are tight and shrinking for most hospitality businesses, with ever-increasing costs. The last thing they need is another tax hike, particularly at a time of uncertainty.
"High streets across Britain are struggling – they don't need extra taxes.
"Some businesses would have no choice but to pass the extra cost on to customers or reduce menu options. Either way, customers and businesses would suffer."
Kate Halliwell, of the Food and Drink Federation, said manufacturers were already working hard on measures asked of them in the past three years and should not face punitive steps.
"As Public Health England acknowledges, reformulating products takes time, and we must always take the consumer with us.
"We agree more needs to be done to tackle obesity, and welcome the report's clear steer that everyone needs to play their part, including schools, local councils and the NHS.
"Manufacturers alone will not solve this."
Neil Middleton, of the Association of Public Transport Users, said drinking water to reduce dehydration and fainting risks should be encouraged, not banned.
"It strikes me that practically, this is largely unenforceable ... and it seems to me that threats to passengers such as terrorism and violent crime (including rape) are a more important target," he said.
Richard Pill, of the English Regional Transport Association, said there was a balance to be struck between the need for food and problems caused such as smells and the need for toilets.
"I am diabetic type 2 and sometimes need to eat when travelling on public transport bus, train or boat," he said.
Dame Sally, who stepped down as chief medical officer for England and chief medical adviser to the UK government last week, had been asked by Matt Hancock, the health secretary, to examine the possibility of taxing all unhealthy foods.
Support free-thinking journalism and attend Independent events
The sugar tax, introduced last year, has led to a 21.6 per cent drop in the total sugar content of soft drinks between 2015 and 2018.
Designing the built environment to create opportunities for children to be active is also part of the approach advocated by Dame Sally.
The Rail Delivery Group, the Campaign for Better Transport, the Confederation of Passenger Transport and Transport Focus, representing passengers, all refused to comment on the proposed ban on food and drink.
Mr Hancock said the government would study the report closely and act on the evidence.
Register for free to continue reading
Registration is a free and easy way to support our truly independent journalism
By registering, you will also enjoy limited access to Premium articles, exclusive newsletters, commenting, and virtual events with our leading journalists
Already have an account? sign in
Register for free to continue reading
Registration is a free and easy way to support our truly independent journalism
By registering, you will also enjoy limited access to Premium articles, exclusive newsletters, commenting, and virtual events with our leading journalists
Already have an account? sign in
Join our new commenting forum
Join thought-provoking conversations, follow other Independent readers and see their replies