Food poverty: One in four parents have skipped meals in order to make ends meet, finds survey
Figures prompt calls for national measure of household food insecurity to tackle emerging 'hidden hunger crisis' in Britain
May Bulman
Social Affairs Correspondent
Tuesday 30 January 2018 01:09 Comments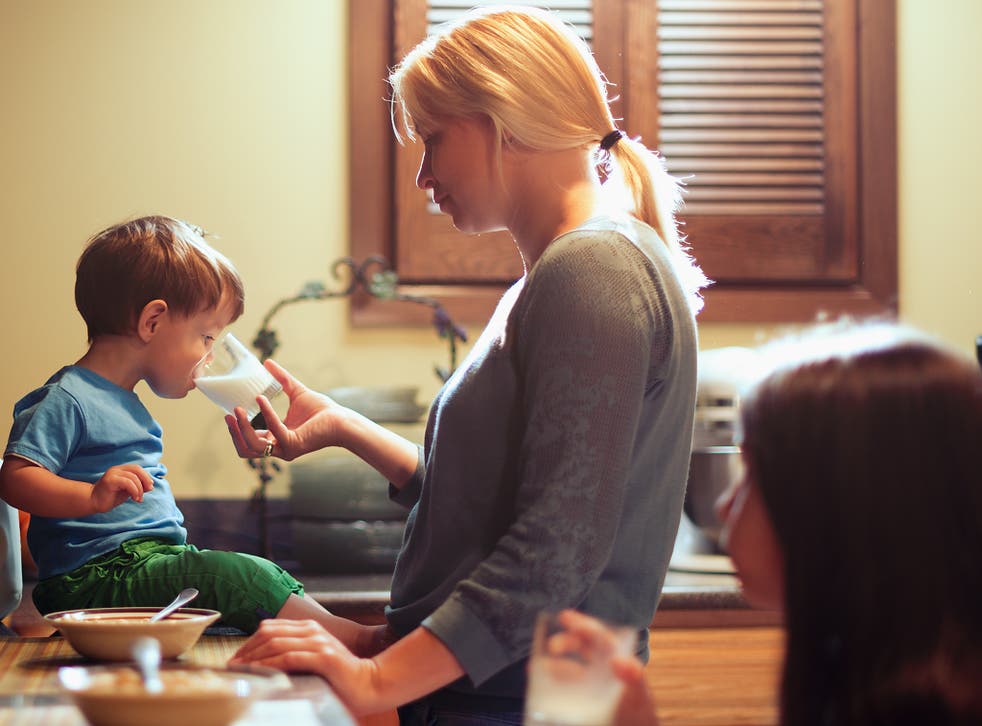 One in four parents are skipping meals in order to make ends meet, new figures show, prompting calls for the Government to better measure "hidden hunger" in Britain.
A study published by a coalition of anti-food poverty charities finds 23 per cent of parents with children aged 18 and under skip or see someone in their household skipping a meal due to a lack of money for food.
The research, which surveyed more than 2,000 UK adults, also shows the same proportion of these adults worry about not having enough food to eat, while 13 per cent having gone without eating for a whole day in the last 12 months.
Parents with primary school-age children (aged 5-11) fared even worse, with 27 per cent either skipping or seeing someone in their household skipping meals to make ends meet in the past year.
People are also seeing higher food bills, with 59 per cent of adults saying their groceries cost more in the last three months compared with the same period before, according to the findings.
The figures have prompted concern about a lack of government measures to track food insecurity – defined as going hungry or being at risk of going hungry due to not being able to afford food – with the issue only currently measured through "piecemeal" snapshots.
The Trussell Trust has warned that food bank use is set to hit record numbers this financial year, but these figures do not include independent foodbanks – which make up around a third of the total number of UK foodbanks – other food aid providers, or people who skip meals without asking for help.
End Hunger UK, a coalition of food poverty charities, is now calling for a national measure of household food insecurity to tackle what they call a "hidden hunger crisis" in Britain. A new "food insecurity" bill is currently being pushed through Parliament calling for this to happen.
Labour MP Emma Lewell-Buck, author of the bill, told The Independent the bill sets out a "robust and ongoing measurement of hunger in the UK", and would propose for questions about hunger to be included in existing national food surveys.
She added: "We've got record levels of in-work poverty, and the United Nations estimate there is 8 million people in the UK who are food insecure; there are up to about 2,000 food banks now – and that's just the ones we know of. Malnutrition is costing the NHS £12bn per year.
"All of these stats point to a very worrying picture, and I do now know how the Prime Minister can preside over something as tragic as this and not act. We're one of the riches countries in the world and there are people who wake up hungry every day, wondering where they'll get their next meal from.
"At the minute, the Government hasn't got a true measurement in place. Any Government that really care about the people its governing has no reason to object to this bill. All it's doing is giving a true picture of the stat of the country and the amount of people who are genuinely going hungry."
It comes a week after a report by the All-Party Parliamentary Group for Hunger found more than a million malnourished older people were "withering away in their own homes", with malnutrition among the elderly set to cost the NHS and social care £15.7bn a year by 2030.
In light of the new findings, Laura Sandys, chair and founder of the Food Foundation, said: "The research shows that more and more of British families are unable to provide regular meals and are frequently anxious about providing the basics - food on the table for their families.
"Not only is this unacceptable in 21st Century Britain but we have to start counting the health and social consequences for the next generation. We know that food insecurity can trigger a range of unhealthy eating habits and force people to buy cheaper, less nutritious and more calorific food.
UK news in pictures

Show all 50
"This Government has an opportunity to lead the fight against this hidden hunger by measuring household food insecurity and making sure people can afford to feed themselves and their families a healthy diet."
A Government spokesperson said: "The Government provides a strong safety net through the welfare system for anyone who needs extra support, which includes hardship payments, benefit advances and budgeting loans.
"We recognise there are a number of different sources measuring factors that can influence food security, and we are currently reviewing all available evidence to better understand the impact on households."
Register for free to continue reading
Registration is a free and easy way to support our truly independent journalism
By registering, you will also enjoy limited access to Premium articles, exclusive newsletters, commenting, and virtual events with our leading journalists
Already have an account? sign in
Register for free to continue reading
Registration is a free and easy way to support our truly independent journalism
By registering, you will also enjoy limited access to Premium articles, exclusive newsletters, commenting, and virtual events with our leading journalists
Already have an account? sign in
Join our new commenting forum
Join thought-provoking conversations, follow other Independent readers and see their replies