The female football fans fighting ingrained prejudices to end period poverty
'A lot of men have said if females are getting free tampons, can we get free razors, free beer, free deodorant, and free shaving foam. People were asking for free pies at half time,' says activist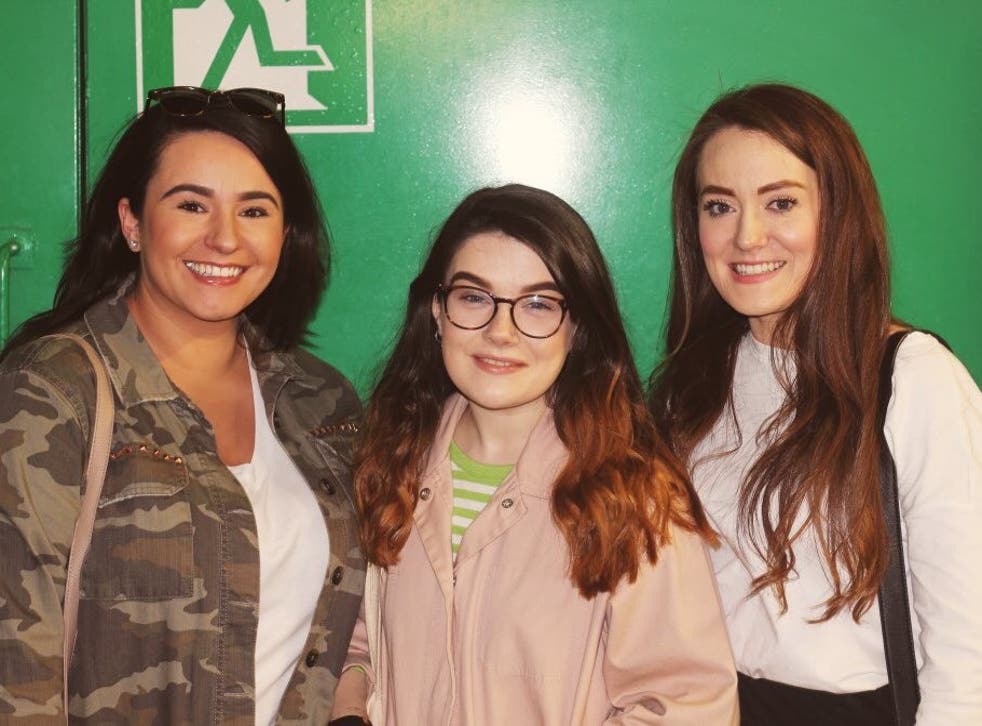 They might both begin with the letter "P", but for most, period products and pies have little in common.
However, football fans opposed to a campaign to end period poverty have begun calling for clubs to dish out free pies if they are to going to provide complimentary sanitary products.
The female football fans, who have successfully campaigned for free period products in 29 stadiums, have been subject to a plethora of taunts from fans who disagree with their message.
In March, Orlaith Duffy, Mikaela McKinley and Erin Slaven – three lifelong Celtic fans who hold season tickets – set up the "On The Ball" campaign to get free sanitary products in football grounds in the UK.
They decided to launch their campaign after learning that not all toilets had sanitary bins and sanitary products were locked away in machines which required exact change. They also hoped the campaign would help increase the visibility of female fans – who now make up more than a quarter of Premier League supporters – in a space which remains male-orientated.
"Football grounds are male-dominated places and there is a severe lack of period provisions," Ms Duffy told The Independent. "A lot of young girls come to the football with male relatives. If they unexpectedly come on their period, maybe even for the first time, they have to ask for money and then might have to go and get change for the machines. It can be awkward and embarrassing,"
The three Scots have had great success with their campaign, managing to get three Premier League teams, Brighton, Huddersfield Town and Fulham, on board. However, they have also experienced fierce criticism from fans who argue women should not have access to free sanitary products.
UK news in pictures

Show all 50
"We have had a mixed response. In the beginning, we did face a lot of negativity, it's a taboo subject and is not a topic people are educated on. We got negativity from females too," Ms Duffy said. "A lot of men have said if females are getting free tampons, can we get free razors, free beer, free deodorant, and free shaving foam."
"People were asking for free pies at half-time. It shows how close minded people are about periods that they think a tampon is on the same level as pie. Period products are not a luxury product, they are necessary for female hygienic needs whereas I don't think beer or pie is necessary for male hygiene needs."
Sanitary wear in Britain is classed as a "luxury, non-essential item" and taxed at five per cent – despite exotic meats, Jaffa Cakes, and bingo all being classed as essential products and exempt from tax.
The 24-year-old said that when they initially presented the campaign to Celtic, fans suggested it could harm the club's chances of winning. Critics also questioned the loyalty of the campaigners, who have been going to Celtic Park since they were seven years old.
"When we brought the campaign, we were on the verge of the double-treble. A lot of people were getting back to us saying, 'Isn't that enough?'. They thought we were not interested in the football side of it and we were just asking for free tampons."
She said criticism also included men scolding women for not attending football games armed with sanitary products.
"Men would say, 'Do girls not know when their periods are coming?'" she recounted. "They thought women should know when their period is going to come and have products on them. Do they think periods run like clockwork? Our bodies don't just do this on the same day at the same time every time. We can be caught short."
Many critics of their plan argued that if female fans can afford a ticket they can manage to pay for sanitary products. But they highlighted that fans come from a range of backgrounds and some tickets are distributed to people via charities.
"Why does money come into it? Women deserve the products no matter what their financial position is," she said.
But the campaigner insisted positive responses had outweighed the negative ones.
"We decided we would not rise to the negativity and we have used the backlash as a base of discussion to change people's minds," she said. "People that started being negative on social media have also changed their minds."
In August, the campaign went viral on social media after one football fan tweeted a picture of a basket filled with sanitary towels and tampons at Barnsley's Oakwell stadium.
Ms Duffy said the growing discussion around period poverty in the media and in politics was an important factor in spurring them to launch On The Ball.
The problem of period poverty is particularly prevalent in Scotland. Girls' rights charity Plan International UK found 45 per cent of respondents were forced to use makeshift sanitary wear – including socks or newspapers – due to a lack of money.
Across Britain, the issue affects one in 10 people and has risen alongside the swelling number of those who are reliant on food banks. Ken Loach's award-winning 2016 film I, Daniel Blake, which includes a scene where the impoverished female protagonist shoplifts tampons, has also raised awareness about the affordability of sanitary products.
The campaigner said that while discussion has centred on providing access to sanitary products in schools and workplaces, she felt there had been less focus on social inclusion.
"As females, all of us three at some point in our life had been affected by period products not being readily available and being expensive and not having the right change," she said. "We have gained a lot of support from male family members who were not aware this was a problem women face every month. Period products are just as important as toilet roll and soap."
The average lifetime cost of sanitary products is approximately £4,800, according to charity Bloody Good Period.
Ms Duffy said it was initially awkward raising the subject of periods with Celtic but the campaigners came away feeling like they had changed the men's attitudes about the taboo subject.
"This campaign has made Mikaela (one of her fellow campaigners) realise she had never spoken to her own dad about periods. That made her lift up the phone to tell him all about the campaign," she recounted. "He was supportive and said he would do all he can. Periods are not something which are socially spoken about. We do not want there to be any stigma, unease or embarrassment when periods are mentioned in society as a whole. They need to be spoken about just like any other normal topic."
Aimee McKenzie, head of operations and facilities at Fulham Football Club, welcomed the campaign, saying: "As soon as we heard about the On The Ball campaign we thought it was a great initiative that Orlaith, Erin and Mikaela were pushing out to clubs. We believe it's important that we are in tune with our fanbase, so it's great that we can be a part of it and hopefully it will lead others to follow suit."
Ms Duffy, who emphasised the "fan-led" and "grassroots" nature of the campaign, said football stadiums were becoming increasingly inclusive environments for women, noting there used to be no female toilets at some football grounds.
"Now we not only have toilets, but we also have period products in some places," she said. "This shows how much more inclusive football is becoming and how much the visibility of female fans is increasing."
The following clubs have signed up for the campaign: 1874 Northwich, AFC Liverpool, Altrincham, Barnsley, Brighton & Hove Albion, Bristol Rovers, Celtic, City of Liverpool FC, Clapton CFC​, Crawley Town, Curzon Ashton, Dundee United, Exeter City, Fulham, Huddersfield Town, Kilmarnock, Linlithgow Rose, Mossley AFC​, Motherwell, Northampton Town, Oldham Athletic​, Oxford United, Peterborough United, Queen of the South, Rochdale, St Roch's​, Tranmere Rovers, West Didsbury & Chorlton​, West Bromwich Albion.
Join our new commenting forum
Join thought-provoking conversations, follow other Independent readers and see their replies