Football pools winner who found fame overnight after promising to 'spend, spend, spend' dies
The highs and lows of Viv Nicholson's life were captured in a West End musical and was named in honour of her catchphrase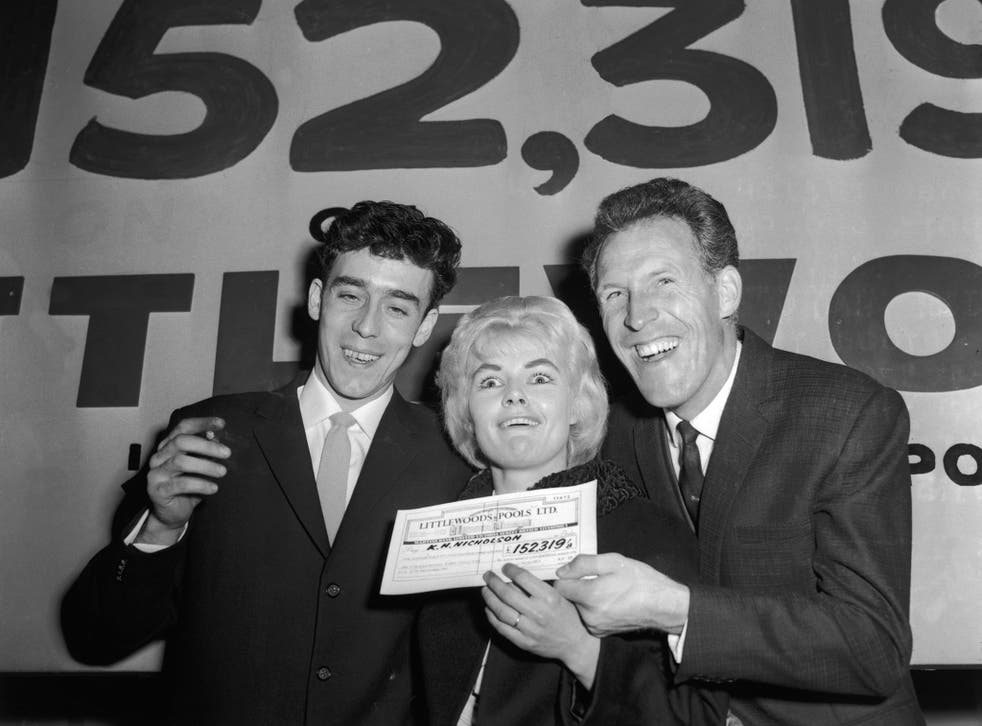 A football pools winner who found fame overnight after pledging to "spend, spend, spend" her winnings and who inspired a West End musical after her life began to unravel, has died aged 79.
Viv Nicholson, from Castleford, West Yorkshire, was 25 years old and working in a liquorice factory in 1961 when she and her husband, Keith, won £152,000 – equivalent to £3.5m today.
She was thrust into the limelight when, asked by reporters what she would do with her winnings, she made the now-famous claim that was splashed on the front of the tabloid newspapers the following day.
She stayed true to her word, spending the money in just three years on cars, jewellery, furs, champagne, parties and a sprawling ranch-style home.
Her son, Howard, said she died on Saturday after what he described as a "long fight against dementia".
He said: "After suffering with dementia for five years, she died on 11 April, 2015 at Pinderfields Hospital with her sons at her side.
"Viv was a one-off in all ways – a loving and loved mother, a glamorous great-grandmother and a friend to many."
She suffered a series of crises as the money began to run out, beginning with the death of Mr Nicholson in a car crash in 1965 and followed by a tax bill that left her bankrupt.
The highs and lows of her life were captured in a West End musical that premiered in 1999 and was named in honour of her catchphrase.
She published a memoir in 1978, of the same name, documenting her winning and extravagant ways, with a second book, detailing her struggle with alcoholism and depression, due to be published later this year.
Her son said of the second biography: "The next part of her story, with which few are familiar, is no less dramatic. Her tale became a movie and a musical, resulting in another fortune won and lost, she suffered a difficult battle with drink, more than one attempt at suicide, and finally experienced recovery and salvation from the most unexpected of sources."
She remarried three times, with a second husband killed in a car crash and another from an overdose.
In an interview with the BBC in 2011, she said: "I haven't got one regret. I can't even feel sorry for Keith because I know I'm going to see him again.
"We had a good time together, more before the money, because the money took it away from us."
Asked what she would do with money if she won a second time, she said in 2011: "I'd go spend it. Because I haven't spent nothing in ages."
She said in 2011: "When we first won the money all we did was drink. I had never tasted whisky or champagne. We had lived poorly.
"I bought two houses, four cars and more clothes than I ever thought possible. I even dyed my hair to match whatever outfit I was going to wear. The only thing I didn't do was end up in prison."
Her son asked for donations to be made in her memory to Dementia UK.
Register for free to continue reading
Registration is a free and easy way to support our truly independent journalism
By registering, you will also enjoy limited access to Premium articles, exclusive newsletters, commenting, and virtual events with our leading journalists
Already have an account? sign in
Register for free to continue reading
Registration is a free and easy way to support our truly independent journalism
By registering, you will also enjoy limited access to Premium articles, exclusive newsletters, commenting, and virtual events with our leading journalists
Already have an account? sign in
Join our new commenting forum
Join thought-provoking conversations, follow other Independent readers and see their replies