Five-a-side footballer's legs saved from amputation after car crash because he was still wearing shinpads
'If it hadn't been for the pads the pedals would have gone straight through the bones,' says Carlo De Chiro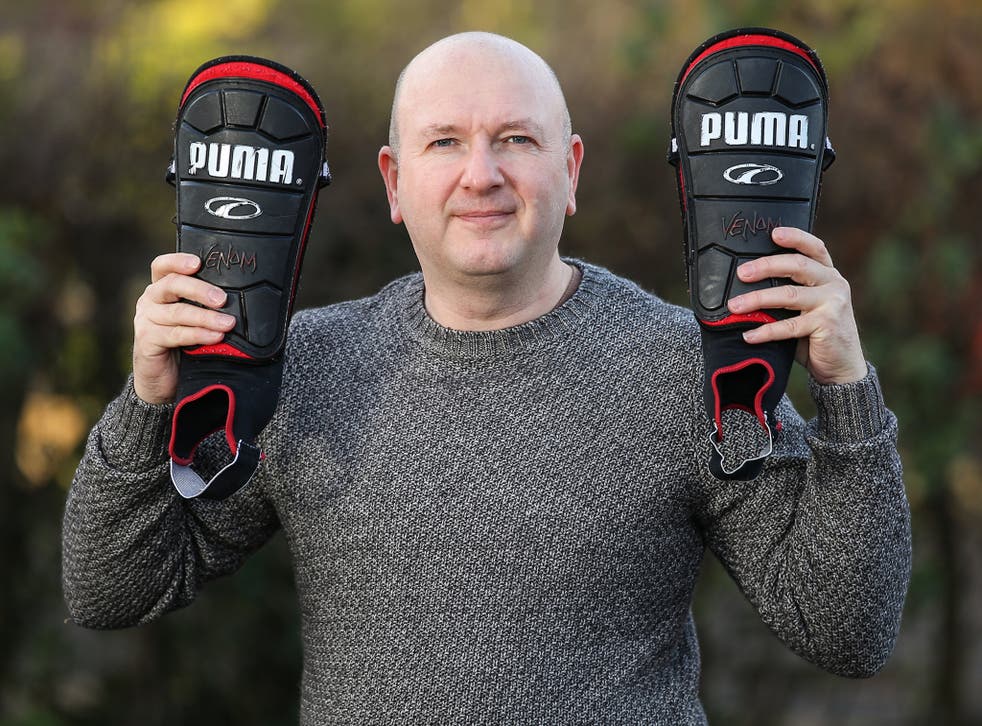 An amateur footballer injured in a 130mph car crash escaped having his legs amputated – because he was wearing shinpads.
Carlo De Chiro, 47, was still wearing his shinpads as he travelled home from a five-a-side session with friends.
He said he was glad he still had his football attire on when a speeding car ploughed into him on a country lane bend.
The impact pushed his car engine so far into the dashboard the pedals pushed Mr De Chiro's ankles up to where the gears usually sit.
Mr De Chiro, a Chesterfield Town fan, said doctors told him that were it not for his full-length polyurethane "shinnies" he would not be able to walk again.
It took him almost two years until he could play football again after the crash – which broke his left fibia and tibia, ruptured an artery in his right leg and broke both ankles.
Mr De Chiro, of Chesterfield, South Yorkshire, said: "If it wasn't for my shinnies I don't think I would have legs to this day.
"When the engine came through the dashboard my ankle was pushed to where the gears are with the brake and accelerator pedals pushing on the pad.
"If it hadn't been for the pads the pedals would have gone straight through the bones.
"It would have practically cut them off against my skin and I would be on stumps today."
He was travelling back home in his dark grey Ford Focus when he was met by a Mazda MX5 that was overtaking on a blind bend in Chesterfield.
The accident put him in a wheelchair during his 18 months of recovery and he was left with a titanium rod in his leg permanently.
He said: "The force kind of put me into what I call a side saddle and had twisted me round – the guys who cut me out said I was lucky to be alive."
The driver of the Mazda was fined and given nine points on top of the three already on his licence, and was banned for six months.
Mr De Chiro added: "I got compensation for the crash obviously, but it isn't enough for him – when police arrived on the scene and saw my car they thought there had been a fatality."
Describing the incident, Mr De Chiro, who is married but doesn't have any children, added: "He just came round in an 'S' shape and ended up in my lane. I could have died.
"I didn't have time to react and he hit me. the police say the crash had a combined impact of 130mph.
"It was a 50mph zone, I was going about 45mph and he was going about 85mph."
UK news in pictures

Show all 50
His story comes 13 years after his horror crash, which happened on 1 December 2004 and stopped him continuing his job as an IT support worker with the NHS.
He became an occupational therapist three years ago because he wanted to help people like him who have been through trauma.
One in five patients admitted to trauma centres were involved in road crashes in 2016 according to new figures obtained by road safety charity Brake.
Road collisions were the second largest cause of trauma admissions, after falls from less than 2m of height.
Jason Wakeford, director of campaigns for Brake, said: "Not only do needless road collisions cause untold suffering but they also place an enormous strain on the NHS and other public services.
"Speeding is a factor in many deadly crashes and remains a major problem.
"Driving is unpredictable and if something unexpected happens on the road ahead, such as a child stepping out from between parked cars, it's a driver's speed that determines whether they can stop in time and, if they can't, how hard they will hit.
"That's why we're encouraging everyone to 'Speed Down Save Lives' for Road Safety Week this year."
Join our new commenting forum
Join thought-provoking conversations, follow other Independent readers and see their replies