Forced marriage: Asian victims being put at risk by closures of services set up to protect them
Exclusive: Experts say language barriers deter women from generic refuges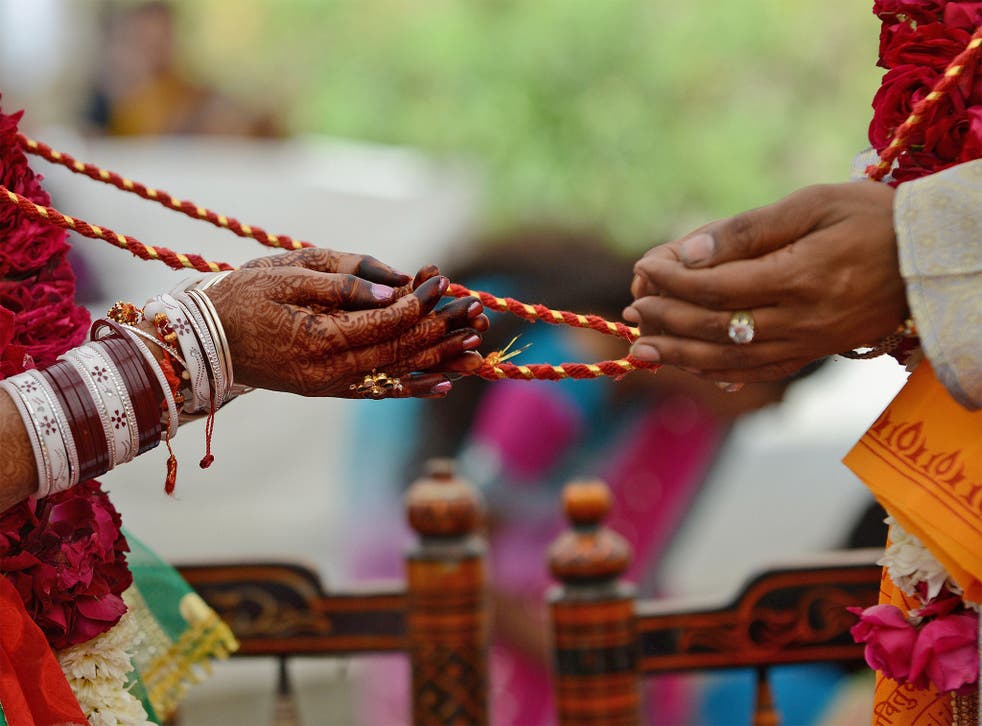 Services helping Asian women escape forced marriage and honour-based violence are closing and facing drastic budget cuts across the country, The Independent has learnt.
The loss of specialist help is putting victims at risk, according to forced marriage experts, who warn that cultural and language barriers mean many women would never go to a generic domestic violence refuge.
Cities whose services are affected include Manchester, Sheffield, Nottingham and Rotherham. The closures and cuts mean losing decades of expertise and local networks. Many of the charities have built more than 30 years of trust within specific communities, meaning they see some of the more isolated victims who their members argue generic services would struggle to reach.
Apna Haq, a domestic violence project in Rotherham specialising in helping Asian women and their children escape abusive homes, had to re-tender for the services it provides and was told earlier this month that the contract had been awarded to a generic domestic violence charity. They appealed the decision on the grounds that the council did not consider the impact on ethnic minorities and Rotherham is taking a month to look over it again.
Zlakha Ahmed, chief executive of Apna Haq, said: "We were shocked when we learnt [we had lost the contract]. The strength we have is understanding forced marriage and honour-based violence and how it affects our communities. Word gets out in the community and 60 per cent of our referrals are from someone in the community; these women would never go to a generic service." Rotherham Council said the awarding of contracts was confidential, that the commissioning process was "full, fair and transparent" and that an announcement on this contract has not yet been made.
Roshni, a specialist service for Asian and ethnic minority women fleeing violence in Nottingham ran for 26 years before it was forced to close at the end of 2012. Its closure followed Nottingham City Council's withdrawal of funding the previous year and a refuge run by Women's Aid Integrated Services was commissioned to replace it.
Saheli Asian Women's Refuge in Manchester lost 34 per cent of its council funding over the last two years, on top of losing a contract to offer outreach services to a generic domestic abuse charity. Priya Chopra, Saheli's chief executive, said: "Councils are going more and more for a single provider for all [domestic abuse] services. They don't realise there are some very vulnerable women out there who rely on services like ours.
"We picked up a woman from school last week with her two children. She just didn't want to go home; she was petrified and have a huge bruise on her face. She couldn't speak the language and she might not be alive if we hadn't been able to pick her up. These women are scared when they can't speak English and don't know how the system works."
Manchester City Council stressed that in the most recent (2014/15) budget round Saheli had not been cut and that they were the one specialist BME refuge supported by the council, but Saheli says it is struggling on already-reduced income from the council.
Ashiana in Sheffield, which helps ethnic minorities affected by forced marriage, domestic abuse and violence, had to close both of its refuges as part of a merger with generic services last year. Refuge places are now provided by generic domestic violence services.
Rachel Mullan-Feroze, service manager, said: "Ashiana has been in existence since 1981 and we've worked hard over the years to engage in hard to reach communities. We've achieved a relationship of trust and a lot of our referrals come from other women. Women appreciate being in specific BME provision because they are less likely to feel isolated and they have a shared understanding with the workers about the context that abuse have been perpetrated."
Sheffield council said it had maintained the number of refuge places in the city and "massively improved the quality" by opening a new refuge for women. Councillor Mary Lea said: "Tailored support is provided for black, Asian, minority ethnic and refugee women and their children. Nearly half of the staff there are from our previous specialist BAME service who moved to the new refuge to help provide this."
The London charity Southall Black Sisters narrowly escaped closure in 2008 after Ealing Council tried to replace their contract helping victims of forced marriage and honour abuse with a generic refuge service. They argued it was for "equality" reasons but a High Court ruled it had misinterpreted race relations legislation and neglected to consider the impact on minorities.
The ruling does not seem to have deterred other councils from cutting similar services. Pragna Patel, director of Southall Black Sisters, said: "BME services are being decimated. Every time an issue is raised the government throws a new criminal law at it but we need services for victims. A lot of the refuges for Asian women have closed and are being swallowed by generic services which are not able to deal with these cases.
"At a generic service they won't necessarily understand their entire circumstances and backgrounds; they won't be able to counsel them on issues of family dynamics of honour and shame. There are real reasons why there are specialist services because they readily understand [a victim's] background and can sympathise and empathise and understand those barriers that make them blame themselves The irony is there are more and more campaigns telling vulnerable adults they must not suffer in silence yet when they speak out there's nowhere to help."
Marai Larasi, executive director of Imkaan, which campaigns to end violence against ethnic minority girls and women, said: "Many survivors feel a lot more comfortable going to specialised BME services because very often they feel that people will understand the nuances and background to the issues they face. Sometimes people may want to go outside their communities but when you keep cutting BME services you lose specialist knowledge and safe spaces for women and girls.
"The research we've done showed that BME women overwhelmingly said these specialist services made them feel more safe - they talk about the need to be with people who "just get it". We worry that women will stay longer in harmful relationships because there aren't the specialist services to help them."
A Local Government Association spokesman said: "Local needs should determine local provision and specialist services must reflect that." The Government announced an additional £3m to support domestic abuse services in the budget and the Forced Marriage Unit provides funding for voluntary sector organisations working to protect victims and end forced marriage.
Register for free to continue reading
Registration is a free and easy way to support our truly independent journalism
By registering, you will also enjoy limited access to Premium articles, exclusive newsletters, commenting, and virtual events with our leading journalists
Already have an account? sign in