Found alive and well and living Sydney, the British tattooist who 'died' in 2005
Couple 'faked the death of the husband so they could claim a £1m life insurance payout'
Kathy Marks
Friday 04 November 2011 01:00 Comments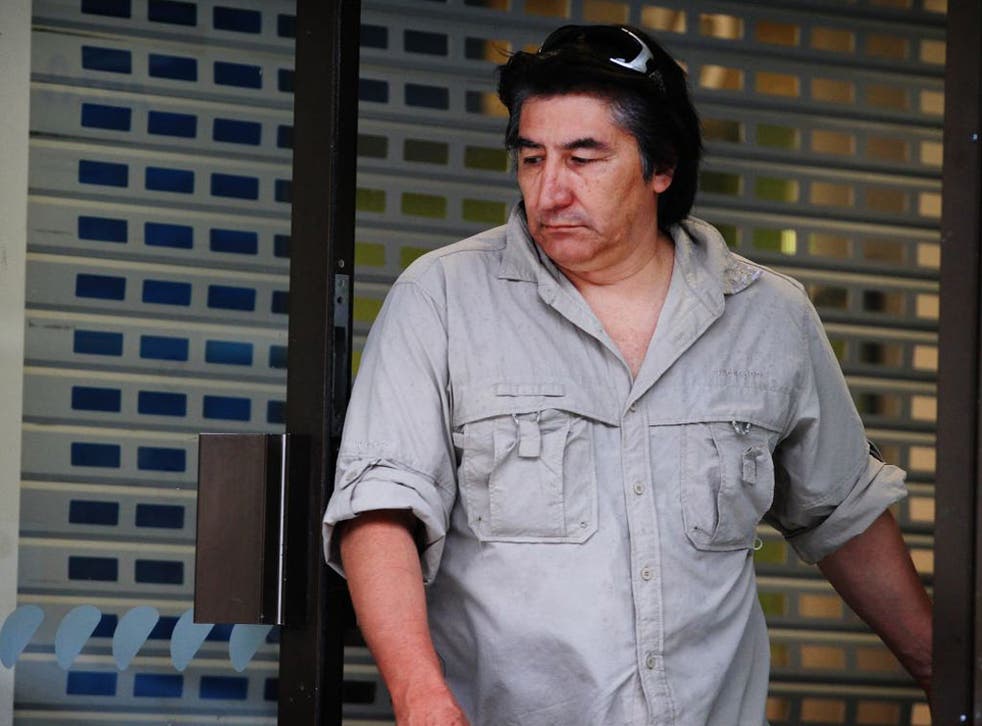 A British man who allegedly faked his own death to claim a £1m life insurance payout has been arrested in Sydney, where he was reportedly living off chicken and chips and running a tattoo parlour.
Alfredo Sanchez, 47, had been sought by police since his fingerprints were allegedly found on his death certificate. His wife, Sophie, told authorities that he died while they were on holiday in Ecuador in 2005, and was cremated. The couple claimed on his life insurance policy and moved to Australia with their four children, according to police.
Suspicions were aroused when Mr Sanchez's staff discount card from the HMV music store, where he had worked as a web designer, was used after his supposed death.
His wife was arrested in September last year when she returned to Britain for her sister's wedding. In December was jailed for two years for her role in the scheme.
British police were unable to find her husband, who had taken to calling himself Hugo Sanchez. Last week, he was tracked down in Sydney, where he was living in the suburbs and on Tuesday he was arrested by Australian Federal Police, acting on an international warrant.
Ecuador-born Mr Sanchez made a brief court appearance yesterday, when he was refused bail and remanded to reappear in a fortnight. His lawyer said he would not oppose extradition. According to the Crown Prosecution Service, the couple, then living in Farnham, Surrey, devised the insurance scam after getting into massive debt.
They travelled to South America, then Mrs Sanchez returned home alone and informed HMV that her husband was dead. After she received a lump sum payout of the life insurance policy, the family moved to Australia. When Mrs Sanchez, 43, was arrested, she admitted her husband was still alive and pleaded guilty to six fraud offences. Police had already examined Mr Sanchez's death certificate and allegedly found his fingerprints on it.
Before Mr Sanchez's arrest, a Sydney tabloid newspaper found him in a suburban barber shop, where he was having his hair coloured and cut. According to the Daily Telegraph, he was living off chicken and chips and, until a few months ago, had owned and operated a tattoo parlour, which he closed after it was firebombed twice. The firebombing was believed to be connected to motorcycle gangs.
Speaking to the Telegraph, Mr Sanchez denied the fraud allegations and said he was "innocent until proven guilty". He also denied that his wife was in prison. "I have not done anything. If they want me, they can come and get me," he said.
Thames Valley Police want to put him on trial for fraud and said they would be seeking his extradition.
Mr Sanchez's lawyer, Jim Nicopoulos, told Downing Street Local Court that he expected Mr Sanchez to be on a plane back to Britain within a month.
He said his client was "doing well", but that his children were experiencing "trying times".
Famous fakers: Others who returned from the dead
John Darwin
The most infamous case of recent years saw John Darwin and his wife, Anne, swindle £680,000 out of their insurance company by claiming he had drowned after paddling out to sea in his canoe from the coast of Hartlepool in 2002. Darwin lived in a secret bedsit in the family house, deceiving even the couple's two adult sons. The couple later bought a house in Panama but Darwin was forced to return home due to a visa problem. He claimed to have been suffering from amnesia but the fraud was uncovered. Darwin, 61, served three years in prison before being released earlier this year.
John Stonehouse
Perhaps the best-known case of a faked death. A month after vanishing during a business trip to Miami Beach in 1974 – leaving behind not only a pile of clothes on the sand, but also his wife and daughter – the Labour MP for Walsall North was arrested in Australia. He served three years for theft and fraud. He died in 1988 and was later revealed to have been a Communist spy.
Ken Kesey
In 1966, four years after the release of his landmark book, One Flew Over The Cuckoo's Nest, author Kesey's counterculture drug habit began to attract the attention of the police and he was arrested for possession of marijuana. His solution? To write a fake suicide note, implying he had drowned himself in the sea – "Ocean, Ocean I'll beat you in the end" – before scarpering to Mexico hidden in the boot of a car. His deception lasted a few months, before he returned to the US to serve five months in jail. He died in 2001.
Anthony McErlean
McErlean, from Kent, was sent to prison for six years in September after he admitted faking his own death in Central America and then impersonating his wife to claim a £520,000 life insurance payout. McErlean, 66, pretended to have been killed in Honduras in 2009, but forged documents, including a death certificate, did not convince the insurance company.
Register for free to continue reading
Registration is a free and easy way to support our truly independent journalism
By registering, you will also enjoy limited access to Premium articles, exclusive newsletters, commenting, and virtual events with our leading journalists
Already have an account? sign in
Join our new commenting forum
Join thought-provoking conversations, follow other Independent readers and see their replies