Fury and fruit cake: the grandmas vowing to keep fighting fracking after Lancashire site goes active
They sing, they wave placards, they drink tea – and these aged activists vow to stop controversial process spreading to more sites across the country, as 12th tremor hits area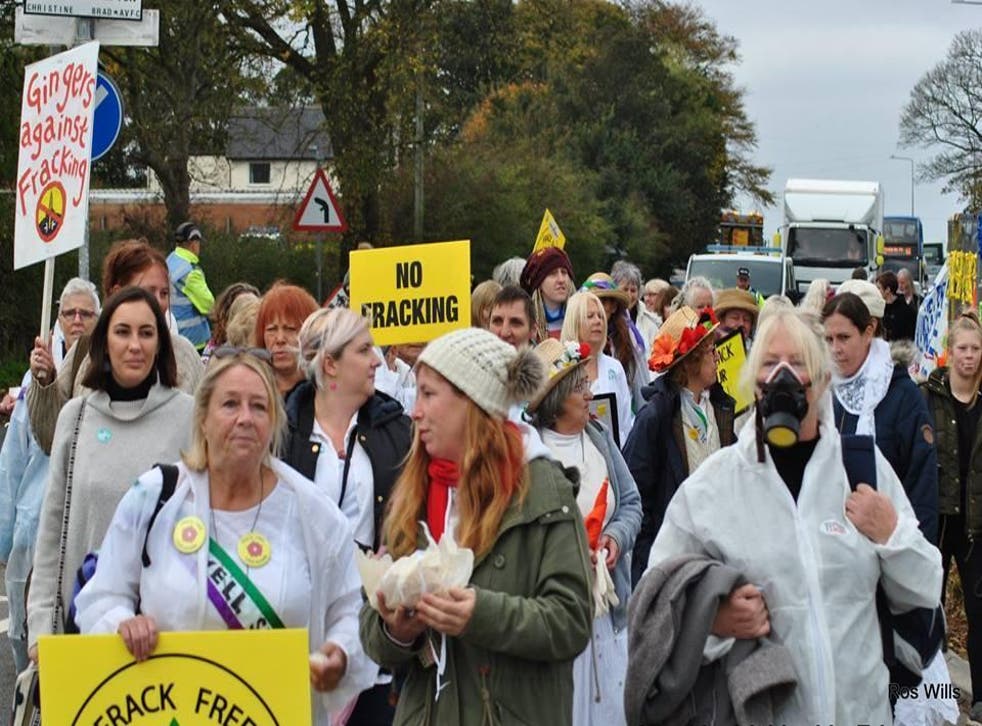 In a makeshift protest camp in rural Lancashire, Tina Rothery, 56 and a grandmother, clutched a cup of tea while explaining why nanas make the best demonstrators.
"If you want to slow a truck down, have someone with a Zimmer frame walk in front," she says. "The police don't want to manhandle an old lady who looks like she has brittle bones or a colostomy bag. They don't want the mess on their hands, literally."
Here, on the frontline in the fight against fracking – the controversial process of extracting gas from underground rocks using high-pressure chemicals – women of a certain vintage dominate.
Dozens of them are among activists who gather several times a week on the Preston New Road, near Little Plumpton village, at what this month became the UK's first active fracking site since 2011.
These ladies come armed with fruit cake and fury. They sing, wave banners and get through a seemingly inordinate amount of tea. Occasionally, there's dancing. On Wednesdays, they wear white as a symbol of peaceful protest and hold a silent vigil.
At a nearby gate camp, meanwhile, they took turns to stand in shifts of two, 24 hours a day, monitoring the site. "It has all the essentials," said a guide, showing me the hideaway. "Rugs, kettle, compostable toilet."
They do all this because they are aghast that an industrial process repeatedly linked to earthquakes, contamination of water supplies, environmental destruction and multiple public health issues, has been given the go-ahead by the government.
They want to stop it in Lancashire, and prevent a proliferation of sites across rural England, including in Derbyshire, Yorkshire and Nottinghamshire. They say they are fighting not for their own futures – "I'll not be here in 20 years, love," one cheerfully declared – but for that of their children and grandchildren.
Joining them in the fight most days, are activists from groups such as Friends of the Earth and Greenpeace.
"No one dreams of spending their retirement standing on the main road between Blackpool and Preston in the wind and cold," said Tina, a founding member of an informal alliance of protestors which calls itself The Nanas. "But this is too important to just let it happen silently.
"Time and again, in every way possible – through legal appeals and demonstration – the public has rejected this. They don't want it. There is no social contract for it. But here we are anyway, with it going ahead. Well, we refuse to accept that. So, we're doing what nanas do: rolling up our sleeves and trying to make things better."
If the protests are rather gentle – certainly the dozen police officers looking on appear bored – it has not always been that way.
Video online shows a previous demonstration descending into scuffles between – younger – protestors and security guards employed by Cuadrilla, the British energy company running the site. A trio of activists were jailed in the summer for causing a public nuisance, although last week they had their 16-month prison sentences quashed on appeal. Even Tina has been bruised by the ongoing fight: in 2014, when plans for fracking at Little Plumpton were first revealed, she and other protestors occupied the field in an attempt to stop it being developed – and she found herself sued for trespassing.
"I owe £54,000," she said breezily. "Fine. They can't take what I don't have."
Tensions run high because fracking has long been controversial.
Seven years ago, the first operating UK site – the Preese Hall-1 well also run by Cuadrilla – was shut down after earthquakes were felt around Blackpool, including a 2.2 magnitude event. Seismic experts concluded the tremors were highly likely to have been caused by the fracking.
Indeed, in the two weeks since operations started at Preston New Road, 12 tremors have been detected, including the latest on Friday morning, albeit well within safe limits. Cuadrilla on Friday said it would pause fracking operations at the site for at least 18 hours as monitoring continues.
"People nearby are now, essentially, living in a man-made earthquake zone," said Celia Briar, 68, a retired university lecturer from Lancaster. "It's immoral to put that stress on them."
In the US, fracking has resulted in contamination of local water supplies and food chains. Carcinogenic chemicals have been found to escape during drilling. Emissions – including greenhouse gas methane – get pumped into the atmosphere. The toxic waste is vast: hundreds of truck journeys are needed to transport it to specialist treatment sites. In an age when renewable energy is being prioritised around much of the world to combat climate change, fracking is a return to fossil fuel, say opponents.
Such are the concerns, the practice has been banned in Scotland, Wales, Northern Ireland, Ireland, France, the Netherlands and Germany. Labour leader Jeremy Corbyn has said he would end it in England too. Public Health England and Natural England have both expressed reservations. A petition opposed to the acceleration of fracking has received 300,000 signatures.
"People say we're fighting an impossible battle," said Tina, a former copywriter. "But I don't think so. It's actually a very small and shrinking number of people who still need convincing that fracking is not the solution to our energy needs. Unfortunately, a lot of those people just happen to be in government right now."
It was the government, indeed, which pushed for the Preston New Road wells to go ahead.
UK news in pictures

Show all 50
In 2015, Lancashire County Council refused Cuadrilla permission to operate there, in a ruling that received widespread local support. Downing Street overturned the decision a year later, and energy secretary Claire Perry gave the final go-ahead this summer.
In doing so, she said she would like to see fracking increased in the UK – to "enhance energy security and … deliver substantial economic benefits". Plans were announced to fast-track applications at other sites. One of them, proposed at nearby Roseacre village, appears likely to be given the go-ahead within months.
"It's such a backwards step," said Barbara Richardson, 62, a retired IT project manager, and chair of Roseacre Awareness Group.
"As a country, we should be investing in renewable energy, in wind and solar. We shouldn't be blighting people's futures with a process that has so many risks associated with it. No one wants this here. I wear my 'frack-free' badge into town, I get stopped by a dozen people telling me to keep going."
Cuadrilla, naturally, disagrees.
It argues the industry is supported by many in the region, including the local chamber of commerce. It argues issues with fracking have arisen in other countries because of bad practice, rather than the process itself being unsafe. It points out it has to follow a stricter regulation regime than any comparable company worldwide.
"There is no plausible risk to drinking water, and fugitive emissions are carefully monitored to remain within acceptable limits, such that they do not present a risk," a company spokesman told The Independent. Speaking before Friday's 0.8 magnitude earthquake, he added the latest tremors were "far below what could possibly be felt at the surface, much less cause harm or damage."
Support free-thinking journalism and attend Independent events
At Preston New Road, such assurances offer little comfort.
"As you get older you realise that one of your responsibilities is to leave the world a better, cleaner place than you found it, for the generations that come after you," said Barbara. "That's why we're all here. Because if we just let fracking happen, we will have failed in that duty."
Tina agreed: "We know this industry isn't going to fail because of us standing and singing outside their gates. But every truck we slow, and every person we educate about the dangers, that makes things less profitable for these companies. And maybe it makes them think twice before they invade other communities like they've invade ours."
Register for free to continue reading
Registration is a free and easy way to support our truly independent journalism
By registering, you will also enjoy limited access to Premium articles, exclusive newsletters, commenting, and virtual events with our leading journalists
Already have an account? sign in
Register for free to continue reading
Registration is a free and easy way to support our truly independent journalism
By registering, you will also enjoy limited access to Premium articles, exclusive newsletters, commenting, and virtual events with our leading journalists
Already have an account? sign in
Join our new commenting forum
Join thought-provoking conversations, follow other Independent readers and see their replies