Ministers suppressed damaging fracking report until after crucial vote
Councillors were then overruled when they voted against it anyway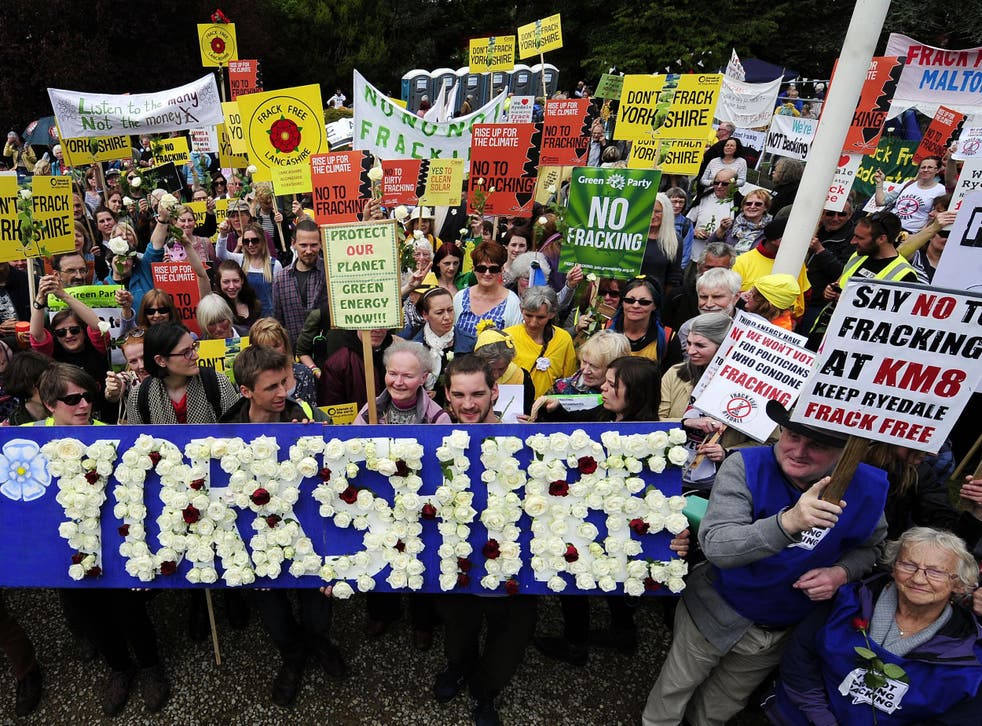 Campaigners have accused the Government of "dirty tricks of the highest order" after an investigation found a report on fracking was deliberately delayed until after a crucial vote.
Lancashire County Council was asked to vote on two applications by energy company Cuadrilla to drill shale gas in the county, unaware the Government was sitting on a report outlining the issues of water contamination, noise and air pollution, falling house prices, and damage to local industries such as tourism and agriculture.
The sensitive report on the effects of drilling for shale gas in rural areas had been partially released by the Department for Energy and Climate Change (DECC) in 2014, but was heavily redacted.
After a Freedom of Information (FOI) battle, in June 2015 it was ruled the documents were of "strong public interest" and the Government was given 35 days to release them in full.
An investigation by Greenpeace's Energydesk suggests ministers systematically worked to delay the release of the report.
And it revealed ministers were aware of the Government's own double standards between wind power and fracking applications.
The documents, revealed after another long series of FOI requests, showed how then-Energy Minster Andrea Leadsom, the Department for Environment and Rural Affairs (Defra) and the Prime Minister's office worked together to delay the report, which was critical of fracking in a number of ways.
The documents revealed Ms Leadsom recommended "we do nothing before Cuadrilla's planning decision if we have time."
She also asked that she was made aware of any other FOI enquiries of this type, because of "her sensitivity to shale comms at the moment".
Other messages show the report was deliberately released late in the day to avoid media scrutiny.
UK news in pictures

Show all 50
While Lancashire County Council voted to reject fracking despite not having been made fully aware by the Government of its potentially harmful effects, then-Business Secretary Sajid Javid overruled the council's decision so the fracking could go ahead.
There were concerns about the fact that a ministerial intervention had not occurred in favour of wind energy, something former Prime Minster David Cameron was well aware of, the documents showed – they include preparation notes for Prime Minister's Questions, highlighting "lines to take" in the event of Labour scrutiny on this issue.
"It is dirty tricks of the highest order - a real eye opener," said Marcus Johnstone, Lancashire County Council's lead on planning and environment, of the documents. "It shows complete contempt for local democracy. It is very obvious they were hell bent on fracking happening anyway, whatever we said in Lancashire. The double standard [between wind power and fracking] is jaw dropping."
Barbara Richardson, a resident who lives close to one of the Cuadrilla sites in Lancashire, said: "This feels like another betrayal from a government that has acted all along like a stooge for the fracking industry.
"Ministers have thrown transparency, democracy, and basic decency out of the window to impose their pet project on communities that have roundly rejected it. How can we possibly trust their claims that fracking is safe when they're hell-bent on hiding the evidence? Rural communities from Lancashire to Yorkshire will take notice."
Greenpeace UK campaigner Hannah Martin said: "Theresa May has already acknowledged that trust in politics is low, so it's disappointing that the government deliberately delayed publishing their damning report on the impacts of fracking to hide it from local councillors who had asked to see it.
"The people of Lancashire will be upset that it's not just their countryside at risk, but also local democracy. First their council was overruled, and now it's been revealed that the government tried to pull the wool over their eyes too."
The government said it "complied fully" on the FOI ruling.
Register for free to continue reading
Registration is a free and easy way to support our truly independent journalism
By registering, you will also enjoy limited access to Premium articles, exclusive newsletters, commenting, and virtual events with our leading journalists
Already have an account? sign in
Register for free to continue reading
Registration is a free and easy way to support our truly independent journalism
By registering, you will also enjoy limited access to Premium articles, exclusive newsletters, commenting, and virtual events with our leading journalists
Already have an account? sign in
Join our new commenting forum
Join thought-provoking conversations, follow other Independent readers and see their replies