Free my dad from Guantanamo, 12-year-old asks Brown
Free my dad from Guantanamo, 12-year-old asks Brown

Show all 2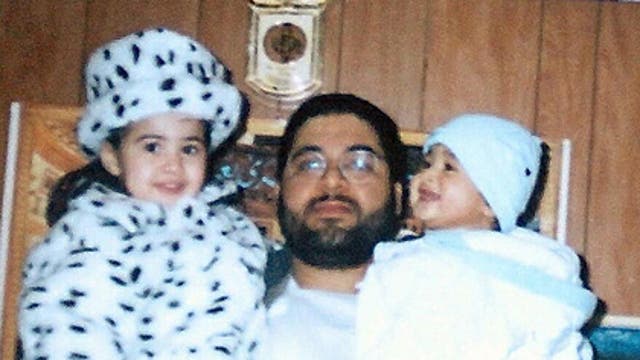 It is an anquished plea from a daughter for a father who has been imprisoned for a crime she believes he did not commit.
But Johina Aamer's two-page hand written letter to Gordon Brown is not like any other child's request for state intervention in a miscarriage of justice.
Johina's father is Shaker Aamer, the last recognised British resident at Guantanamo Bay where the Americans have held him for eight years without ever charging him with a crime.
His continued absence from the family home in south London is hard for Johina, 12, and her young three brothers to understand. Two years ago they were told that their father had been cleared for release and they expected him to be flown back to Britain with fellow prisoner Binyam Mohamed when he was released from Guantanamo last February. Then last year the Aamer family watched Barack Obama promise the world that within 12 months he would close the notorious prison camp at the US naval base in Cuba. Yet still the Aamer family wait.
Johina's younger brother Faris, eight, has never seen his father because he was born after the family were separated during the US-led invasion of Afghanistan in 2001.
In her letter, Johina tells Mr Brown: "He has never felt what it's like to be with a father like every child does. He misses him a lot. Sometimes he thinks other people are his father. Once a man came to our garden and after he left Faris asked my mum 'is that my dad'."
The eight-year ordeal has also taken a terrible toll on Johina's mother.
"My mother," Johina tells Mr Brown, "is very patient but sometimes when she misses him too much she gets depressed. My Mother is also a psychiatric patient. Whenever she gets depressed we have to go to my grandparents house where my grandparents look after her when she is ill she is in bed day and night and can't do much. I really hate it when she gets depressed."
Today Amnesty International is joining Johina to call on the UK government to exert its influence to secure the release - or fair trial - of Mr Aamer, 42.
Amnesty International UK Director Kate Allen said: "We need to see the UK government stepping up its efforts to get Shaker Aamer out of Guantánamo. Every extra day he's kept in Guantánamo is an extra day of cruel injustice for Shaker and his long-suffering family. Guantánamo isn't over yet, and besides the need to secure Shaker's release the government should seek assurances that another Guantánamo prisoner - Ahmed Belbacha, a man formerly living in Britain - is not left behind in Guantánamo or forced back to his native Algeria where he'd be at risk of torture and imprisonment without trial."
Mr Shaker is a Saudi national with a British wife and his four children are all British.
Britain made its first request for his release to representatives of the Bush administration in August 2007. Mr Miliband was known to have discussed Mr Aamer's release with Hillary Clinton after President Obama's election victory. And in November Britiain repeated this request. A Foreign Office spokesperson said then: "We have made an exceptional request for the release and return of Shaker Aamer, a Saudi national, to the UK.
"This is because of the exceptional nature of the Guantanamo facility and our sustained efforts to see it closed. Though we were successful with securing the return of four other non-UK nationals, we have not been able yet to do so with Shaker."
But Mr Aamer, who is being represented by solicitor Irene Nembhard of Birnberg Peirce, claims he was tortured by the American and that Britain was complicit in that torture.
Last month the High Court in London ruled that there was evidence of wrong-doing in Mr Aamer's case and ordered the UK Government to disclose secret documents that Mr Aamer alleges prove Britain was complicit in his torture.
The case is potentially more damaging to Britain than that of former Guantanamo detainee Binyam Mohamed because British agents are accused of being present during Mr Aamer's alleged torture. In one allegation an MI5 agent is said to have been present when Mr Aamer's US interrogators banged his head against a wall, although the agent did not intervene.
In his court victory on Tuesday two judges ruled that Mr Aamer was entitled to see UK Government documents relating to his detention. His lawyers say they contain evidence supporting his claims that confessions he made were obtained through torture.
Lord Justice Sullivan said: "Our present view is that this matter is clearly very urgent. If this information is to be of any use it has to be put in the claimant's hands as soon as possible."
President Obama made the closure of the US naval base a key priority when he was elected last year. He set himself a deadline of one year but has since admitted that he will not be able to meet this target. But the US have told the UK that they believe Mr Aamer represents a security risk.
Today Johina will go to Downing Street to personally deliver her letter to Gordon Brown.
She will be accompanied by Baroness Helena Kennedy, Kate Allen (Director, Amnesty International UK), Vanessa Redgrave (actress), Kate Hudson (Chair, CND), Gareth Peirce (lawyer for the family) and Victoria Brittain (writer and friend of Johina's mother).
Shaker Aamer was cleared for release from Guantanamo Bay in 2007, yet despite UK government efforts to secure Mr Aamer's freedom his release has reportedly been blocked by the US authorities. There are concerns that Mr Aamer's release is being delayed as "punishment" for his role in acting as a representative of fellow detainees at the camp.
Johina says in her letter to the Prime Mininister: "At school when it is time to go home most of the children have their fathers pick them up which makes me miss him even more. Also there is no reason fro my father to be in prison. There have never been any charges against and he is innocent."
The Foreign and Commonweath Office denied claims that UK Government was involved in Mr Aamer's alleged mistreatment: A FCO spokesperson said: "We do not accept allegations of the illtreatment or complicity in his mistreatment. We firmly reject any suggestion of mistreating people or asking others to do so on our behalf. Mr Aamer and his legal representatives have made alot of unsubstantiated allegations."
Join our new commenting forum
Join thought-provoking conversations, follow other Independent readers and see their replies