Tommy Robinson march: Arizona congressman labelled a 'disgrace' after calling Muslim men 'scourge' in speech
'It is inexplicable for a sitting US congressman to speak at, let alone attend, a rally for someone responsible for spreading as much hate and bigotry as Tommy Robinson'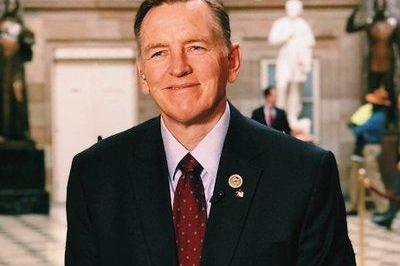 An Arizona congressman has been accused of racism after he described Muslim men as a "scourge" on society at a Free Tommy Robinson rally in London.
Republican Paul Gosar was heavily criticised after delivering a speech at Sunday's protest, in which he accused "disgusting and depraved individuals" from Muslim immigrant communities of carrying out sexual abuse.
"We know these men come from commonly Pakistani, Bangladeshi, and Muslim backgrounds," he told the crowd of roughly 2,000 people.
The Arizona branch of the Council on American-Islamic Relations, the US's largest Muslim civil rights group, condemned the congressman for his comments.
"It is inexplicable for a sitting US congressman to speak at, let alone attend, a rally for someone responsible for spreading as much hate and bigotry as Tommy Robinson," the group said in a statement.
CAIR-AZ executive director Imraan Siddiqi added: "We condemn the congressman's choice to stand with far-right Islamophobic conspiracy theorists, and call on elected officials from both parties to speak out on this matter."
Mr Gosar has also been labelled a "bigot" and a "disgrace" by his peers.
Athena Salman, a Democrat who represents Tempe in the Arizona State House, said in a statement: "Rep. Paul Gosar has disgraced himself, his state, and country yet again.
"Now Gosar has denigrated entire Muslim communities in the United Kingdom by supporting a dangerous far-right extremist who, by his own admission, is supported by Nazis.
"If you find racism and white nationalism repulsive, then you should be equally repulsed by the idea of Paul Gosar representing our state in any capacity."
Tommy Robinson march: Far-right protesters demand EDL founder release
Show all 50
Senator Martín Quezada, a Democratic state senator from Phoenix, tweeted in support of Ms Salman, thanking her for speaking out against Mr Gosar's views.
"I'm shocked at the lengths our @AZGOP elected leaders will go to spread their agenda of hate, division and racism," he wrote on Twitter.
Author and attorney Qasim Rashid also spoke out against Mr Gosar, saying: "Is this intolerance how we 'make America great?'"
Mr Gosar said he wanted to fight against the "suppression of the truth" in a tweet on Monday.
"I object to the suppression of the truth. I think the injustice of not being able to bring light to the situation dissolves all equitable application of the rule of law."
Just days before, he tweeted Donald Trump to raise "concerns" over the arrest and conviction of Robinson.
"British Gov't seems more interested in covering up rape than seeking truth," he added.
Robinson, whose real name is Stephen Yaxley-Lennon, is serving a 13-month jail sentence for contempt of court after he was arrested in May while livestreaming from outside a criminal trial.
Join our commenting forum
Join thought-provoking conversations, follow other Independent readers and see their replies