French authorities block British aid convoy for Calais refugees at Dover
Supporters were travelling back to London to hold a protest at the French embassy over the ban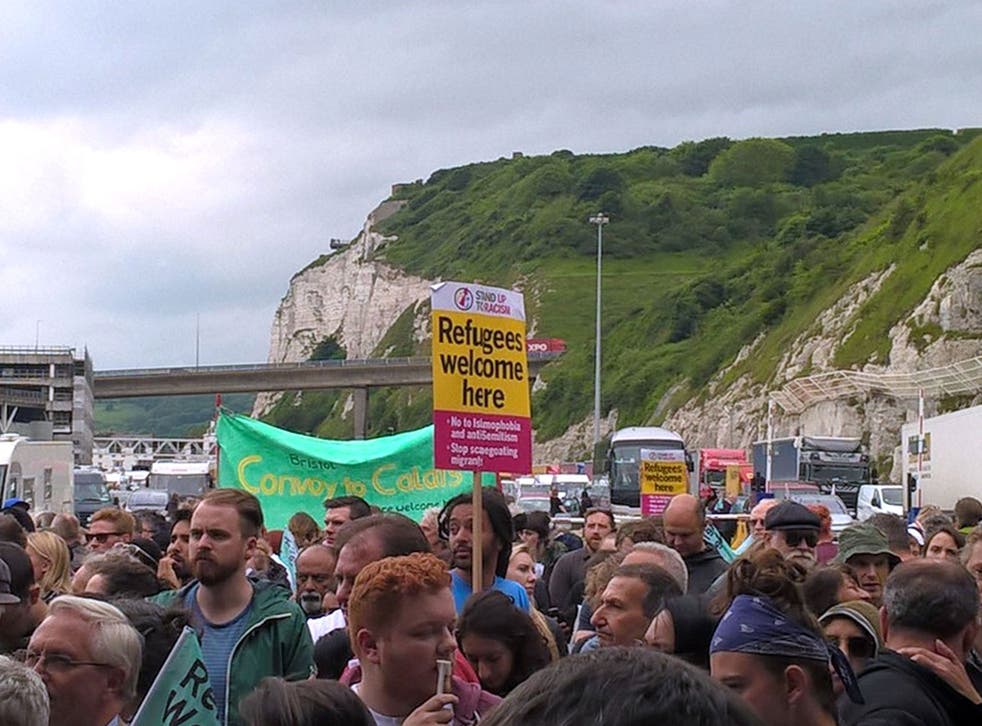 A convoy of 250 vehicles taking tonnes of aid and donations to refugees in Calais has been refused permission to cross the Channel by French authorities in a decision condemned as "shameful" by volunteers.
Hundreds of people had assembled in Whitehall before driving down to Dover, with ferry tickets booked for a crossing on Saturday afternoon.
But the French police, who carry out border checks on English soil as part of a bilateral treaty, refused entry to the country for unspecified security concerns.
Members of the convoy were held in Dover as the ban was confirmed, holding a rally where protesters waving "refugees welcome" banners chanted: "We've got aid, let us through – refugees are people too."
Kent Police was sent an official notification from French authorities that entry had been refused.
"No agency within the United Kingdom has any grounds to challenge this decision," a spokesperson said.
"The refusal of entry to France is a matter for the French authorities."
A spokesperson for the Port of Dover authority said the ensuing demonstration caused "temporary disruption" from midday onwards but that services had returned to normal.
It came after the port in Calais was shut down for several hours in the early hours of Saturday morning when refugees were spotted swimming in the sea, making desperate attempts to board ferries to the UK.
Shipping traffic was stopped shortly after 2am as a search and rescue operation was launched, with those taken out of the water transferred to hospital.
Calais and Dunkirk camps

Show all 16
The Convoy to Calais was organised by The People's Assembly, the Stop the War Coalition, Stand Up To Racism, trade unions and other campaign groups.
John McDonnell, the shadow Chancellor, and shadow International Development Secretary Diane Abbott were among the MPs supporting the effort.
Zak Cochrane, from Stand Up to Racism, told The Independent people had paid more than £8,000 for ferry tickets to take tonnes of aid donated from across the UK to charities working in Calais.
He said the convoy was separated from the rest of ferry traffic in Dover before leaders were handed a letter saying permission to cross had been denied.
"At the request of charities we wanted to deliver a lot of aid, but we also wanted to send a message that a large section of the population want more to be done for refugees," Mr Cochrane added.
"Throughout the EU referendum, both sides of the debate have used refugees as a political football."
The convoy was on its way back to London on Saturday afternoon and heading for the French embassy, where supporters were planning a protest against the blockade.
A lorry carrying donations raised as part of the project was separately allowed to cross to France via the Channel Tunnel.
Steve Sweeney, from the People's Assembly, called the decision to block the convoy "shameful".
"There is a desperate situation in Calais," he told The Independent. "The French and British governments are responsible for the crisis just across the water and it's not acceptable to sit on their hands and do nothing while people suffer."
Organisers received notification from the French prefecture of Pas-de-Calais last week saying that they would not be permitted to hold a demonstration in France.
But they insisted that a rally was only scheduled on British soil and that the delivery of aid was not covered by the scope of the ban.
France has been under a state of emergency since Isis militants massacred 130 people in November's Paris attacks, while violence at the Euro 2016 football tournament it is hosting and the assassination of a police officer last week has put added pressure on the security services.
Mr Sweeney said supporters from as far away as the Shetland Islands had travelled to join the convoy and that people who had donated would be "hurt and angry" at the refusal.
"It could be you or me finding ourselves in that situation (as refugees) and they are treated like animals," he added. "It's an embarrassment."
The donations were due to be handled by British charity Care4Calais, which had requested basic items such as warm clothing, non-perishable food, blankets and toiletries for the thousands of asylum seekers they help.
Clare Moseley, a volunteer for the charity, said organisers had offered to receive the convoy 30 miles away from "The Jungle" camp to assuage any concerns but were refused.
"We are desperate for donations at the moment, we are struggling to cope," she added. "We needed this."
Ms Moseley told The Independent that since French authorities started destroying parts of the camp earlier this year donations had fallen, because of a perception that the problem had "gone away".
She said: "There are more than 6,000 people here and more are arriving every day.
"We had managed to get everyone into wooden shelters build by volunteers but then the evictions happened, then we had a fire a couple of weeks ago that destroyed even more.
"Now it just feels like we're going back to the beginning with everyone living in tents."
The French government has installed accommodation for refugee families using converted shipping containers on the site but the facility can only hold 1,400 people.
A survey of refugees in Calais by Doctors Without Borders (MSF) found that more than 80 per cent were aiming to reach Britain and that more than two thirds had experienced violence, amid warnings of sexual abuse and exploitation.
An unknown number of asylum seekers have been run over, hit by trains, electrocuted in the Channel Tunnel and drowned in desperate attempts to swim to England.
The number of refugees living in Calais is expected to rise over the coming months as people smugglers exploit calmer summer weather to send overcrowded boats across the Mediterranean.
While arrivals to Greek islands have fallen since the EU-Turkey deal, the number of boats crossing between Libya and Italy has risen dramatically, with almost 3,000 refugees drowning in a succession of disasters so far this year.
Register for free to continue reading
Registration is a free and easy way to support our truly independent journalism
By registering, you will also enjoy limited access to Premium articles, exclusive newsletters, commenting, and virtual events with our leading journalists
Already have an account? sign in
Register for free to continue reading
Registration is a free and easy way to support our truly independent journalism
By registering, you will also enjoy limited access to Premium articles, exclusive newsletters, commenting, and virtual events with our leading journalists
Already have an account? sign in
Join our new commenting forum
Join thought-provoking conversations, follow other Independent readers and see their replies