From Admiral Nelson to Morecambe and Wise: A basic guide to British life for immigrants
The new citizenship handbook cuts out benefits advice and trumpets Thatcher's legacy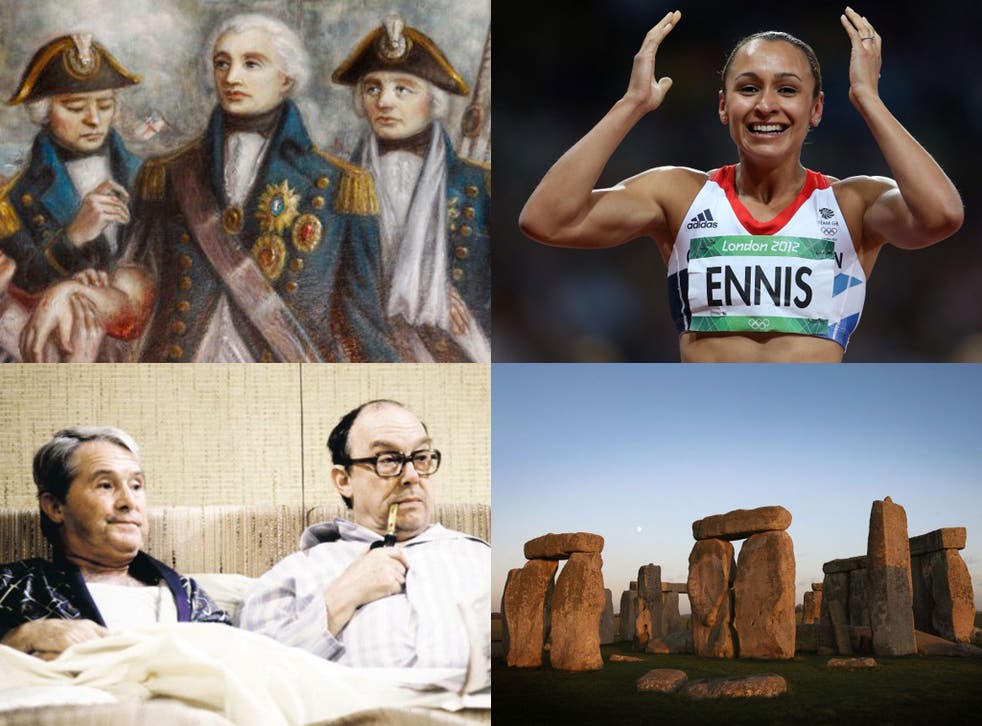 It has been described as "essential reading" for migrants and takes readers on a whirlwind historical tour of Britain from Stone Age hunter-gatherers to Morecambe and Wise, skipping lightly through the Black Death and Tudor England.
The latest Home Office citizenship handbook, Life in the United Kingdom: A Guide for New Residents, has scrapped sections on claiming benefits, written under the Labour government in 2007, for a triumphalist vision of events and people that helped make Britain a "great place to live".
The Home Office said it had stripped-out "mundane information" about water meters, how to find train timetables, and using the internet.
The guide's 180 pages, filled with pictures of the Queen, Spitfires and Churchill, are a primer for citizenship tests taken by around 150,000 migrants a year.
Comedies such as Monty Python and The Morecambe and Wise Show are highlighted as examples of British people's "unique sense of humour and satire", while Olympic athletes including Jessica Ennis and Sir Chris Hoy are included for the first time.
Previously, historical information was included in the handbook but was not tested. Now the book features sections on Roman, Anglo-Saxon and Viking Britain to give migrants an "understanding of how modern Britain has evolved".
They can equally expect to be quizzed on the children's author Roald Dahl, the Harrier jump jet and the Turing machine – a theoretical device proposed by Alan Turing and seen as a precursor to the modern computer.
The handbook also refers to the works of William Shakespeare, Geoffrey Chaucer and Jane Austen alongside Coronation Street. Meanwhile, Christmas pudding, the Last Night of the Proms and cricket matches are described as typical "indulgences".
The handbook goes on sale today and forms the basis of the 45-minute exam in which migrants must gain marks of 75 per cent to pass.
In its previous incarnation, the handbook described Margaret Thatcher as a "divisive figure" whose policies caused a "massive" industrial decline.
Now it hails her as the longest-standing 20th century Prime Minister who introduced a "number of important economic reforms".
By contrast, Labour's 13 years in power are given a solitary paragraph in the handbook while Gordon Brown's premiership is described in one sentence – "Gordon Brown took over as Prime Minister in 2007".
"The new book rightly focuses on values and principles at the heart of being British. Instead of telling people how to claim benefits it encourages participation in British life", said the Immigration minister Mark Harper.
Would you be able to pass a citizenship test? Here are six sample questions from the Home Office
Best of British: The Test
1. Which landmark is a prehistoric monument which still stands in the English county of Wiltshire?
a) Stonehenge
b) Hadrian's Wall
c) Offa's Dyke
d) Fountains Abbey
2. What is the name of the admiral who died in a sea battle in 1805 and has a monument in Trafalgar Square, London?
a) Cook
b) Drake
c) Nelson
d) Raleigh
3. In 1801, a new version of the official flag of the United Kingdom was created. What is it often called?
a) The British Standard
b) The Royal Banner
c) The St George Cross
d) The Union Jack
4 Who is the patron saint of Scotland?
a) St Andrew
b) St David
c) St George
d) St Patrick
5. What flower is traditionally worn by people on Remembrance Day?
a) Poppy
b) Lily
c) Daffodil
d) Iris
6. Which of these sporting events was hosted in London in 2012?
a) The Commonwealth Games
b) The Cricket World Cup
c) The European Football Championship
d) The Paralympic Games
7. At her jubilee in 2012, how many years as queen did Queen Elizabeth II celebrate?
a) 25
b) 40
c) 50
d) 60
Join our new commenting forum
Join thought-provoking conversations, follow other Independent readers and see their replies